UK News
Top Headline
Other Headlines
Drivers of the most polluting vehicles will face an extra daily charge for driving into central London...
Read More...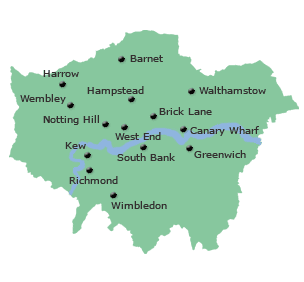 World News
Written by Administrator
Saturday, 20 February 2016 19:18
Austria's combative interior minister on Saturday rejected EU criticism of its cap of 80 asylum claims per day, saying a letter of complaint to her from the bloc's migration commissioner was "sent to the wrong address".
"It should be generally known that Austria does not have an external EU border and is therefore not the first safe country that these people (migrants) set foot in," Johanna Mikl-Leitner told the Austria Press Agency (APA).
"If everybody stuck to the content of the letter (from migration commissioner Dimitris Avramopoulos), then Austria would not have a problem with it. But the letter was clearly sent to the wrong address," Mikl-Leitner said.
Instead, the complaints should be sent to safe countries that the migrants pass through on their way to Austria, she said, in a reference in particular to Greece, the main entry point in the European Union for migrants.
In 2015, over one million people reached Europe's shores -- nearly half of them Syrians fleeing the civil war -- causing the bloc a major political headache.
Austria last year took in 90,000 asylum seekers, making it one of the highest recipients in the EU on a per-capita basis, while almost 10 times that number passed through, mostly to Germany and Sweden.
Faced with a resurgent far-right opposition topping opinion polls, Austria's centrist government this week imposed the new cap and said only 3,200 migrants could pass through per day.
Border controls are being tightened and the government wants only 37,500 asylum claims this year.
Written by Administrator
Friday, 12 February 2016 09:54
In the latest crackdown on gay rights in Indonesia, the government has demanded all instant messaging apps remove same-sex emoticons or face a ban in the Muslim-majority country.
The emojis -- which are available on the popular apps LINE and Whatsapp as well as Facebook and Twitter -- depict same-sex couples holding hands and the rainbow flag, commonly used to symbolise the lesbian, gay, bisexual and transgender (LGBT) community.
"Such contents are not allowed in Indonesia based on our cultural law and the religious norms and the operators must respect that," Ismail Cawidu, spokesman for the Communication and Information Ministry, told AFP Friday.
He said of particular concern was that the colourful emojis and stickers could appeal to children.
"Those things might be considered normal in some Western countries, while in Indonesia it's practically impossible," he said.
Cawidu said the ministry had contacted all companies that used such content, including Twitter and Facebook, and failure to comply with the request to remove the emojis could lead to the apps being banned in Indonesia.
Written by Administrator
Wednesday, 03 February 2016 20:03
Pope Francis on Wednesday revealed plans for a new "match for peace" as he met Ronaldinho and other football stars at the Vatican.
The charity match will be staged at Rome's Olympic Stadium on May 29, the day after the Champions League final in Milan.
The first match for peace took place in 2014 and featured Ronaldinho, Lionel Messi and Diego Maradona and a host of other top players or former players.
Written by Administrator
Wednesday, 03 February 2016 17:54
Densely packed slums, rampant mosquitoes and a history of rapidly spreading infections make Asia particularly vulnerable to the devastating Zika virus, posing a massive challenge for the region, health experts warn.
Thailand confirmed Tuesday that a man contracted the mosquito-borne infection, blamed for a surge in the number of brain-damaged babies in South America, while Indonesia has also reported a domestic case.
The cases in Asia come as top US health authorities confirmed this week a patient in Texas contracted the Zika virus through sexual transmission, fuelling fears the disease may spread rapidly.
Officials in India worry it could be next, noting that the Zika and dengue fever-carrying Aedes aegypti mosquito thrives in the high-density communities of its teeming cities, where sanitation is often poor.
"In India particularly there is a great threat of the Zika virus spreading quickly given the presence of the Aedes mosquito and favourable environment," said Om Shrivastav, an infectious diseases specialist.
"It would definitely be a big challenge for Asian countries to control the spread of the virus... considering high population in the region," added Shrivastav, who is based in Mumbai, home to Dharavi, Asia's biggest slum.
More than half of Mumbai's 20 million inhabitants live in slums -- at least one million reside in Dharavi alone -- enduring cramped conditions, poor ventilation and a lack of toilets.
Every summer monsoon, heavy rains lash Mumbai for four months, flooding parts of the city, including the slums' maze of alleyways, which become fertile breeding grounds for mosquitos and lead to a massive spike in tropical diseases.
Soumya Swaminathan, director general of the Indian Council for Medical Research, warned against panicking but said a surge of dengue cases worldwide recently, was a cause for concern.
"(Because of) the way dengue has spread over the last several years across continents and across countries, (and with) Zika being a mosquito borne illness, there is a potential for spread," she told Indian news channel NDTV.
Zika, which was first identified in Uganda in 1947, causes relatively mild flu-like symptoms and a rash.
But the World Health Organization (WHO) said it "strongly suspected" the Zika virus of being responsible for a rapid rise in cases of microcephaly, a condition in which a baby is born with an abnormally small head and brain.
Latin American countries, particularly Brazil, have reported a leap in cases of microcephaly since the Zika outbreak was declared in the region last year.
The UN-body has declared the situation a "public health emergency of international concern" and has created a global Zika response unit to contain the virus.
WHO expert Anthony Costello has stressed there is no reason to believe the crisis would remain limited to Latin America, where 25 countries so far have reported Zika cases.
Written by Administrator
Sunday, 31 January 2016 15:10
A new coffee diet claiming to help lose weight and improve IQ is gaining a major following in the United States -- and raising eyebrows among doctors skeptical of its benefits.
Dave Asprey, the founder and CEO of the "Bulletproof Diet," pulls no punches when making claims for his radical health recipe, cup of coffee in hand.
"You become a better employee, better parent, better friend, better person," said the former Silicon Valley entrepreneur now living in Canada. "My energy changes, my brain changes. I can pay attention, I can follow through."
The cornerstone of Asprey's diet is a drink called Bulletproof Coffee, a modified version of the caffeinated beverage which uses beans stripped of mycotoxins -- essentially mold that forms during the fermentation process.
Add to that butter from grass-fed cows and medium-chain triglycerides (MCT) oil.
The ingredients are blended together to produce a creamy, naturally sweet beverage a bit like a milkshake, taken at breakfast in lieu of a meal.
"So you drink a couple of these and all of a sudden you don't care about food for a very long time," said Asprey. "Your brain has energy that doesn't come from sugar, you didn't want sugar in your coffee and you lose the craving and you sort of have freedom."
Asprey used to weigh 300 pounds, and spent much of his life battling to lose weight.
The coffee diet idea came to him during a trip to Tibet in 2004. He was weak with altitude sickness while traveling in the mountainous region -- until he drank yak butter tea.
Asprey was so impressed by the energetic effect of the drink that he tried to reproduce it at home.
After years of trying all kinds of ingredients and combinations, he unveiled a patented formula in 2009 through his blog and on social media, claiming the coffee and an associated health regimen helped him attain a "bodybuilder" physique.
Written by Administrator
Wednesday, 27 January 2016 20:55
Holocaust survivor Ruth Klueger on Wednesday lauded Germany for keeping its doors open to thousands of war refugees, calling Chancellor Angela Merkel's "we can do it" slogan "heroic".
"This country, which was responsible for the worst crimes of the century, has won the applause of the world today," the 84-year-old scholar told the German parliament in an address as part of commemorations for International Holocaust Remembrance Day.
"I am one of the many outsiders who has gone from surprise to admiration," Klueger said, describing Merkel's rallying call of "We can do it" as a "simple but heroic slogan".
Merkel has repeated the mantra over recent months as she has resisted fierce opposition -- even from within her conservative camp -- to reverse her policy towards refugees.
Klueger, who now lives in the United States, said it was precisely Merkel's approach toward those fleeing war and misery that had moved her to accept the German parliament's invitation to speak on the 71st anniversary of the liberation of Auschwitz death camp.
Written by Administrator
Monday, 25 January 2016 11:51
Former Maldives president Mohamed Nasheed landed in Britain on Thursday, his aide told AFP, after the Indian Ocean islands' government granted him prison leave for urgent surgery.
"We have just landed," said Sabra Noordeen, who was travelling with Nasheed, whose conviction last March on terror-related charges has been widely criticised.
A smiling Nasheed, who wore a suit and tie, later walked into the terminal at Heathrow Airport and was met by his British lawyer Amal Clooney, wife of Hollywood star George Clooney, an AFP photographer saw.
He left the Maldives on Monday for Sri Lanka after resolving a last-minute legal dispute with the government over his 30-day release for the spinal cord surgery in the UK.
He then left for Britain on Thursday.
The Maldives government said Nasheed was travelling under what diplomatic sources described as a deal brokered by India, Sri Lanka and Britain.
But Nasheed refused a government request to leave a relative behind to act as a guarantor liable to prosecution if he failed to return to serve the rest of his sentence.
Written by Administrator
Saturday, 09 January 2016 23:45
Spain's Princess Cristina, the sister of King Felipe VI, and her husband will go on trial Monday for corruption in a high stakes case likely to further damage the monarchy's image.
The highly anticipated trial of the royal couple and 16 other accused will run until June at a court in Palma, on the Mediterranean island of Mallorca, where the Spanish royal family has a seaside holiday home.
Cristina, 50, will be the first direct member of the royal family facing criminal charges since the monarchy was reinstated following the death of dictator General Francisco Franco in 1975.
The case is centred on the shady business deals of the Noos Institute, a charitable organisation based in Palma which her husband, former Olympic handball player Inaki Urdangarin, chaired from 2004 to 2006.
As a result of their indictment, last year, King Felipe VI, who took over from his father Juan Carlos in June 2014, stripped Cristina and her husband of their title as Duke and Duchess of Palma de Mallorca, in a bid to undo damage to the monarchy's image ahead of the trial.
Juan Carlos had given the couple the title when they married in 1997 in a lavish ceremony at the height of the popularity of the Spanish royals.
"Felipe VI cannot allow there to be the slightest doubt over the rigour of his sister's trial," historian Pilar Urbano, who has written extensively about the royal family, told AFP.
The trial must be "exemplary, the opposite would hurt him," she added.
Written by Administrator
Sunday, 03 January 2016 13:12
Parisians bid goodbye to a year of unprecedented terror attacks when clocks chimed midnight Friday, as thousands of defiant revellers thronged the Champs-Elysees for New Year's Eve celebrations.
While the traditional fireworks display was cancelled this year over fears of a terrorist attack, crowds still filled the iconic boulevard lined with trees donning sparkling garlands to welcome 2016.
"It's New Year. We wanted to have fun as usual, in spite of everything, so we came on the Champs as this is the perfect place for it," said Joy along with her friend Rebecca, in their 20s, who came for the celebrations.
"I'm not particularly scared," said Joy. "An attack can happen anywhere at any time. But that can't stop us from living."
Behind her, Western tourists uncorked a bottle of wine while some Asian visitors took a photo and several older couples danced.
The festivities are the largest public gathering since jihadists killed 130 people in Paris in November in a wave of gun and suicide bombings claimed by the Islamic State group.
"After what our city has lived through, we have to send a signal to the world," said Paris mayor Anne Hidalgo, promising a "sombre and dignified show".
In the Place de la Republique square in central Paris, visitors flocked to an open air shrine for the victims of the November 13 attacks.
Lila Rehane, a 49-year-old from the southern French city of Marseilles who came to pay homage at the site, said she wanted to see peace return in 2016 after a year of "anguish".
- 'Crappy year' -
Written by Administrator
Saturday, 26 December 2015 23:59
At least 24 people were killed when a passenger bus plunged into a ravine after a head-on collision with a truck in northern Afghanistan, officials said Friday, in the latest deadly road accident.
Women and children were among those killed in the accident Thursday on a major highway in Samangan province.
"The crash happened when the bus carrying more than 50 passengers was travelling from Kabul to Mazar-i-Sharif," said Sarajuddin Fitrat, the governor of Hazrat Sultan district where the accident occurred.
"Twenty four people were killed and 17 others were injured."
The defence ministry in Kabul gave a much higher death toll of 43.
The injured were rushed to hospital while police and a rescue team retrieved the bodies.
<< Start < Prev 1 2 3 4 5 6 7

8

9 10 Next > End >>


Page 8 of 47