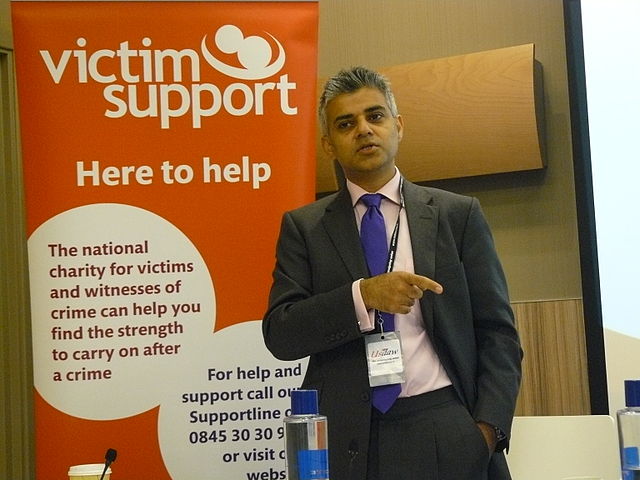 The Mayor of London, Sadiq Khan, will champion the role that London plays in levelling up across the country and the importance of investment in green technology, on
a visit to an electric bus manufacturer in Yorkshire today.   
In a clear statement of his intent to build bridges between London and other regions – something he talked about in his acceptance and swearing in speeches - the re-elected mayor is using one of the first acts of his new term to highlight the role London transport plays in creating a pipeline of high quality green jobs across the country. 
It's been suggested that the 'levelling up' agenda means potentially 'levelling down' London, but the mayor says this is a mistake as London can play a vital role in aiding the national recovery and in helping to level up regions across the country.   
Switch Mobility currently provides 67 electric buses operating in London's fleet, with the delivery of 30 more in progress and the Mayor is visiting to see the benefits Transport for London's partnership with Switch Mobility has had on both regions.
London now has more than 500 zero-emission buses overall an increase from 20 when Sadiq was first elected in 2016. The Mayor has set the ambitious target of making London's bus network zero-emission by 2030, cutting carbon dioxide (CO2) emissions as well as reducing nitrogen oxide (NOx) and particulate matter emissions that currently pose a threat to both health and the environment. 
The ambition of making all London buses zero-emission by 2030 will drive substantial bus orders in locations such as Ballymena, Scarborough, Falkirk and Yorkshire, representing a gross investment into bus manufacturing of £4 billion. So while London's investment in Switch Mobility in Yorkshire is about tackling dirty emissions in the capital, it is also about growing local economies across the UK, working together in different regions to invest in new cleaner technologies and helping to tackle the climate emergency. 
Switch Mobility estimates that around 50 per cent of their revenue last year was from TfL contracts and around 85 per cent of their order book this year is with TfL. London relies on the skills and manufacturing in other regions across the UK. For every £1 spent on the London Underground investment, 55p is paid to workforces located outside London, with TfL contracts contribute around £6.4 billion to the economy overall.
Significant steps have already been taken to reach London's goal of making London's bus network zero-emission by 2030. By January this year, all buses in TfL's core fleet had been brought up to Euro VI emissions standards or better, following an extensive retrofitting programme to replace engines in older buses with cleaner ones. 
In addition to improved air quality and lower carbon emissions, customers travelling on electric buses benefit from quieter, smoother journeys due to fewer vibrations, and free-to-use USB charging points. Electric buses also have innovative new safety features in line with TfL's world-leading Bus Safety Standard guidelines and are involved in the trial of an acoustic vehicle alerting system (AVAS) that alerts road users, including those with vision impairments, to the presence of quieter-running electric vehicles.   
Mayor of London, Sadiq Khan, said: "When I was signed-in for my second term I pledged to build bridges between London and the rest of our country and to showcase how London can help the national recovery and the levelling up agenda.
"This Yorkshire factory, which is manufacturing state-of-the-art electric buses for London, shows how investment in our capital can help create quality green jobs across the country. 
"Too often, the need to 'level-up' cities and regions across the UK is wrongly presented as a need to 'level down' other parts of the country, such as London – but that is in nobody's interest. When London succeeds, the UK succeeds and vice versa. London is ready and willing to play its part in ensuring a strong and green national recovery from this terrible pandemic."
Mayor of West Yorkshire, Tracy Brabin, said: "I'm delighted that Yorkshire is at the forefront of developing the cutting-edge technology that we need to ensure a green recovery as we emerge from the COVID pandemic. 
"I'm also proud that Yorkshire contributes towards London's success, and that our businesses and skilled workforce are being showcased on the world stage. Not only does this present a real opportunity in terms of creating jobs, developing skills and boosting the local and wider economy, it will also help to decarbonise the bus network and improve air quality.
"This is being developed on our doorstep, and I hope this continues to make the case that Yorkshire is a world leader, exporting the technology and knowledge we need to collectively tackle the climate emergency."
Vice-Chairman of Switch Mobility, Andy Palmer, said: "Switch Mobility is honoured to supply EV buses to London. The company's transition from Optare to Switch allows us to leverage our now global markets to supports jobs in Leeds. It is important that as the UK emerges from the pandemic that the country makes investments in the "Green" economy and that this investment is made in local companies where we can support local jobs. We look forward to strong future collaboration with TfL and West Yorkshire."
  
Tom Cunnington, Head of Bus Business Development at TfL, said: "Cleaning up London's toxic air and decarbonising the bus network is an imperative, both for people's health and tackling the wider global threat of climate change. We've set the challenge to the bus manufacturing industry to develop products that meet the needs of busy urban fleets. Significant progress in reducing harmful pollution has been made already, with more than 500 electric buses on the capital's streets and our core fleet now meeting the strict ULEZ standards. Working with Switch Mobility and our other suppliers we're are stepping up our electrification programme and expect to see 700 electric buses in operation in London by the end of this year. And as well as helping Londoners breathe cleaner air, we're thrilled that this investment is supporting jobs across the UK, helping to stimulate a green national recovery."
Photo by Policy Exchange, Wikimedia commons.