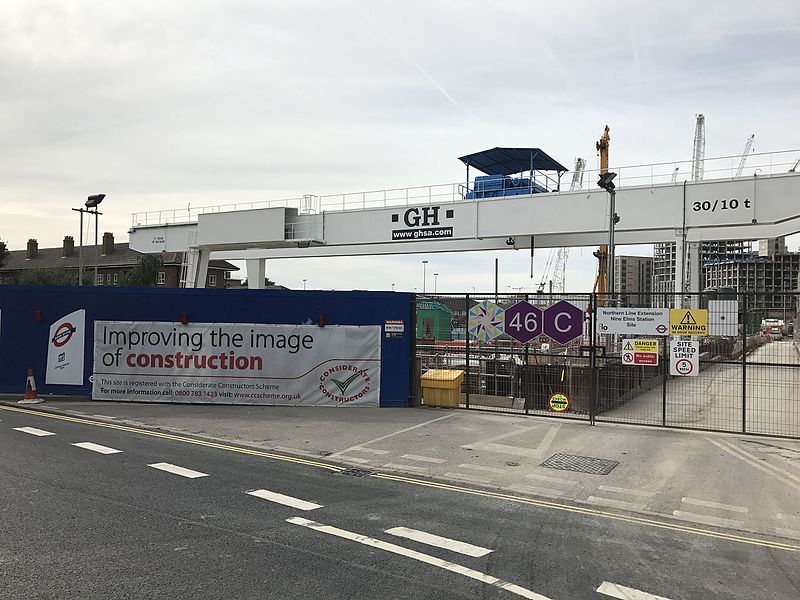 The Mayor of London, Sadiq Khan, will today visit Nine Elms station ahead of the opening of the Northern Line Extension in the autumn - helping support the capital's recovery at a critical time.
The project is the first major Tube extension this century and will transform transport links in south London. Battersea and surrounding areas will be brought within 15 minutes of the West End and the City, helping reduce carbon and improve air quality by providing more sustainable transport options. 
The Northern Line Extension is a key driver for regeneration and will support around 25,000 new jobs and more than 20,000 new homes. The project itself has also boosted the UK economy, supporting around 1,000 new jobs including 79 apprenticeships. 
Two new tunnels of around 3km have been built and two step-free access stations have been created – Nine Elms and Battersea Power Station, which are both undergoing final fit out. All the essential services have been installed and traction power has been activated. Lifts, escalators and ticket machines are all in place and final testing and commissioning is underway and due to be complete in the coming weeks. 
TfL has been successfully running test Northern line trains through the extension since last December and expects to move into the trial operations phase in the summer.
During the consultation period, the vast majority of respondents supported the Northern Line Extension plans, with 87 per cent agreeing it would benefit the area. 
Sadiq will today tour the new ticket hall at Nine Elms and see the gateline before taking an escalator down to the platform. He will then meet an apprentice and an engineer, both employed by contractor Ferrovial Laing O'Rourke (FLO), who have worked on the project.  
The Mayor of London, Sadiq Khan, said: "I've said that jobs, jobs, jobs will be a major priority for my administration so I'm delighted that the Northern Line Extension is on track to open this autumn, bringing Battersea and surrounding areas within 15 minutes of the West End and the City. It will be the first major Tube extension this century, and it couldn't come at a better time to support our city's recovery from the pandemic and kick-start our economy.
"The extension will support tens of thousands of much-needed new homes and jobs, and make these parts of London a more attractive destination for people to work, live and visit. It's a key example of how new transport projects drive regeneration and shows how central a reliable, joined up network is for our city, both now and in the future." 
Stuart Harvey, TfL's Director of Major Projects, said: "The Northern Line Extension will bring vital sustainable transport links to thousands of residents and businesses in this swathe of south London for the very first time. It has been a very challenging year for construction projects around the world but with extensive physical changes made to our construction sites we ensured they could reopen safely. Thanks to the commitment of brilliant teams at both Nine Elms and Battersea, we remain on target to welcome our first customers to these two new Northern line stations in the autumn." 
Melissa Wright, Assurance Verification Engineer at FLO, said: "I'm based across all three sites of the NLE and carry out inspections to support the assurance manager. I've always been interested in infrastructure and creating systems that help people move around cities. Living in London has given me the opportunity to work on projects as part of one of the most well-known transport networks in the world. I particularly enjoy working to make transport networks more accessible for everyone whether it be extensions to lines as housing develops or capacity and inclusive accessibility upgrades. The NLE has been a perfect example of all of these in one fantastic project."
Abdul Hussain, Fit Out Foreman at FLO, said: "The Northern Line Extension is a fantastic project for London and the transport network but also the construction of the project in terms of employment and skills. I joined 2.5 years ago as a general operative and have been able to develop my career here to become Fit Out Foreman. I am also looking at now progressing further through company career development schemes to sustainable employment with my parent company. It has been a fantastic outcome for me and many others from the NLE. I am proud of the work we have done here- and have always strived to do my best. This is something I have seen from everyone on the project too."  
Ahead of the opening of the Northern Line Extension, Kennington station changed from a Zone 2 station to a Zone 1/2 station on Monday (16 May). As more Londoners return to the transport network, this will ensure passengers get the best value fare no matter which direction they are travelling in.

The fare zone change also means those that travel from the station towards Balham, Tooting and Morden will also not pay any extra as a result of the extension.
Photo by David Ham, Wikimedia commons.