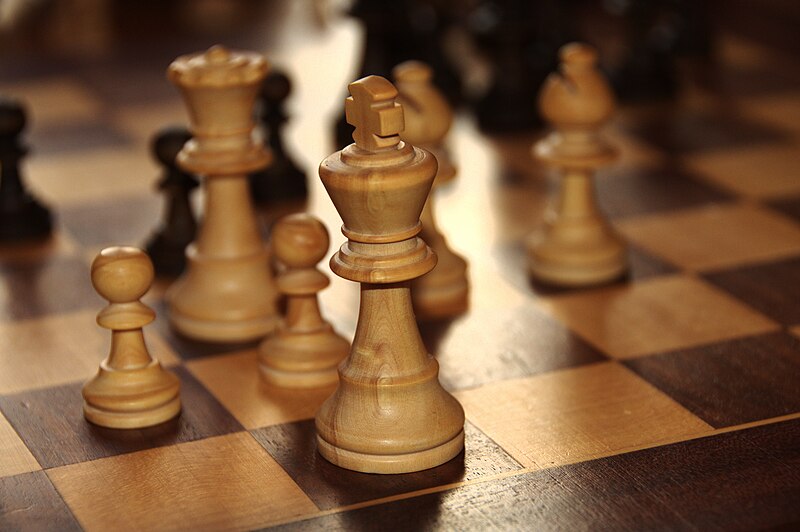 Chess will receive a major boost, thanks to a package of measures announced today.
The package will support primary school children attending schools in disadvantaged areas across England to learn and play chess, improve the visibility and availability of chess in communities, as well as fund elite playing as part of a combined package worth almost £1 million.
The Department for Culture, Media and Sport will invest £500,000 in the English Chess Federation (ECF) over two years, in order to develop the next generation of world-class talent. Funds will support expert coaching, training camps and cutting-edge computer analysis for international events to assist current grandmasters and up-and-coming players.
Investment into the ECF will include funding for junior training camps and one-to-one coaching with England internationals, prioritising access for young chess players to take part in an educational, productive activity that helps develop critical thinking skills. A portion of the money will be dedicated to support visually impaired and deaf players to compete in their own elite level competitions.
This investment comes following a speech at the Onward think tank in July, where Culture Secretary Lucy Frazer set out her commitment to ensure that young people have "someone to talk to, something to do and somewhere to go" outside of school.
Culture Secretary Lucy Frazer said:
Chess is a brilliant way for young people to develop skills such as patience and critical thinking. It is something constructive on which to spend their time and feel part of. It inspires creativity and sparks the competitive spirit.
We want to give more young people the opportunity to find the thing that they love and realise their potential. So this package is focused on getting more young people playing chess and supporting them to develop their talent.
We're also equipping our elite chess players with expert coaching to help them dominate at the highest levels of the global game and restore England's reputation among the best in the world.
English Chess Federation Director of International Chess Malcolm Pein:
The unprecedented grant funding will be transformational for English chess, helping to train more grandmasters and beginning the process of regaining England's former status as a force in international chess.
The funds will enable us to support a training programme and pipeline for our growing pool of young talent as well as assist our elite players, seniors, visually impaired and deaf players to compete for top honours in their respective international competitions. The funding will also enable the ECF to revitalise the chess tournament circuit here at home.
Alongside the support committed to elite players, the Department for Levelling Up, Housing and Communities (DLUHC) will provide £250,000 to 85 Local Authorities throughout England to install 100 new chess tables in public parks and outdoor green spaces, to allow more people to play, connect, tackle loneliness, and develop problem solving skills.
Local authorities which are currently receiving the Levelling Up Parks Fund (LUPF) and have been identified as communities most in need of improved quality green space will determine where to locate the chess tables.
In addition, the Government has set out plans to encourage more primary school children, particularly girls, to learn to play the game. The Department for Education will award grants of up to £2,000 to at least 100 schools in disadvantaged areas across England, subject to interest.
The grants will enable them to purchase chess sets, provide access to weekly online chess tutorials, and set up online learning platforms and curriculum planning materials for teachers. This will give even more young people access to a productive, enriching activity, helping them build relationships and develop key skills that can be used beyond the game.
Children's Minister Claire Coutinho said:
Chess is for everyone, regardless of background. I'm thrilled that more primary school children will learn how to play, boosting their concentration, problem-solving and wellbeing in the process.
From providing in-person tuition to helping pupils enter competitive tournaments, this funding will support schools to spark a passion for chess in children across the country.
Learning to play chess is already a skill that young people aged 14-24 can choose to pick up while working towards their Duke of Edinburgh's Award (DofE). Since 2021, 8,000 young people have pursued chess as part of the Skills section of their DofE.
Harriet Hunt, International Master and former World Girls' Champion said:
My own journey into international chess was inspired by the world-leading England players and teams at that time. I am delighted that this government funding will enable the next generation of English talents to reach their potential and compete successfully at the highest level internationally'.
David Howell, Grandmaster and UK No.1:
Chess has been my life and, as a professional player, the news of support from the government is music to my ears. Hopefully this will inspire the next generation of chess players, as well as bringing the joys of the game that I love to an even wider audience.
Jitendra Singh, father of UK's No.1 chess prodigy Shreyas Royal said:
I was struggling to support my son with the required chess tournaments and coaching instrumental to his development at such a young and crucial age.
With this grant from the government we will be able to help more kids flourish at the game through the hard-working organisations of the English Chess Federation and chess in Schools and Communities. I believe that it is also a very beneficial hobby and would love to see more people getting into the game from this monumental announcement. Photo by David Lapetina, Wikimedia commons.