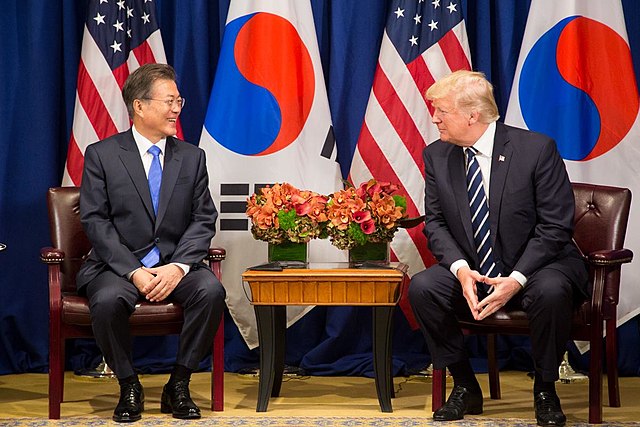 A peace treaty to formally end the Korean War "must be pursued", South Korean President Moon Jae-in said Thursday, ahead of a summit with Kim Jong Un, leader of the nuclear-armed
North. The 1950-53 Korean War ended in a ceasefire rather than a peace treaty, leaving the two sides technically at war, and the Demilitarised Zone between them -- where Moon and Kim will meet next Friday -- bristles with minefields and fortifications.
"The armistice that has dragged on for 65 years must come to an end," Moon told media executives at the presidential Blue House, adding: "The signing of a peace treaty must be pursued after an end to the war is declared."
But Moon signalled that a treaty would depend on the North giving up its nuclear weapons.
"If the inter-Korean summit or North Korea-US summit lead to denuclearisation," he said, "I think that it won't be too difficult to reach practical agreements in the big picture on creating a peace regime, normalising North Korea-US ties, or providing international aid for the improvement of the North Korean economy."
The summit between Moon and Kim will be the biggest highlight of a whirlwind of diplomacy on and around the peninsula triggered by the Winter Olympics, and a precursor to a much-anticipated meeting between Kim and US President Donald Trump.
The US leader warned earlier that his summit could still be called off, saying: "If I think that it's a meeting that is not going to be fruitful, we're not going to go.
"If the meeting, when I'm there, is not fruitful, I will respectfully leave the meeting."
Trump previously offered his "blessing" for the two Koreas to discuss a peace treaty to formally close the decades-old conflict.
But the question of whether the North is willing to give up what it calls the "treasured sword" of its nuclear arms will be key to any broader settlement.
North Korea has long said it needs nuclear weapons to defend itself against a possible US invasion, and both South Korean and Chinese officials have cited Kim as saying he is committed to denuclearisation of the Korean peninsula - code for the withdrawal of US troops and Washington's nuclear umbrella over its security ally, something unthinkable in Washington.
For its part the US stresses it wants to see the complete, irreversible and verifiable denuclearisation of the North.
"Right now, North Korea is showing the international community a willingness for a complete denuclearisation," Moon said, but added it was "too early to guarantee the success of dialogue", which could only come "after a successful US-North Korea summit".
- Broken promises -
North Korea's state media on Thursday announced it will convene a full meeting of the ruling Workers' Party of Korea central committee to make key policy decisions.
The official KCNA news agency gave no indications what they might be about, saying only that Friday's gathering will address issues of a "new stage" in what it called "the important historic period of the developing Korean revolution".
Analysts say there could be changes to its stance towards the US.
"It needs a logical explanation and justification for the shift in its ties with the 'enemy' US, which has held the North Koreans together for the past 70 years," said Kim Dong-yub, a researcher at the Institute for Far Eastern Studies at Kyungnam University.
"It looks like they are ready to do that," Kim added.
Even so there are multiple obstacles to reaching a final Korean War treaty, involving both sides of the peninsula and other countries.
While the US-led United Nations command, China and North Korea are signatories to the decades-old armistice, South Korea is not.
Both Pyongyang and Seoul claim sovereignty over the whole Korean peninsula, but a treaty could imply mutual recognition of each other.
And such promises have been made before - in the joint statement after the last inter-Korean summit in 2007, they agreed to work together to have the leaders of "the three or four parties directly concerned... convene on the peninsula and declare an end to the war".afp