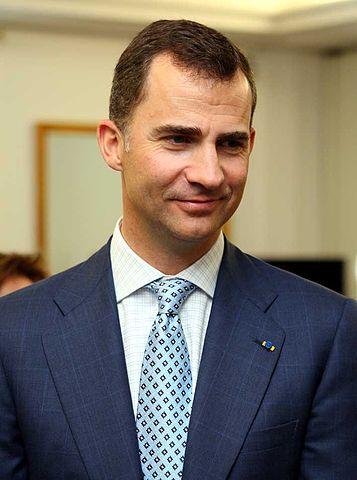 Brexit has created uncertainty for both Spanish businesses and citizens, King Felipe VI of Spain said Thursday during his state visit to Britain, calling for a swift resolution.
In a reception in the City of London business district before holding talks with Prime Minister Theresa May, the monarch also said there was a need to "minimise future obstacles.
"We cannot deny that the scenario created by Britain's decision to leave the EU has created uncertainty and doubts for our major companies, and especially for our small and medium enterprises," King Felipe said.
"We must ensure that the negotiations reduce such uncertainty to the minimum. It is vital that the framework of our future relations create the conditions for a closer trading relationship by trying to minimise future obstacles," the monarch said.
Britain is the top destination for Spanish investment in Europe. In sectors such as banking, Spain is the second-biggest investor in Britain behind the United States.
British exports to Spain were worth 16.7 billion euros ($19.1 billion) in 2015, while Spanish imports were worth 28 billion euros.
Spanish investments in Britain topped 82 billion euros that year. Meanwhile Britain is the second-biggest investor in Spain, representing 12 percent of total foreign investment.
"These investments created around 110,000 jobs in Spain, where around 1,000 British companies have a base," the king said.
The main Spanish companies in Britain attended the reception, including the banks Santander and Sabadell, Inditex (Zara) and Ferrovial, which was involved in building London's new Underground train line.
- Reassurance for Spaniards in UK -
In a separate speech to the Spanish community at the embassy in London, King Felipe asked for "certainty" for the more than 100,000 Spaniards living in Britain.
"We are confident that the agreement on Britain leaving the European Union... will soon give you the necessary certainty to continue living your lives in peace and with confidence," the sovereign said.
There are around 300,000 Britons living in Spain, many of whom are retired and depend on free medical care under EU rules. The 116,000-odd Spaniards in Britain are mainly workers.
"We know that many of you wish to remain in Britain after it leaves the EU, carrying on with your work and way of life, which began when there were no shadows of uncertainty about the future," the king said.
"We want to encourage the Spanish and British governments to work to make this possible."
Before the reception at the embassy, King Felipe and Queen Letizia visited Westminster Abbey in London, where they laid a wreath at the tomb of the unknown soldier and saw the tomb of Eleanor of Castile, the Spanish wife of England's king Edward I, who died in 1290.
- Gibraltar issue, glitzy banquet -
On Wednesday, Britain's Queen Elizabeth II sought to sweep aside differences with Spain as she hosted a banquet for her distant cousin, just hours after King Felipe called for a deal on the status of Gibraltar.
"With such a remarkable shared history, it is inevitable that there are matters on which we have not always seen eye to eye.
"But the strength of our friendship has bred a resilient spirit of cooperation and goodwill," the Queen said at the Buckingham Palace banquet to mark the state visit.
The glitzy occasion closed the first day of the visit, which saw King Felipe raise the issue of Gibraltar in an address to parliament.
He called for "arrangements that are acceptable to all involved".
On its southern coast, Spain ceded the tiny rocky outcrop of Gibraltar to Britain in perpetuity in 1713. afp, photo by wikimedia