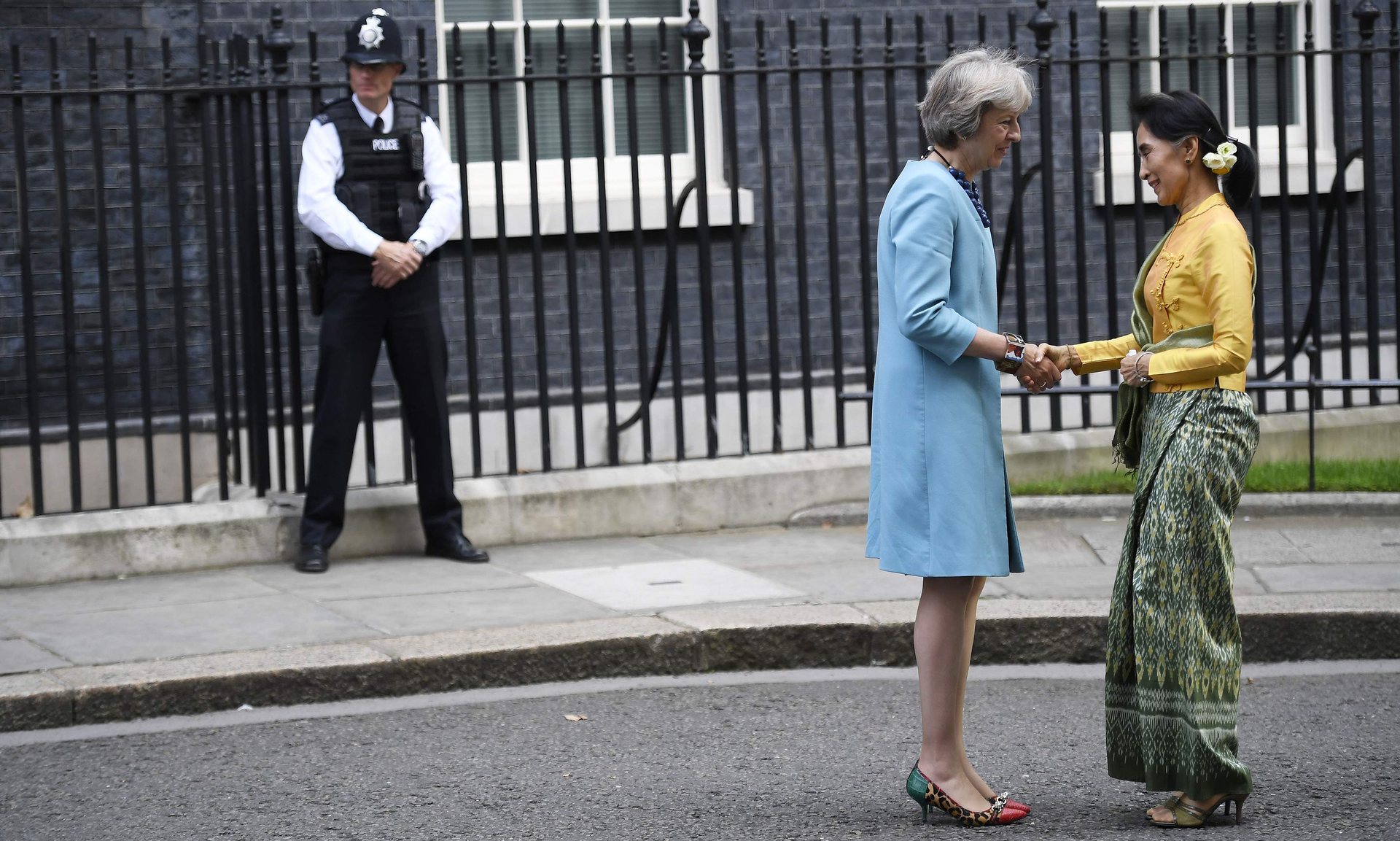 Aung San Suu Kyi on Tuesday met with British Prime Minister Theresa May during her first visit to London since becoming Myanmar's de facto leader, with the thorny issue of human rights on the agenda.
The two women discussed the challenges faced by Myanmar as it transitions from military rule to democracy during Suu Kyi's first visit outside of Asia since her party's election victory last year.
"They agreed that to create a society that truly works for all, it would be important to see Burma [Myanmar] make further progress in the creation of jobs, in improving access to quality healthcare, and on reforming the education system," said May's Downing Street office.
London stands "ready to provide further assistance as Burma continues to develop," including through £118 million ($156 million) in support this year, it added.
May also "raised concerns about human rights abuses in the Burmese military," with the Nobel laureate, according to a Downing Street summary of the meeting.
Despite winning a landslide in last November's elections, which ended decades of brutal military rule, Suu Kyi is banned by a junta-era Constitution from becoming president. Instead she has taken the role of foreign minister and created a new position for herself as state counselor. She has also appointed a longtime friend and ally, Htin Kyaw, to be a proxy president.
Suu Kyi met Foreign Secretary Boris Johnson on Monday, for talks including on Myanmar's Rakhine region, which is riven by ethnic divisions and is home to the stateless Muslim Rohingya.
Sectarian bloodshed in the western state in 2012 forced more than 100,000 Rohingya into displacement camps.
The Rohingya, a minority in overwhelmingly Buddhist Myanmar, are denied citizenship and face severe restrictions on their movements and access to health care and other basic services.
Johnson welcomed the establishment of the Rakhine Commission to deal with the issue.
"We remain committed to supporting Burma's extraordinary reforms and we welcome a democratic, stable and prosperous Burma that can contribute to stability and security in southeast Asia and beyond," said Johnson. afp