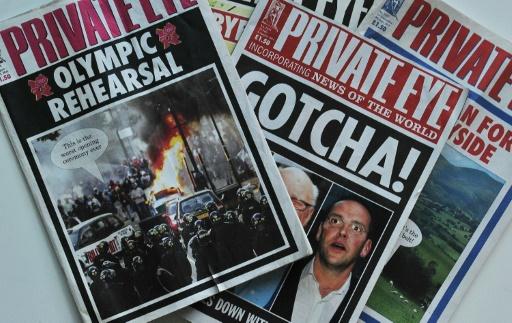 Divisive, chaotic and with implications for almost every aspect of national life, Brexit has been a godsend for political satirists -- giving them a wealth of material -- and audiences desperate for a laugh.
"There's a voracious appetite in the UK for anything to do with Brexit, and there's a huge appetite for satire," said Neil Rafferty, editor in chief of the popular satirical website The Daily Mash.
He told AFP: "It's a massive subject. There's also a massive number of colourful characters involved. There are some very extreme views, which are great for satirists."
Britons have a long tradition of turning to humour in troubled times, and the June referendum vote to leave the European Union has inspired comedians across the country -- even if most of them opposed the decision.
"When it comes to writing jokes, this referendum outcome is a better one," comedian Al Murray, who adopts the persona of a xenophobic pub owner, told The Guardian newspaper.
Satirical magazine Private Eye is enjoying record sales of 230,000 copies every fortnight, while Twitter and the Internet are alive with Brexit-related gags.
A Daily Mash story poked fun at the insistence that Britain will be better off outside the European single market, with the headline: "Australia ideal trading partner, say Britons happy to wait three months for stuff."
Comedy can also help Britons deal with some of the darker issues thrown up by Brexit, including reports of an increase in hate crime after a referendum campaign dominated by immigration.
"Brexit raised a lot of tensions, some of them racial, a lot of them political," said Steve Bennett, editor of comedy industry website Chortle.
"I think comedy is an important tool in smoothing over that."
- 'Better than crying' -
One Friday night in the Comedy Cafe in east London, a stand-up comedian asked the crowd if anyone likes gaffe-prone foreign secretary Boris Johnson, a leading Brexit campaigner.
When one hapless audience member tentatively raised his hand, he was treated to a barrage of jokes at his -- and Johnson's -- expense.
Most comedians were among the 48 percent of voters who opposed Brexit in the referendum, but the jokes are also flowing from the other side of the political divide.
"Straight after the vote happened, a lot of my friends were saying 'well, thank you very much, leavers, now we are going to have a future with no money or human rights'," said stand-up Geoff Norcott, who backed Brexit.
"And I was thinking -- no, we are leaving the EU, not joining North Korea. Let's just turn down the rhetoric a little bit. But it's that hysteria that makes it funny."
He told AFP: "We'll laugh until we are really poor. And then we'll laugh for different reasons. Because laughing is better than crying."
- 'Argulfoop means Argulfoop' -
Prime Minister Theresa May has repeatedly refused to outline her negotiating strategy ahead of talks with the EU early next year, saying only that "Brexit means Brexit".
The phrase has been widely mocked for being meaningless, while clips of several politicians inadvertently saying "breakfast" instead of "Brexit" have brought a surreal aspect to posturings on Britain's future.
For some comics such as singer-songwriter Mitch Benn, however, the jokes cannot disguise their anger at the situation.
He has lived in France and Spain, and has a song offering an affectionate look at the stereotypes of Europeans, from the napping Spaniards to the "boring" Germans.
"Saying 'Brexit means Brexit' is a meaningless statement because it's like saying, 'Argulfoop means Argulfoop'," Benn told AFP.
"It' a word you've just made up and you've said that it means what it says it does. We've no idea where we're at or what we're doing."afp