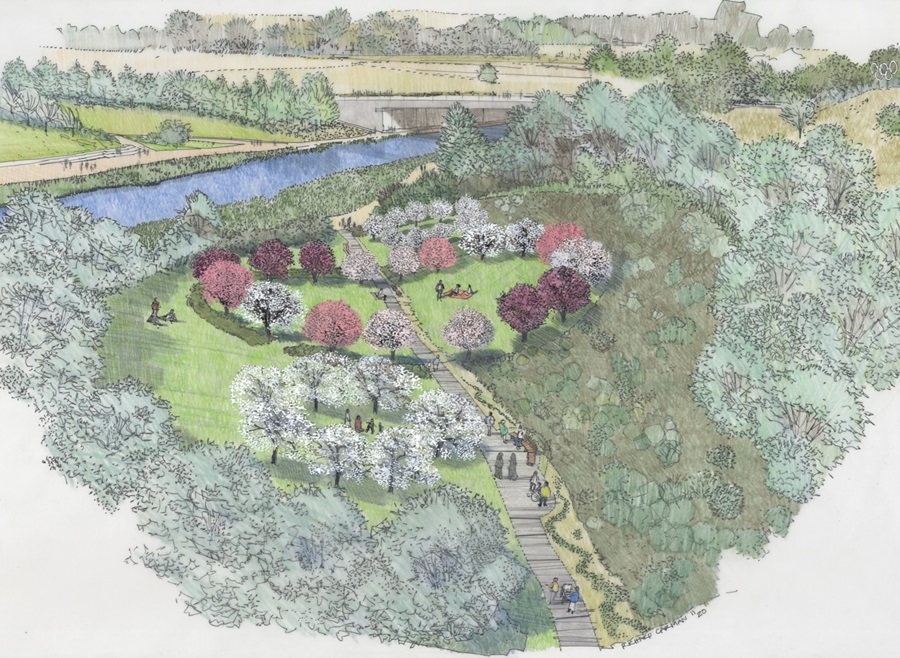 The Mayor of London, Sadiq Khan, has today opened the London Blossom Garden as a lasting living memorial to the impact of COVID-19 on our capital, as he also announced the first phase of
a new bereavement support programme to help grieving Londoners.
The Mayor was joined by Hilary McGrady, Director General of the National Trust, and key workers and their representatives from the NHS, TfL and other frontline roles in a ceremony to open the new public garden at Queen Elizabeth Olympic Park. The ceremony was hosted by Gardeners' World presenter Arit Anderson, and featured poetry by Jay Bernard and a performance by the London International Gospel Choir as they remembered the more than 19,000 Londoners who have died from COVID-19.
In partnership with the National Trust and with support from Bloomberg, a total of 33 blossoming trees have been planted to create the new garden. It has been designed to be a place to contemplate and reflect on the impact of the pandemic, honour the vital efforts of key workers and remember those who have died.
The 33 trees represent all London boroughs and the City of London, with eight spring blossoming tree species chosen as the blossom season coincided with the first national lockdown last year. The garden is the first and flagship site in a series of National Trust blossom plantings in towns and cities across England, Wales and Northern Ireland.
The Mayor also today announced the first phase of a new bereavement support programme to help those experiencing loss and grief in London. The Recovery Bereavement Programme will develop a range of support for Londoners with partners, and begins with a public awareness campaign led by Thrive LDN. 'In loving memory of Londoners lost' will help direct Londoners to information, advice and support to cope with their grief.
The Mayor of London, Sadiq Khan, said: "I'm immensely proud to join some of our capital's key workers to open the London Blossom Garden.
"This new public garden is a lasting living memorial in recognition of the impact that COVID has had, and continues to have, on our city. It is a place to join together to remember the more than 19,000 Londoners who have tragically died, to reflect on our own experiences of the pandemic, to highlight how this virus has disproportionately impacted many of our communities, and to pay tribute to the ongoing efforts of our key workers.
"It continues to be an incredibly difficult time for Londoners as we battle the virus, and I want all those who have experienced loss to know that there is support available to them. Nothing will make losing someone you love any easier, but we want Londoners to know they are not alone. We are here for you, as a city."
Hilary McGrady, Director General at the National Trust, said: "It's wonderful to have seen this garden come to life in just a few months, with the help of local communities. It will be a beautiful, lasting tribute. 
"Through our blossom tree planting programme, which will help us  achieve our wider ambition of planting and establishing 20 million trees over the next decade, we will work with more communities to  create beautiful and inspiring public spaces across the country so people can connect with nature and culture near to where they live.
"This flagship site in east London will be here for local people – and as it grows and becomes more and more established, we hope it will become a familiar place for people to watch the seasons change and witness some of nature's spectacle. It very much reflects the ambition of our founder, Octavia Hill's,  to ensure people everywhere can access beautiful, open spaces wherever they live."
Jemma Read, Global Head of Corporate Philanthropy, Bloomberg L.P said: "Through our philanthropic work in cities across the globe, we know that shared public spaces can provide a focal point to bring communities together and present poignant moments for personal reflection.
"As we look to the future of our city, the Blossom Garden will provide all Londoners with a space to honour the memory of those we've lost to Covid-19 and acknowledge the ongoing efforts of those who work to protect us."
Martin Machray, Joint Chief Nurse for the NHS in London said: "The London Blossom Garden is an important tribute to those who have lost their lives during the last year, and a reminder to families, friends and communities affected by loss that the NHS in London is here to support you. The space also provides us all with an opportunity to reflect on the challenges of the past year, with the NHS and communities having come together to support those in need."
Dr Jacqui Dyer MBE, mental health equalities advisor for NHS England and co-lead of Thrive LDN, said: "Covid has devastatingly taken parent from child, sister from brother, husband from wife, grandparent from grandchild. Lockdown restrictions have made bereavement much harder, and research has shown the experience of Covid grief to be worse than other types of grief. As a result, we can expect many more people to require extra support.  
"Navigating bereavement services can be difficult, even if there has been some time after experiencing a loss. There is also a significant lack of bereavement services specifically targeted to the needs of London's minoritised communities, who have been disproportionately hit by Covid.  
"The launch of citywide programme to support and strengthen London's bereavement sector is crucial. We must work towards bereaved people having access to support that meets their particular needs, when they need it." Photo by queenelizabetholympicpark.co.uk.