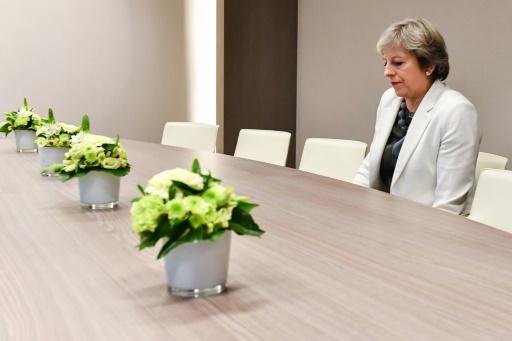 Guy Verhofstadt, the European Parliament's Brexit coordinator, told British Prime Minister Theresa May on Sunday to confront the Brexiteers in her cabinet and offer greater concessions to the EU.
Verhofstadt told The Mail on Sunday newspaper that May should confront Foreign Secretary Boris Johnson and other Brexit cheerleaders and outline what sort of trade deal she wants, following this week's summit in Brussels.
European Union leaders threw May a lifeline in Brexit talks on Friday, agreeing at the summit to start preparations for the next stage of negotiations on post-Brexit trade and a transition deal.
European capitals are demanding detailed written commitments on the divorce bill from London before consenting to the start of trade talks, fearing that Britain's departure in 2019 will blow a hole in the bloc's budget.
Verhofstadt said May should call the bluff of the "increasingly desperate Brexiteers" and "outline, once and for all, what kind of future relationship the country wants with the European Union".
"This may require Theresa May to face down Boris Johnson and others in her own party who refuse to accept the reality of the Brexit they campaigned for," he said.
"Brexiteers failed to outline the extent of UK liabilities in Europe. Nevertheless, what is clear is that it will not be the taxpayers of the European Union who pay Britain's bar bill."
- 'Complicated and deeply technical' -
May is expected to update parliament on the summit outcome on Monday.
She was to reaffirm her commitment to the three million EU nationals living in Britain who make an "extraordinary contribution", saying "we want them to stay".
She was also to call on the other 27 EU states likewise to protect the rights of British expats.
"The negotiations are complicated and deeply technical but in the end they are about people -- and I am determined that we will put people first," she was to say, according to an extract appearing across the Sunday newspapers.
Britain's Brexit Secretary David Davis is due to travel to Paris for talks on Monday, days after French President Emmanuel Macron suggested at the summit that London would need to ramp up its divorce payment offer to unlock trade negotiations.
Davis is due to have dinner with French Foreign Minister Jean-Yves Le Drian.
Meanwhile the main opposition Labour Party has said it will join forces with rebels from May's governing Conservatives to try to force the prime minister into giving parliament a veto on the final Brexit deal.
Labour's Brexit spokesman Keir Starmer, writing in The Sunday Times newspaper, demanded MPs get the "final say on whether to approve the withdrawal agreement and how best to implement it".
"Labour will work with all sides to make that happen," he wrote. afp