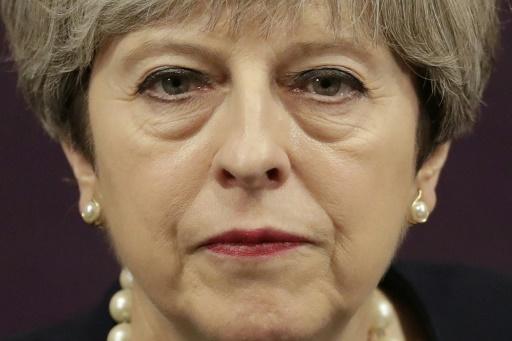 Sexual harassment scandals, resignations, splits: Britain's government is looking increasingly fragile at a time when it should be operating at full throttle for Brexit negotiations, analysts said
on Thursday. The political backbiting in the corridors of power has provided a boon for cartoonists, who have mocked Prime Minister Theresa May since she lost her parliamentary majority in a June general election.
The Times on Thursday showed an angry-looking May sitting at an empty cabinet table shaped like a coffin with the caption: "So... Business as usual!"
The Guardian's Steve Bell published a cartoon entitled "Britain in the World Today" with cabinet ministers clothed in clownish Union Jack outfits.
"The government gets weaker by the day," Centre for European Reform director Charles Grant told AFP.
"I do think the most likely outcome is that Theresa May will still be prime minister by the end of the year but that, obviously, is not certain," he said.
- 'Out of control?' -
The Brexit referendum last year introduced an unprecedented volatility in British politics with the bitter rift between "Leavers" and "Remainers".
Tensions within May's Conservative party have grown further since the election, even as Britain embarked on its most important negotiations since World War II, to abandon the European Union after four decades.
In the past fortnight a string of non-Brexit scandals have shook her government, leading to two ministerial exits within a week.
Defence Secretary Michael Fallon resigned over sexual harassment allegations and International Development Secretary Priti Patel was forced to step down on Wednesday after her unauthorised meetings in Israel were exposed.
May's Foreign Secretary Boris Johnson has also faced calls to resign after a blunder over an Iranian-British woman being held in a Tehran jail.
"Patel's resignation highlights how weak May has become," said Simon Usherwood, a politics lecturer at the University of Surrey.
Not only did May allow Patel to resign instead of sacking her, but she also "seems bound to replace her with another pro-Brexit individual rather than someone who might have the skills needed for the job", he said.
"How many more ministers can she lose before the party decides things have got out of control?"
May later on Thursday promoted Brexit campaigner and junior minister Penny Mordaunt to take over from Patel.
- 'Rage and resentment' -
Many experts believe the government is not in immediate danger of collapsing, mainly because there is no clear alternative to May within the party.
Even her critics appear to be holding fire at a delicate moment for Brexit, ahead of a December summit at which Britain is hoping EU leaders will give the go-ahead for talks on future trade ties to begin.
Paul Goodman, editor of the influential Conservative website ConservativeHome, noted the government still has a formal majority in parliament thanks to an agreement with the Democratic Unionist Party.
"The next election is five years away," he wrote.
But he added: "All of this is not say that the government is in a good place, or that it has a coherent plan to escape from it, or that Theresa May's own position is secure: far from it."
The state of the government in Britain is also being viewed with concern in Brussels.
"Everybody reads the papers," an EU source said. "We are a bit concerned about what we are seeing in the UK at the moment, we want a strong negotiating partner."
- 'Bemusement' -
If May were forced to step down, it would "delay a deal on Article 50 and the start of talks on the future", Grant said, referring to the Brexit withdrawal agreement and a deal on future trade ties.
He said the current political situation was being viewed with "bemusement" on the EU side as "they don't really understand what's going on with Britain".
In an article entitled "No One Knows What Britain Is Anymore", the New York Times' outgoing London bureau chief Steven Erlanger this week sounded a despondent note about a "riven and rudderless" government.
Financial Times columnist Philip Stephens also said the tensions were part of a wider malaise.
"Renowned for solidity and pragmatism, the Brits have fallen to rage and resentment," Stephens said.
Brexit "is being steered, if that is the right word, by an administration drained of political authority by a misjudged election and by a Conservative party at war with itself," he wrote.afp