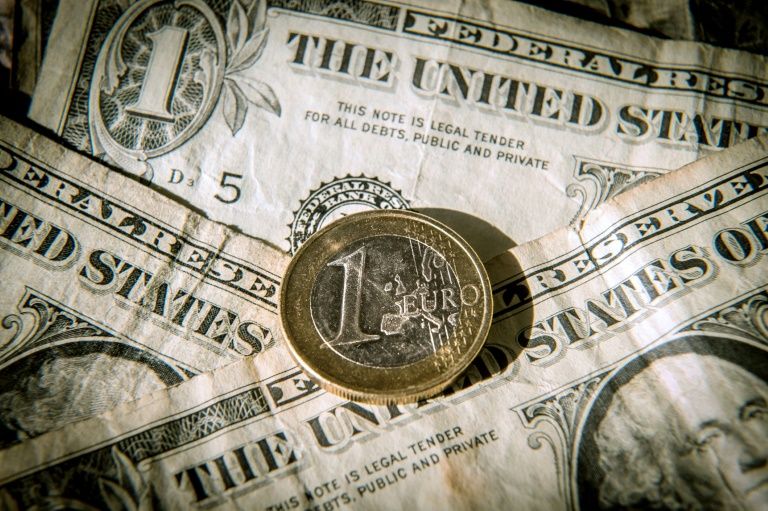 Most European equities sank Monday on poor data, airline sector turbulence and the strong euro, which neared a two-year peak against the dollar.
In afternoon trading London's FTSE 100 index was down 0.9 percent, with airline stocks facing headwinds after low-cost Irish carrier Ryanair posted soaring first-quarter profits but hinted at a price war in the sector.
Sentiment about eurozone stocks was hit as a survey showed that private sector business activity slowed in July for the second month running.
IHS Markit said its July Composite Purchasing Managers Index (PMI) came in at 55.8 points, the lowest reading in six months. A reading above 50 indicates economic expansion.
"The FTSE has suffered a rude awakening to the new week," said IG analyst Joshua Mahony.
"One of the biggest drags we have seen has come from the airline sector, with Ryanair's warning of a potential air fare war in the coming months leading to sharp falls for EasyJet and IAG, the owner of airlines including British Airways, Iberia and Aer Lingus.
"A host of eurozone PMI surveys have somewhat undermined the recent theme of mainland European strength."
In London, EasyJet shares tumbled 3.0 percent to 1,273 pence and IAG dropped 2.2 percent to 577 pence.
Eurozone stocks were also buffeted by the strong euro, which weighs on exporters.
In Asian trade, the European single currency rallied to $1.1684 -- the highest level since August 2015 -- before profit taking set in.
The euro was propelled by hopes that the European Central Bank (ECB) might begin to wind down or taper its vast stimulus soon.
The dollar has meanwhile been handicapped by US political worries and the Federal Reserve's monetary policy outlook.
- 'Unwinding of Trump trade'? -
"The euro is generally being boosted by the belief that the ECB will announce tapering before the end of the year," Oanda analyst Craig Erlam told AFP.
"While the Fed has openly been on a tightening path, the recent commentary has suggested the pace could slow going forward."
"With President Donald Trump getting nowhere on his growth agenda, the need for the Fed to keep raising at the current rate has reduced. What we are effectively seeing is the ongoing unwinding of the Trump trade, from a rates perspective."
Asian stocks however rose in value as investors awaited this week's Fed policy meeting and the release of big-name earnings results.
However, uncertainty surrounding Trump's presidency continues to drag on sentiment, with Wall Street's three main indexes ending last week on a negative note.
Wall Street opened flat, with the Dow slipping 0.06 percent in opening trade.
The single currency has extended last week's rally against the greenback after European Central Bank boss Mario Draghi said policymakers would address its vast stimulus programme by the autumn, fuelling speculation they would start winding it in.
- Key figures around 1330 GMT -
Euro/dollar: DOWN at $1.1642 from $1.1663 at 2100 GMT Friday
Pound/dollar: UP at $1.3027 from $1.2992
Dollar/yen: DOWN at 110.94 yen from 111.12
London - FTSE 100: DOWN 0.9 percent at 7,385.61 points
Frankfurt - DAX 30: DOWN 0.3 percent at 12,202.08
Paris - CAC 40: UP 0.4 percent at 5,137.08
EURO STOXX 50: UP 0.2 percent at 3,457.94
New York - DOW: DOWN 0.06 percent at 21,566.84
Tokyo - Nikkei 225: DOWN 0.6 percent at 19,975.67 (close)
Hong Kong - Hang Seng: UP 0.5 percent at 26,846.83 (close)
Shanghai - Composite: UP 0.4 percent at 3,250.60 (close)
Oil - Brent North Sea: UP 48 cents at $48.79 per barrel
Oil - West Texas Intermediate: UP 48 cents at $46.25 afp