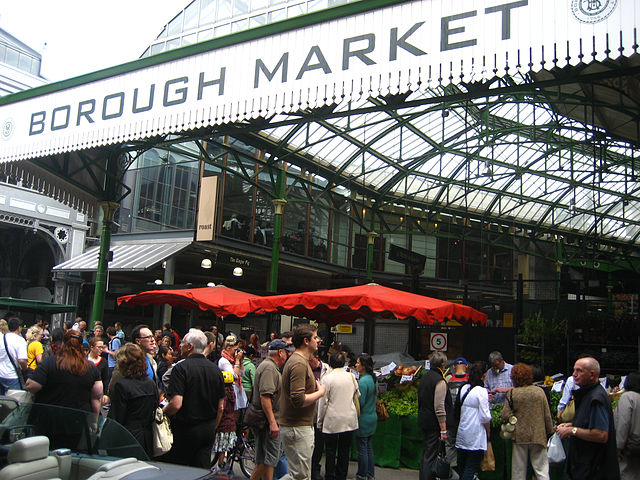 As London's terror-hit Borough Market reopened Wednesday, a local poet's words echoed around: "Let them, the traders, appeal to your tastes, there is much to be gained from the wonderment of this place."
Stall holders, London Mayor Sadiq Khan and media mogul Rupert Murdoch were among the 200-strong crowd that broke into applause as the 27-year-old poet ended his ode to the historic market.
"I am a local boy, it has been a real roller-coaster," rapper-turned-poet Suley Muhidin told AFP.
"London has responded really well, we've really supported each other, so much love. We are united."
The market, which has stood on the site since the 13th century, fell silent shortly before 10:00 am (0900 GMT) in honour of the eight victims of the van and knife attack 11 days ago, when three terrorists rampaged through its popular bars and pubs.
The silence was broken by fruit and vegetables merchant Paul Wheeler, who tearfully rang the historic market bell that signalled a return to business.
Within minutes, customers were hopping between the tight-knit community of stalls offering cured meats, pungent cheeses, spices and fresh bread, seafood, exotic vegetables and olives.
"Borough Market has a very strong spirit of its own, and in a way we're not really competitors, we are all part of a family," said Monika Linton, founder of Spanish food importer "Brindisa".
"The ceremony was a momentous moment for the community to try and reclaim the space from the tragedy of Saturday."
- 'Very harrowing' -
Donald Hyslop, chair of trustees at Borough Market, told AFP that feelings were still running high.
"Everyone's feeling very mixed emotions. We're still feeling raw.
"There has been a market in this area for 1,000 years. It has survived fire, flood, plague and war," he told the crowd.
"It has just been a part of the everyday life of the city and its communities - a place people come to shop, eat, socialise and laugh.
"When people are ready to come, they will be welcome with open arms and their support and solidarity is absolutely vital."
His call was soon answered, with visitors from far and wide pouring through the market's gates.
"We wanted to bring some good wishes," said visitor Angela Silcock, from Arizona.
"Everything about the market is special, from the structure itself. It's a great way to spend a few hours, it's a great London experience."
Australian Anthony Bridgeman said he had come to "show support". Two of his compatriots were among the eight killed.
"It's knocked London sideways, and everyone's rallying and got to get back on their feet," he said.
"It's a historical market, great produce and we love London, we want to support London."
Fish merchant Les Salisbury said traders could potentially lose out from the closure since the attack.
"Our insurance company is looking into it, but there are other people worse of than us so it's not a real concern," he said.
Religious leaders blessed the grand art-deco building where the three assailants were shot dead by police.
"We wanted to respond to the request (by) going around the market, saying prayers, sprinkling holy water, asking for cleansing (of) all the terror that we have experienced on our streets and give thanks to the wonderful triumph of the human spirit," said Christopher Chessun, the Bishop of Southwark, whose cathedral is right next to the market.
As the lunchtime rush of customers arrived, basking in the summer sunshine, it appeared that it was business as usual, but for traders, the wounds will take time to heal, said Linton.
"You need to somehow get back to normality, but it's been very harrowing." afp