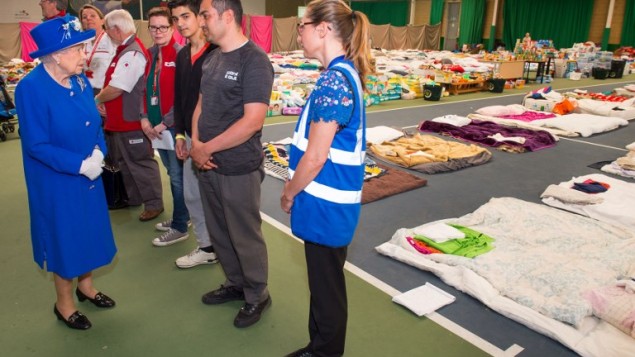 A total of 58 people are presumed dead after the devastating fire in a London tower block, police chief Stuart Cundy told reporters on Saturday as public anger continues to grow. "We've worked tirelessly to establish how many people we believe were in Grenfell Tower on the night and at this point in time we are unable to say that they are safe or well," he said.
"Sadly at this time there are 58 people who we have been told were in Grenfell Tower on the night that are missing and therefore sadly I have to assume that they are dead," he said. The number of confirmed fatalities remains at 30.
The announcement comes after Queen Elizabeth II said Britain was left somber by the tower block inferno, as Prime Minister Theresa May, accused of misreading the mood, met survivors on Saturday at Downing Street.
As public anger swelled, Downing Street said May was meeting a 15-strong group of victims, residents and volunteer workers at her office.
Furious residents heckled May and stormed the local authority headquarters on Friday, demanding justice for the victims of the Grenfell Tower disaster, claiming the fatal blaze was due to negligence.
"It was a death trap and they knew it," one person shouted as demonstrators stormed inside the offices of the Kensington and Chelsea council, which was responsible for managing the 1970s social housing block in a working-class enclave of one of Britain's richest areas.
Some 19 patients are still being treated in hospital, of whom 10 are in a critical condition, the National Health Service said Saturday. The emergency services expect to find no more survivors from Wednesday's tragedy.
With many unaccounted for, the area surrounding the tower has been plastered by distraught relatives with pictures of the missing, from grandparents to young children.
May chaired a government task force on the disaster at 10 Downing Street early Saturday before meeting a delegation of residents, victims, volunteers and community leaders at her office.
The group, most dressed in casual clothes, did not speak to reporters on their way in.
May was criticized for avoiding locals when she visited the burnt-out shell of the 24-storey tower on Thursday and faced cries of "Shame on you" and "Coward" when she returned the following day.
Dozens of police officers held back booing crowds and broke up scuffles as her car drove off from a local church, where she had met survivors, residents and volunteers.
In a television interview, she sidestepped questions over whether she had misread the public mood.
Queen Elizabeth and her grandson Prince William visited a community center on Friday where some of the survivors are being housed, and where volunteers have been inundated with donations of clothes and food.
The head of state said a saddened country was showing resolve in the face of adversity and a determination to rebuild lives wrecked by "terrible" tragedy.
She stood for a minute's silence at the start of her birthday parade on Saturday.
"It is difficult to escape a very sombre national mood," she said in a message marking the event.
"I have been profoundly struck by the immediate inclination of people throughout the country to offer comfort and support to those in desperate need.
"United in our sadness, we are equally determined, without fear or favour, to support all those rebuilding lives so horribly affected by injury and loss."
But besides the drive to help survivors, the sense of anger was palpable on the streets, and not just at the town hall.
Protesters marched to the edge of the police cordon around the tower, shouting "no justice, no peace," where a few young men tried unsuccessfully to break through.
Another demonstration took place outside Downing Street office, while hundreds of mourners later gathered near the tower for a candlelight vigil.
Saturday's newspapers conveyed the sense of anger.
"It was murder," said the front page of The Sun; "May takes cover" said The Times; "Inferno: the anger erupts," said the Daily Mail.
The Daily Telegraph claimed left-wing militants had been hijacking the demonstrations and spreading political fake news conspiracy theories about the blaze.
May has announced a judge-led inquiry into what happened, and on Friday promised £5 million ($6.4 million, 5.7 million euros) for emergency supplies, food and clothing.
First Secretary of State Damian Green, May's deputy, said the prime minister was "distraught" and shared "the same degree of sympathy and horror" as everyone else.
He told BBC radio that the inquiry would have interim reports and "we want the response to be as fast as possible."
Green said the government would pay for residents' legal representation at the inquiry and reiterated May's promise to rehouse those displaced by the fire within three weeks as close as possible to home.
There are questions about why the block was not fitted with sprinklers or a central smoke alarm, and whether a recent refurbishment, including new external cladding, helped fuel the flames.
The fire forced residents to flee through black smoke down the single stairwell, jump out of windows or even drop their children from the 120-apartment building.
Seven Moroccans are among the dead, the north African country's foreign affairs ministry said.
Police have said the recovery process could take weeks, and warned some of the bodies may be too burned to be identified.
Pope Francis sent a message of "heartfelt condolences" in which he invoked God's blessings of "strength and peace" on the local community.
Services on the London Tube railway line that runs above ground close to the tower were suspended Saturday due to the "short-term risk of some debris falling onto the tracks," London Fire Brigade said. afp