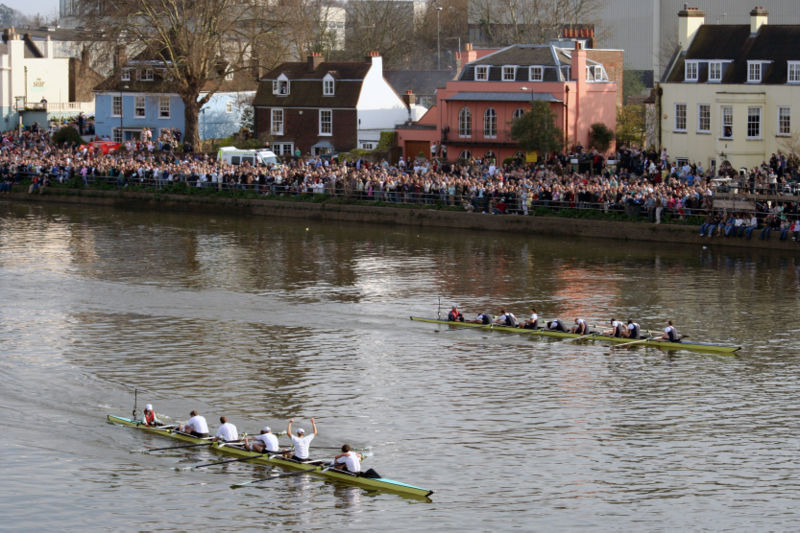 Oxford rower Felix Drinkall was taken to hospital for check-ups after appearing to collapse following the men's Boat Race. The incident occurred after Cambridge had earned victory in the race.
The Oxford crew rowed their boat to the bank to ensure Drinkall could be treated by medical staff.
According to the BBC, Drinkall was conscious and was taken to the hospital in an ambulance to undergo check-ups. Oxford University Boat Club President Tassilo von Mueller expressed his concern for Drinkall's well-being, saying, "I don't know how Felix is, he wasn't great in the boat. I hope he is alright."
Cambridge won the race after cox Jasper Parish's bold early move to steer closer to the bank. The move paid off as Cambridge opened up an advantage on their rivals, which they maintained to the finish. The result extended Cambridge's overall lead in the annual race with 86 wins to Oxford's 81.
The Cambridge team celebrated their win, but the mood was subdued due to concern over Drinkall's condition. The incident highlighted the physical demands of rowing and the importance of taking care of athletes' well-being during and after competitions.
In addition to their victory in the men's race, Cambridge also earned a sixth successive victory in the women's race, extending their lead in the contest to 47-30. The Boat Race is a longstanding tradition between the two universities, dating back to 1829. The event is considered one of the most prestigious and challenging rowing competitions in the world.
While the incident involving Drinkall was concerning, it is a reminder of the importance of athlete safety and the need for proper medical attention during and after competitions. Rowing is a physically demanding sport that requires athletes to push themselves to their limits, and it is essential that adequate measures are taken to ensure their well-being.
The Boat Race is not just a competition between two universities; it is a celebration of athleticism, teamwork, and determination. It is a showcase of the dedication and commitment of the athletes who participate in the event, and it serves as an inspiration to others who aspire to achieve greatness in their own endeavors.
In the end, the Boat Race is not just about winning or losing; it is about the spirit of competition and the pursuit of excellence. And while the outcome of the race may be important, the well-being of the athletes who compete is even more critical. The incident involving Drinkall serves as a reminder of this fact and underscores the need for continued efforts to ensure the safety and well-being of athletes in all sports. Photo by MykReeve, Wikimedia commons.