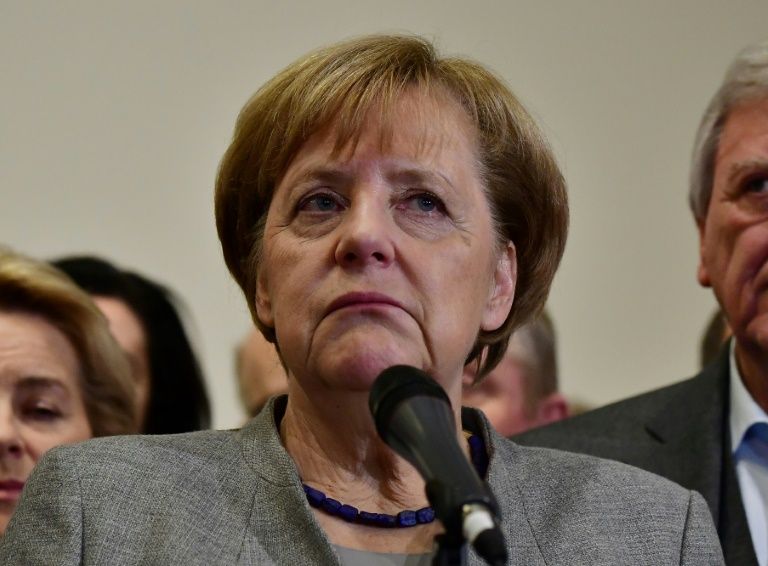 European stock markets were higher Monday, shrugging off a political crisis in Germany where talks to form a new government collapsed.
Around 1440 GMT, Frankfurt's DAX 30 index was up 0.3 percent, bouncing back from a weaker start, France's CAC 40 also added 0.3 percent, while London's FTSE was up by a modest 0.1 percent.
A stronger opening on Wall Street helped underpin the upward momentum, traders said.
"European equities are in recovery mode, having initially opened lower after German coalition talks fell through late last night," said Accendo Markets analyst, Henry Croft.
"Both the UK's FTSE and the German DAX have bounced from session lows as investors digest not only what the future of the German government will end up looking like (first ever election re-run needed or a Merkel-led minority government?), but also how the collapse of negotiations in Berlin will affect those continuing in Brussels between the UK and the EU," the expert said.
"Early losses across the likes of Germany's DAX index and euro/dollar have been largely erased, but the prospect of another election in Europe's biggest economy could see political uncertainty weighing on the euro going forward," said Joshua Mahony, market analyst at IG trading group.
While Germany could now be set for a snap general election with no fresh viable coalition in sight, the country's president, Frank-Walter Steinmeier, urged the political parties to rethink their positions and find compromises.
Merkel in September won her fourth national poll victory, but bled more than one million votes to the far-right AfD, plunging her own party into weeks-long coalition talks that have now failed.
"In case there will be new elections there is a good chance that Merkel might get a better result especially as the Germany economy has been booming since the election back in September," said Markus Huber, a trader at City of London Markets.
The leader of the pro-business FDP, Christian Lindner, walked out of talks, saying there was no "basis of trust" to forge a government with Merkel's conservative alliance the CDU-CSU and the ecologist Greens.
There are fears the country could be gripped by months of paralysis with a lame-duck government, while Merkel's political future has also been called into question.
Elsewhere Monday, several Asian stock markets tracked Friday's sell-off on Wall Street, where all three main indices finished in the red on profit-taking and fears that US lawmakers would struggle to pass President Donald Trump's tax-cutting plans.
While the House of Representatives approved its version of the reform legislation and a key Senate panel cleared a different version, the Republicans' wafer-thin majority in the Senate mean they will have a tough fight to clear the upper chamber.
Oil prices fell back after rallying almost $1.50 on Friday when Saudi Arabia's energy minister Khaled al-Faleh said he remained committed to an OPEC deal to limit production.
Oil prices have risen in recent months, after both the Organization of Petroleum Exporting Countries and non-OPEC countries struck a landmark deal in late 2016 to cut crude production in an effort to combat a global supply glut.
- Key figures around 1440 GMT -
New York - DOW: UP 0.1 percent at 23,380.20 points
London - FTSE 100: UP 0.1 percent at 7,390.17
Frankfurt - DAX 30: UP 0.3 percent at 13,036.60
Paris - CAC 40: UP 0.3 percent at 5,333.35
EURO STOXX 50: UP 0.4 percent at 3,556.12
Tokyo - Nikkei 225: DOWN 0.6 percent at 22,261.76 (close)
Hong Kong - Hang Seng: UP 0.2 percent at 29,260.31 (close)
Shanghai - Composite: UP 0.3 percent at 3,392.40 (close)
Euro/dollar: DOWN at $1.1768 from $1.1793
Pound/dollar: DOWN at $1.3239 from $1.3268
Dollar/yen: UP at 112.29 yen from 112.10 yen
Oil - Brent North Sea: DOWN 86 cents at $61.86 per barrel
Oil - West Texas Intermediate: DOWN 44 cents at $56.27