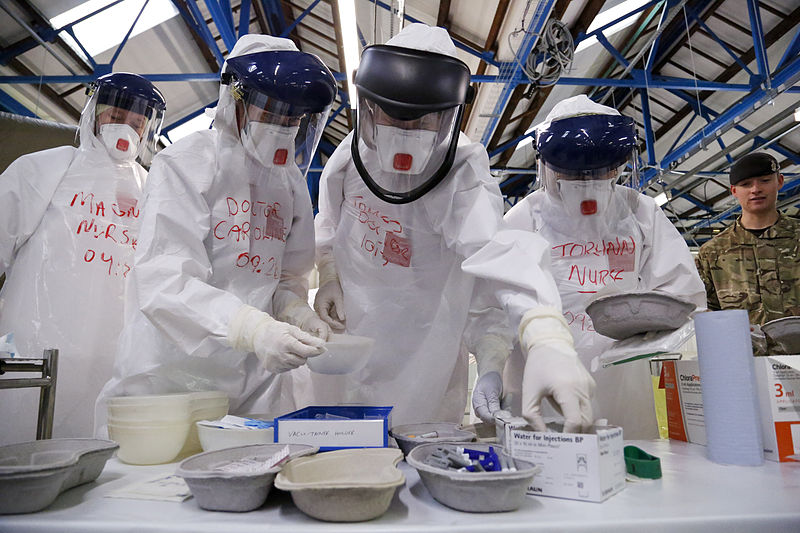 The Mayor of London, Sadiq Khan, has worked with the Vaccines Minister, Nadhim Zahawi, the NHS and local leaders to unite Londoners today (Friday 25 June) in an urgent bid to boost the
number of people getting vaccinated across the capital. 
The Mayor and the Vaccines Minister will be joined by NHS officials, health, community, faith and business leaders to do everything they can to ensure all possible avenues are taken to accelerate the rollout and ensure that all Londoners take up both doses of the vaccine as soon as possible.
The Government is expected to ease COVID restrictions from July 19, but to be able to do that safely it's essential that as many Londoners as possible are vaccinated.
More than 8.3m doses of the life-saving COVID-19 vaccines have now been given to Londoners, with more than 3.2m receiving two doses, but the Mayor has highlighted that the capital faces unique challenges in the vaccine rollout.
The Summit in Stratford, Newham, this afternoon is the first of its kind and will ensure that every single avenue is being taken to accelerate the rollout and ensure that all Londoners take up both doses of the vaccine as soon as possible. This includes assuring Londoners that they don't have to know their NHS number or be registered with a GP in order to get the vaccine.
Last weekend the NHS in London held a series of successful mass-vaccination pop-up events, including at Chelsea, West Ham, Tottenham and Charlton football clubs, and more events are due to take place this weekend, including at Arsenal and Crystal Palace. 
Further topics that will be addressed at the Summit will include the best ways to ensure Londoners are provided with the most complete information about where to receive their vaccine. A refreshed online service will help Londoners find the location and times of local vaccine centres, including walk-ins. London Fire Brigade is also doubling its commitment to the capital's response to COVID-19 by increasing the number of firefighters assisting the London Ambulance Service and support the Brigade is giving to the vaccine roll out.
Attendees at today's London Vaccine Summit will also include Dr Vin Diwakar, NHS Regional Medical Director for London, Professor Kevin Fenton, Director for PHE London, Cllr Georgia Gould, Chair of London Councils, Rokhsana Fiaz, Mayor of Newham, and representatives from across the capital. It will also feature a video message from the Prime Minister commending the success of the rollout to date and reiterating the importance of all Londoners taking the vaccine. 
The Mayor has been working with the government and partners across London, including NHS London, PHE London, local authorities and community and faith leaders to promote the COVID-19 vaccine, using advertising, social media, and media interviews to ensure Londoners have the right information, especially those who have been targeted by disinformation around vaccines, and working with the NHS to translate important health and vaccine information into key languages. 
The Mayor of London, Sadiq Khan, said: "London is leading the way in rolling out the COVID vaccine across a global city. We have seen the success of walk-in vaccination centres in London and I'm pleased that they will be continuing in the coming weeks. We will be doing all we can to continually improve access to these life-saving vaccines and to reassure Londoners you do not have to be registered with a GP to get vaccinated.
"The next three weeks are absolutely crucial to ensuring restrictions are lifted. It's an incredible achievement that more than 8.3m doses of the life-saving COVID-19 vaccines have already been given to Londoners, but we still have much to do and I really want to drive up the number of people getting vaccinated even further. 
"Today's landmark Summit is a great example of working in partnership for the benefit of Londoners – we are bringing people together today with a common goal and a joint commitment to doing everything we can to step up vaccinations. I urge all Londoners aged 18 and over to get fully vaccinated as soon as possible."
Health and Social Care Secretary Matt Hancock said: "With three in five adults across the UK having had two vaccines, more and more people now have the fullest possible protection against the virus. This includes three million Londoners who have already come forward for that vital second jab, which we know significantly reduces the risk of severe illness and hospitalisation.
"We are continuing at pace with the phenomenal rollout of the vaccines, thanks to the excellent joint working of experts and volunteers across the health system. 
"Today's London Vaccine Summit is an excellent example of how we can all come together and play our part to defeat this virus."
Vaccines Minister Nadhim Zahawi said: "I'm extremely pleased that NHS officials, health, community, faith and business leaders are uniting at this London Vaccine Summit as we intensify our efforts to ensure everyone who is eligible is coming forward for not just their first jab, but crucially for their second jab to get the fullest possible protection.
"Vaccines save lives – with evidence showing they have prevented more than 14,000 deaths and more than 44,500 hospitalisations across England alone.
"It has been brilliant to see the response of Londoners flocking to various vaccine sites across the capital, showing enthusiasm to protect themselves and their loved ones. If you get the call, book your appointment as soon as you can and do not delay, as the vaccines continue to be our greatest defence as we continue to tackle this global pandemic."
Regional Medical Director for the NHS in London, Dr Vin Diwakar, said: "Londoners have been profoundly affected by this devastating virus and so the NHS won't rest until more people have received their life-saving jabs.
"The vaccines are safe, effective and they are available at hundreds of convenient locations across the capital, so my plea today is to get both jabs and play your part to protect our city - let's get London vaccinated."
Mayor of Newham, Rokhsana Fiaz, said: "I welcome the summit as an opportunity to discuss with Ministers what resources are needed to ensure that the people of Newham are vaccinated as quickly as possible. It is vitally important that we work together to keep everyone safe and Newham stands ready to share how Newham innovations like COVID-19 champions and Enhanced Isolation Hotel Support have saved lives."
Dr Farzana Hussan, GP lead at the Project Surgery practice, said: "COVID has affected so many of our families and our communities, and the vaccine is our protection from this terrible disease. I have witnessed six of my patients die of COVID in a two week period. I never want to see that again and will do everything I can to help people get the facts about this safe vaccine and come forward to get protected."
Hayel Wartemberg, Co-Founder and Head of Insights at Word on the Curb, said: "We're really pleased to work with NHS London in how best to connect and engage with younger Londoners. At Word on the Curb, we're passionate about representative & inclusive practice, and we've spent time immersing ourselves in the discussions younger Londoners are having regarding the COVID-19 vaccine. This is an important and exciting opportunity to start to build long term relationships with this group of London residents.
 Photo by DFID - UK Department for International Development, Wikimedia commons.