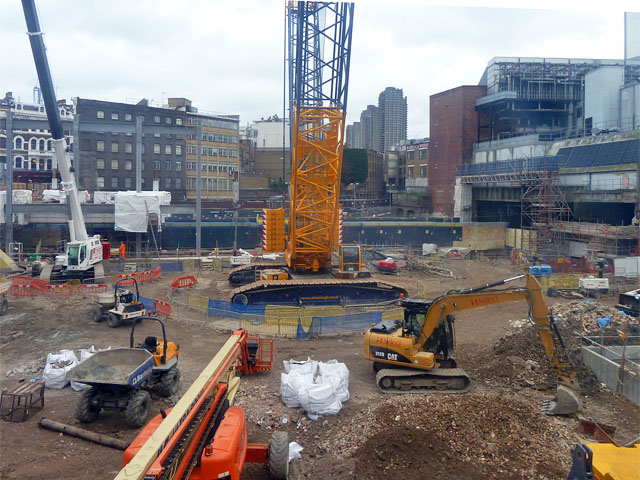 TfL and the Mayor need a 'Sherlock style forensic focus' on attention to detail if Crossrail is going to deliver the Elizabeth line within its latest budget and in its latest timescale. That is according
to a new report by the cross-party London Assembly Transport Committee published today.
The London Assembly report highlights that if the project is to be completed in the first half of 2022 despite COVID-19 disruption, TfL needs to clearly predict challenges through project management, staff supervision and financial forecasting. The Committee says that addressing these areas will serve to boost Crossrail's delivery.
The report identifies five key areas that TfL and the Mayor need to focus on including:
Refining Crossrail's new leadership and governance structure
The financial stability of TfL and Crossrail
Staff wellbeing and proper staff deployment
Evaluate lessons learned and develop better ways of working
Clear timelines to include delays like COVID-19 impacts and extra costs
The Committee is also calling on TfL to set out learning from the past and how it plans to avoid repeating the same mistakes made earlier in the project.
Chair of the London Assembly Transport Committee, Dr Alison Moore AM, said:
"Now that Crossrail has been handed over to the Mayor and TfL to deliver, it is vital that they adopt a Sherlock style forensic focus to make sure no aspect of delivering the project on time and on budget is missed.
"COVID-19 has understandably put increased financial and staff pressures on Crossrail opening the Elizabeth line. However, there are aspects to delivering Crossrail, such as supporting employees' workloads and better forecasting project delays, that can contribute to delivering as promised.
"When the lockdowns are over and London starts to return to some form of normality, it is imperative that the Elizabeth line is up and running as soon as possible so that the economic benefits to Londoners and London can be realised.
"It is important for the Mayor and TfL to share Crossrail's project timeline, governance plans, and showcase lessons learned. Londoners need assurance that they will be no further out of pocket and the train will be on the track by summer next year."
Photo by Robin Webster, Wikimedia commons.