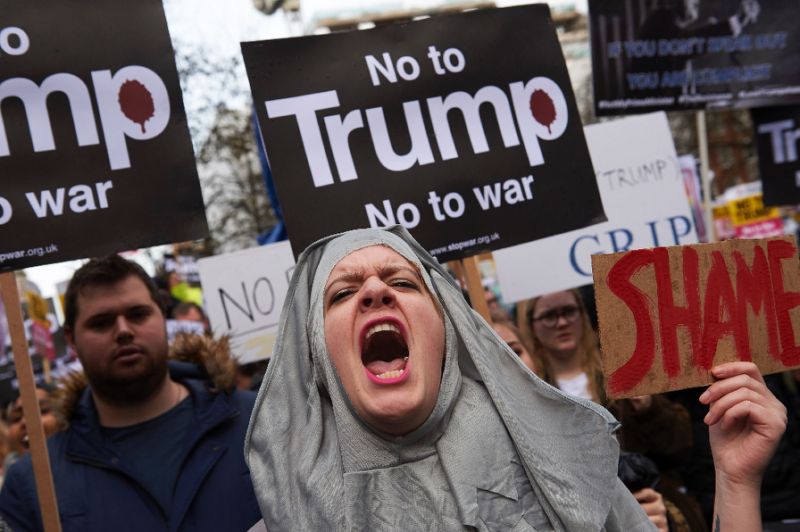 Thousands of Europeans enraged by US President Donald Trump's immigration ban demonstrated Saturday in cities across the continent, calling on Americans to "dump Trump" and vowing to fight his policies.
In London, an estimated 10,000 people turned out, chanting "Theresa May: Shame on You" to denounce the British prime minister's support for the new US leader.
Brandishing placards declaring "No to scapegoating Muslims" and "Socialism not Trumpism", the protesters moved from the US embassy toward May's Downing Street office.
In Paris and Berlin each, around a thousand people came out to protest, while smaller gatherings of several hundred people took place in provincial British cities including Manchester and Birmingham.
Rallies were also held in Sweden's capital Stockholm and the Spanish city Barcelona, where some 300 people marched outside the Spanish consulate, according to media reports.
Earlier protests on the days following the announcement of the ban had also drawn several thousand people across the globe, including in Australia, whose prime minister reportedly clashed with Trump in a phone call last week over US commitment to a refugee deal.
- 'Don't accept hate' -
"We are here to say we don't accept hate," said 20-year-old American Michael Jacobs, co-organiser of the Paris rally, surrounded by signs saying "Refugees are welcome!"
In an executive order issued on January 27, Trump slapped a blanket ban on nationals of seven mainly Muslim countries -- Iran, Iraq, Libya, Somalia, Sudan, Syria and Yemen -- barring their entry to the US for 90 days.
Refugees were also barred from entry for 120 days, except those from Syria who were blocked indefinitely.
However, on Friday a judge lifted the ban, a move which Trump condemned and vowed to fight.
The White House argues the ban will make the country safer and at preventing terror attacks.
A Justice Department attorney has said since Trump's order, about 100,000 visas have been revoked.
Protesters in London heard a video message from Labour Party leader Jeremy Corbyn, who thanked them for "standing up for what is right" and said they showed solidarity with "our friends all over the USA who share our views and our values, who are standing with minority communities under attack".
The Guardian newspaper said around 10,000 people attended, while organisers claimed 40,000.
- Anti-Trump petition -
More than 1.8 million people have signed a petition saying Trump should not be afforded a formal state visit because it would embarrass Queen Elizabeth II.
"We are going to make sure that if our prime minister continues to open the invitation to Donald Trump to come to Britain, we are going to be out in our hundreds of thousands," Chris Nineham, vice-chair of the Stop the War Coalition, told AFP.
"We're going to bring this capital to a halt on the day he comes over. We are going to make it impossible for him to have a state visit."
Meanwhile in Berlin protesters rallied in front of the Brandenburg Gate, holding reading "Berlin knows only the weak build walls" and "Fight ignorance, not immigrants".
"I hope they will change something, but I am really disappointed," said Mahsa Zamani, a 26-year-old Iranian medical student who had been due to undertake work experience at a Florida hospital.
"It is still a discrimination, and I don't know if I really have the feeling to go even if they are changing." afp