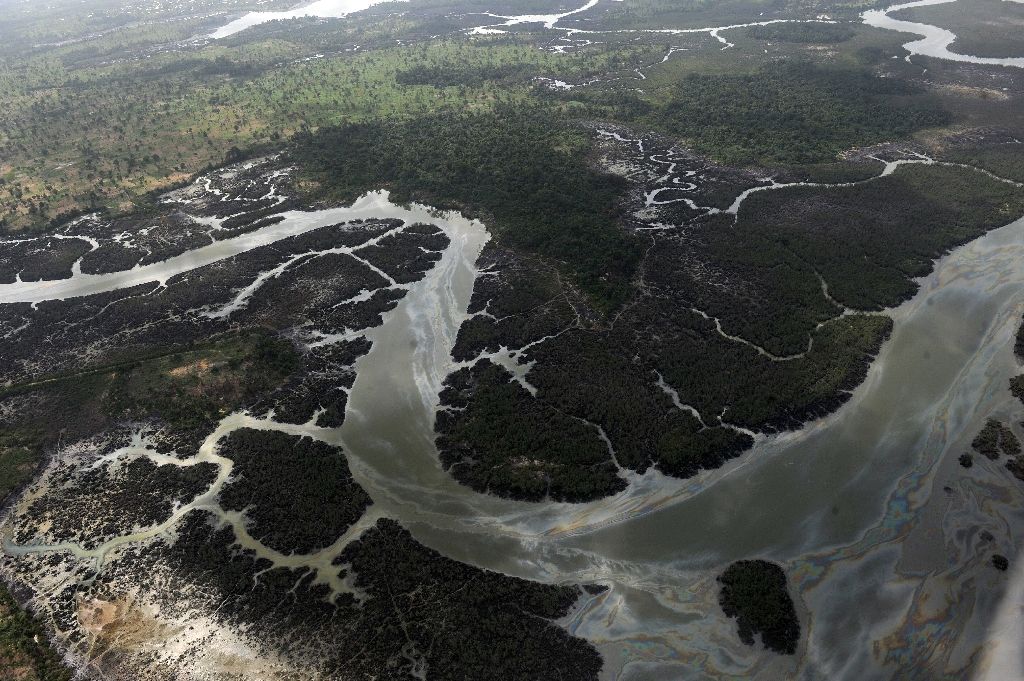 A British court on Thursday blocked pollution claims against Anglo-Dutch energy giant Shell by more than 40,000 Niger Delta residents demanding action over decades of oil spills in the region.
Members of the Ogale and Bille communities had applied for the case to be heard in Britain, arguing they could not get justice in Nigeria.
But the High Court in London said it did not have jurisdiction in the case, and that it was a matter of Nigerian law.
King Emere Godwin Bebe Okpabi, ruler of the Ogale Community, told AFP the decision would be appealed, saying: "The battle is not over. Not over at all. Never, never!
"We are highly disappointed with the ruling, but we are not broken," he added.
"We are very strong, we believe in the British judicial system, we believe this judge was wrong, and we believe by the grace of God we'll get justice in the Court of Appeal".
Legal firm Leigh Day, representing the claimants, called it a "very surprising decision".
"We are confident that the court will overturn this judgment," the legal firm's Daniel Leader told AFP.
"There is no hope of getting justice in the Nigerian system, the system is inefficient."
Leigh Day argued during November's hearing that Shell was "ultimately responsible for failing to ensure that its Nigerian subsidiary operates without causing environmental devastation".
Shell lawyer Peter Goldsmith countered that the case was aimed at establishing the High Court's jurisdiction over Shell's Nigerian subsidiary SPDC, opening the door for further claims.
SPDC's Igo Weli welcomed the "common sense" decision.
"Issues about Nigerian claimants against a Nigerian company should be handled in Nigeria based on the principles of Nigerian law," he told AFP.
"There's a myth that you can't get justice in Nigeria and I know it's not true".
- 'Strange diseases' -
Okpabi disputed this argument, telling AFP in an interview in November that: "Shell is Nigeria and Nigeria is Shell".
"You can never, never defeat Shell in a Nigerian court. The truth is that the Nigerian legal system is corrupt," he said.
Holding up a plastic bottle containing contaminated water from his community in Nigeria, the tribal king said "my people are drinking this water".
"There are strange diseases in my community -- skin diseases, people are dying sudden deaths, some people are impotent, low sperm count," he added.
"I can afford to buy water. But can I afford to buy for everybody? No."
Rights group Amnesty said the ruling "gives a green light to other multinational corporations in the UK to abuse human rights overseas with impunity."
"Poor communities in the Niger Delta whose lives have been turned upside down by oil pollution face numerous obstacles when they try to get justice from big multinational oil companies," said Amnesty's Joe Westby.
"They have to negotiate directly with the company and invariably that means that they are cheated."
SPDC claims that the main sources of pollution in Ogale and Bille are "crude oil theft, pipeline sabotage and illegal refining".
The case was actually made up of two claims.
The first claim was brought on behalf of 2,335 individuals from the Bille Kingdom, who are mostly fishermen who claim their environment has been blighted by oil spills.
The second claim was brought on behalf of the 40,000 members of the Ogale Community, who say they have suffered repeated oil spills since at least 1989. afp