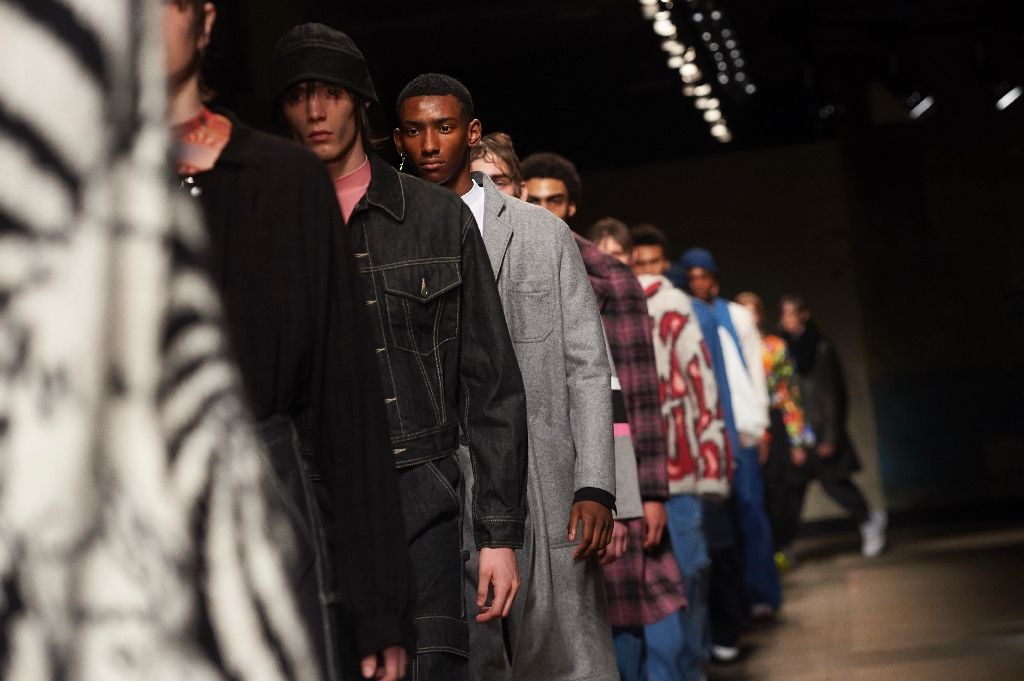 British clothing brand Topman Design revived the country's 1990s rave culture for its London Fashion Week show on Friday, dazzling the catwalk with fluorescent colours, psychedelic prints and underground attitude.
Celebrating the anarchic house music scene that spontaneously swept the country and shocked the authorities, the High Street giant transformed the stately Selfridges department store in the heart of London into a warehouse party.
The establishment bastion shook to the booming soundtrack of US artist Trevor Jackson, as models -- sporting greasy hair, oily skin and various piercings -- paraded between concrete columns and imposing metal sculptures.
The winter 2017 collection was "heavily influenced by the pubbing and clubbing scene," according to the label, featuring pub paraphernalia, hand-drawn prints and 90s "rave graphics and neons".
"This gives the look of working in the outdoors all day and clubbing all night," said Topman.
Garments on display included oversized sweatshirts, hoodies, quilted nylon tracksuits, PVC trenchcoats, loud knitwear and neon trainers.
For comfort at work and on the dance floor, expansive was the order of the day with exaggerated baggy jogging trousers and ultra-flared jeans, recalling the look of the dance floor-inspired guitar bands of the era, such as The Stone Roses and Happy Mondays.
- 'Explosive' -
"With this super fun, youthful and stylishly scruffed-up collection, Topman Design has proven once again why it is a firm favourite for so many millennials," -- children born between the early 1980s and early 2000s -- said the GQ review, calling the collection "explosive".
At the nearby Royal Institute of British Architects, luxury brand Barbour offered a predictably more sombre show, echoing its refined setting.
The label offered cautious twists on its classics, pairing its iconic wax jacket with a blue plaid shirt and a short scarf, drawing inspiration from the "lumbersexual" look popular among urban males.
The brand also showcased a limited edition of the famous jacket with lines by Scottish poet Robert Montgomery poems emblazoned on the back.
Its garments were available for immediate sale under the "see now, buy now" policy, which has become increasingly common over recent seasons.
London Fashion Week Men's will feature more than 50 shows as the country's blossoming male fashion industry shows little sign of being dented by the Brexit shock.
Male fashion sales in Britain rose by 4.1 percent to £14.1 billion ($17.3 billion, 16.5 billion euros) in 2015, boasting faster growth than ready-to-wear female sales, but still only accounting for 25 percent of total clothing sales, market research group Mintel told AFP.
The data provider estimates that 2016 sales will grow by 4.4 percent with sales realising £14.7 billion.
The growth is in line with the wider economy, which has seemingly brushed off the immediate consequences of the June vote to leave the European Union, but 2017 could prove more challenging, according to Mintel.
"Over the medium term, the sector is likely to feel the impact," it said.
"Clothing is expected to face an even tougher year in 2017 as many retailers are forced to increase prices as a result of currency fluctuations," it added, explaining that manufacturers could face rising costs due to sterling's fall. afp