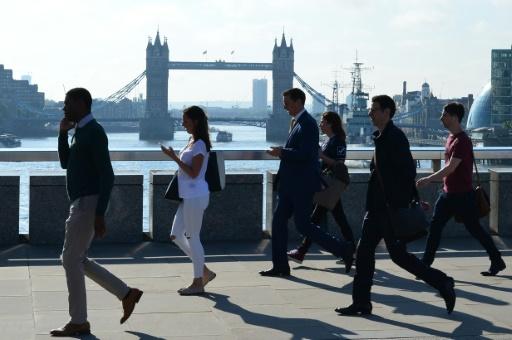 London bank employee Francesca Crimp broke down in tears Friday as Britain decided to leave the EU, a vote that triggered an earthquake in the financial markets.
"I'm scared, I voted for my son's future and I feel so uncertain now. I'm just absolutely devastated," Crimp, who works for a US bank, said as she welled up.
"This multi-cultural city that I live in is going to change drastically, and the world as I know it is just not the same today."
But inside the buildings surrounding her, the trading floors of the City of London financial hub were a high-octane buzz of frenetic activity, with the pound and UK stocks plunging on Britain's dramatic vote to leave the EU.
Adrenaline-fuelled traders stood hunched over their screens like war generals over the battlefield map as the most dramatic day of their working lives kicked in when the European markets opened at 8:00am (0700 GMT).
"It is a madhouse in here. It has been a bloodbath. Carnage," said David Papier, 34, head of sales trading at ETX Capital in the City of London.
Many ETX traders had already been up 24 hours reacting to events overnight in other markets after Britain voted by 52 percent to 48 percent to quit the European Union.
One trader's desk showed the evidence of the long night: five empty cups of coffee, two empty pints of water, an empty can of cola, a stack of dissolvable vitamin tablets and a crumb-laden plate.
Sterling plummeted 10 percent to $1.3229 at one point overnight, its weakest level since 1985.
In London, banking stocks lost a quarter of their value as the FTSE-100 index tumbled 5.0 percent in morning trade.
- 'Right, we're off!' -
In the last seconds before the markets opened, chiefs on the trading floor were yelling out the orders.
"Guys, between now and 10:00am (0900 GMT) no-one leaves the desks, ok?," said one. "I'll be on the margin calls, I'll be shouting them out.
"20 seconds, guys!", and then, "Right, we're off!".
Traders began passing phones around, frantically clicking on their computers, jumping from desk to desk looking at the walls of screens in front of them.
Most traders were stood up at their desks, yelling figures across the trading floor.
Some stood with their hands over their open mouths staring at the screens as stocks figures scrolled out, while others exchanged silent glances.
"Guys, Lloyds Bank 27 percent down. Sky down 12 percent. M and S down 20 percent. Next, 44 percent," one sales trader yelled out the stock prices, the disbelief evident in his voice.
Within 10 minutes, some traders were already sweating through their tailor-made shirts.
One trader wearing a headset stood up, giving a rolling narrative description of what was unfolding, pacing from side to side.
"What happens next, we don't know," he said, chopping up the air as the maelstrom swirled.
Others stood with phones pressed to their ears, while one took a souvenir photo of his screen showing sterling falling off a cliff compared to the US dollar.
Fielding a call from a client, one trader said: "It's an exciting day. The markets are absolutely going haywire so if there's a time to be in the game, it's certainly right now, my friend."
- 'Chaotic, but fun' -
When the smoke began to clear, Papier told AFP: "The banks absolutely tanked. It's just been a stock market meltdown across the board.
"It's chaotic but it's a lot of fun, it really is.
"This is a gift horse for traders. Traders want volatility.
"It's certainly exciting to be a part of it -- but let's hope we don't have too many days like this."
London had heavily voted for Britain to remain in the EU, with only Scotland voting more in favour.
On the London streets, workers voiced their shock at the result as they arrived for work.
Though the polls had been tight, the result appears to take the financial markets by surprise.
"No one really saw this coming," said Max Hoffman, a marketing manager.
"The main thing is that we need to try and stay united as a country," he said.
Mike Thomson echoed that concern.
"I am very worried. Scotland could now take its independence in about two years," he said.
Adeel Qureshi, a junior at financial analyst firm, said: "I'm disappointed and a bit anxious to see what happens."afp