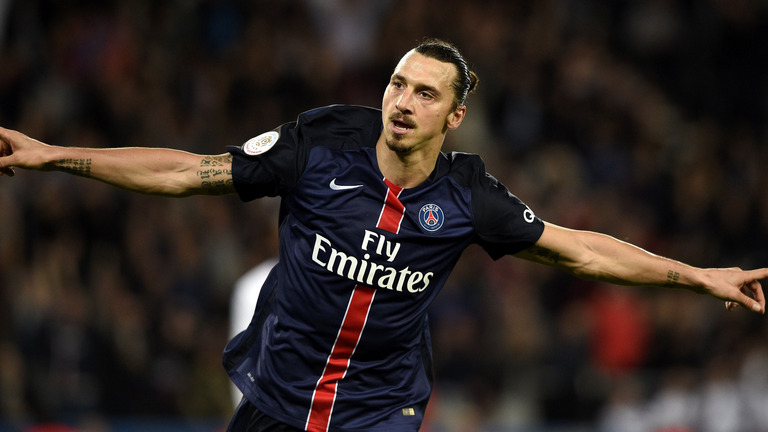 Despite harbouring some reservations about his hairstyle, Lawrie McMenemy knows Zlatan Ibrahimovic is the man his old club Southampton must stop in Sunday's League Cup final against Manchester United.
As Southampton manager, McMenemy led the south-coast club to their greatest success when they produced a huge upset to beat United 1-0 in the 1976 FA Cup final.
Forty-one years on, they are back at Wembley this weekend and McMenemy says the pony-tailed Ibrahimovic, 24 goals and counting in his maiden United season, could prove the difference.
"I'm not sure about his haircut. If you were a centre-half, you'd want to sneak a pair of scissors on. Maybe that could weaken him!" he told AFP in a telephone interview from his home in Hampshire, southern England on Wednesday.
"But he's proved to be a fantastic player and he looks like he's a character. He will lap it up, the big stage. You've got to watch him.
"If he can go to Wembley and be the match-winner, he'll never be forgotten. But nor will ours, as Bobby Stokes proved.
"You haven't got to be a legend to start with. Little Bobby wasn't, but he certainly has been ever since."
Stokes, who died of bronchial pneumonia aged 44, was the hero of Saints' shock win over United in 1976, scoring their 83rd-minute winner with a left-foot shot from Jim McCalliog's lobbed pass.
Southampton had finished sixth in the old Second Division and, in McMenemy's words, "everybody expected us to get hammered".
But after surviving an early onslaught from top-flight giants United, with young goalkeeper Ian Turner repelling everything Tommy Docherty's side threw at him, they prevailed through Stokes's goal.
McMenemy describes the time that elapsed between Stokes's shot skidding past United goalkeeper Alex Stepney and the final whistle as "the longest seven minutes of my life".
– Shearer and Bale –
Preparing for a celebratory night out at the Royal Garden Hotel in west London after the match, McMenemy received a congratulatory phone-call from tearful beaten manager Docherty.
Less than a year later, United claimed revenge — of sorts — by beating Southampton in the fifth round of the FA Cup before going on to overcome Liverpool in the final.
Parading the cup around the pitch after the game, Docherty spotted McMenemy on Wembley's television gantry and raised the silver trophy in his direction.
"It was as if to say, 'I've got it now!'" McMenemy recalls.
Nothing, however, could tarnish the memory of the golden Wembley day the previous year and when Southampton paraded the cup on their return home, they were greeted by a crowd of over 250,000 people.
"Clubs like Man United, Arsenal, Chelsea, Tottenham, they all expect to go to Wembley every few years," McMenemy says.
"But at Southampton it was a terrific event. It's the only bit of silverware the club's ever won."
McMenemy, 80, took Southampton back to Wembley in 1979, when they lost to Brian Clough's Nottingham Forest in the League Cup final, and led them to their best-ever top-flight finish of second in 1984.
His legacy at the club includes an academy network that has unearthed such talents as former England captain Alan Shearer and current Real Madrid star Gareth Bale.
Southampton's hopes of keeping Ibrahimovic quiet have been hit by the losses of centre-backs Jose Fonte and Virgil van Dijk, to West Ham United and injury respectively.
But having seen Claude Puel's men eliminate Arsenal and then inflict two defeats upon Liverpool in the semi-finals, McMenemy sees no reason why they cannot engineer a repeat of his 1976 triumph.
"I was there for the first leg of the Liverpool semi (which Southampton won 1-0) and Liverpool would have put their hands up (in acceptance) if they'd lost 3-0," he says.
"If we can win home and away against Liverpool, who at the minute are a point ahead of Man United in the league, why can't we win?" afp