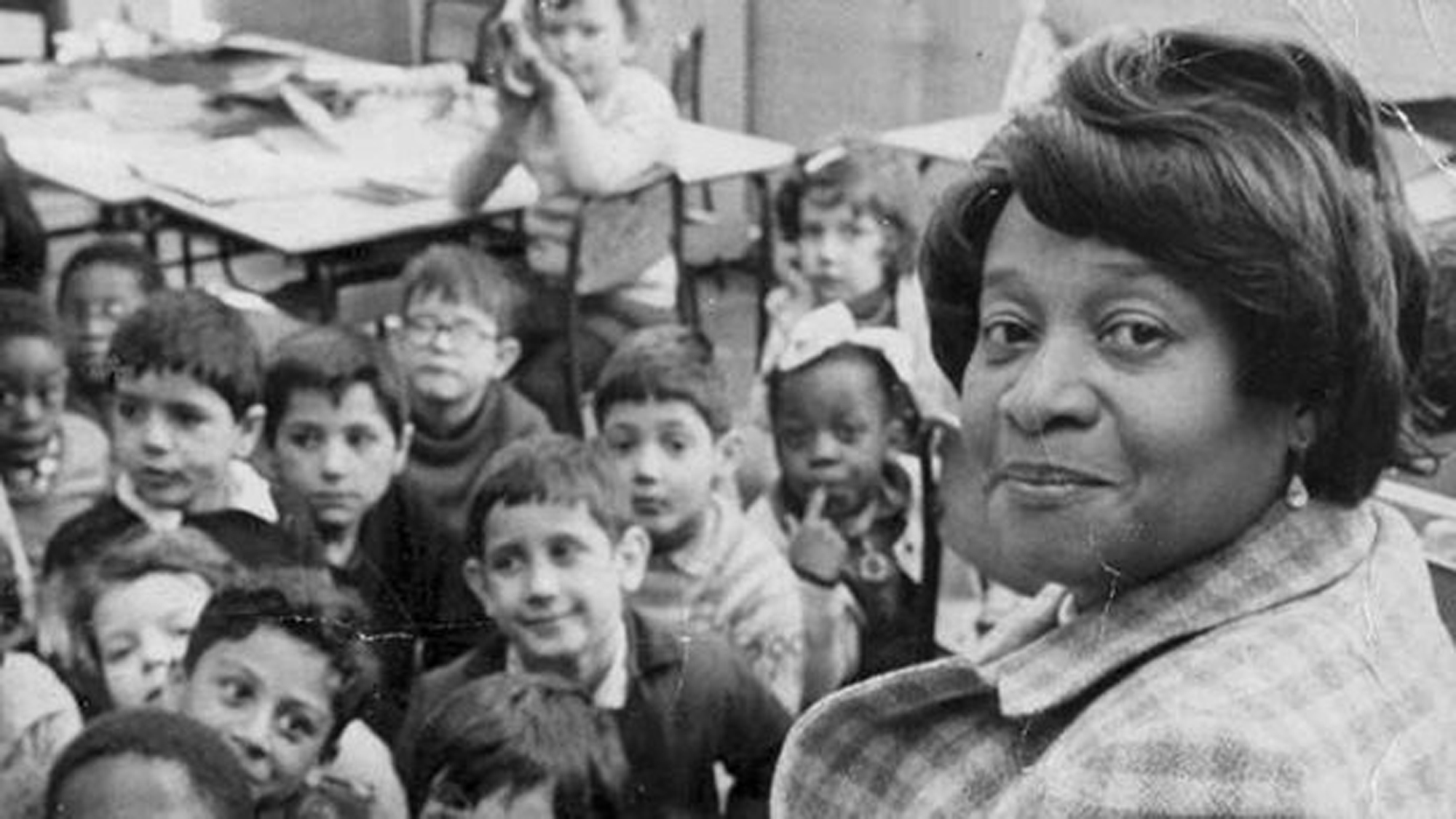 A new public artwork to commemorate one of London's first Black headteachers, Dr Beryl Gilroy, has been unveiled by the Deputy Mayor for Communities and Social Justice, Dr Debbie
Weekes-Bernard.
The 15-metre artwork comprises three images and quotes about Dr Gilroy's life taken from the British Library archive. It has been displayed outside West Hampstead Primary School (formerly known as Beckford Primary School) where she was a headteacher and celebrates her life and achievements as Camden's first Black headteacher, a pioneering writer and ethno-psychotherapist. 
Dr Gilroy arrived in England from British Guiana in 1952, part of the Windrush generation, she studied Child Development, became an acclaimed author, respected broadcaster and Camden's first black Headteacher at Beckford Primary School in 1969. She has been hailed as one of Britain's most significant post-war Caribbean migrants. 
The panels were created by visual artist Fipsi Seilern, who wanted to portray the stages of Dr Gilroy's professional journey, using quotes from her seminal work "Black Teacher". The paintings are bordered by red, yellow and green, paying homage to Dr Gilroy's heritage through the bright colours seen in the flag of Guyana.
The artwork is the last installation of 'LDN WMN' – a series of free public artworks created by women and non-binary artists inspired by unsung women heroes from London commissioned in 2018.
The collaboration between City Hall and Tate Collective was established in 2018 as part of the Mayor's #BehindEveryGreatCity campaign and has included temporary artworks of Mary Seacole by Heather Agyepong at the Cockpit theatre in Marylebone, Noor Inayat Khan by Manjit Thapp at King's Cross rail station and Olive Morris by Rene Matic at Ovalhouse, Oval. 
The Mayor is committed to ensuring that the capital's population and history are celebrated and commemorated across London. In February 2021, he created the Commission for Diversity in the Public realm to help ensure London's achievements across the full sweep of the capital's rich and diverse history are properly reflected around the city. He previously commissioned a statue of suffragist leader Millicent Fawcett in Parliament Square, and pledged his support for a number of new memorials in the capital, including for Stephen Lawrence, the Windrush generation, a National Slavery Museum or Memorial, and a National Sikh War Memorial.
Debbie Weekes-Bernard, Deputy Mayor for Communities and Social Justice, said: "This beautiful tribute to Dr Gilroy will serve as inspiration to all the students and visitors coming through West Hampstead. Dr Gilroy's story is a significant part of London's history and this work captures her outstanding achievements. It shows that education does not always happen in a classroom, and that information and knowledge can reach so many more people through the medium of art and culture."
Gillian Jackson, Director of Engagement at House of St Barnabas and member of the Commission for Diversity in the Public Realm, said: "This is a great tribute to a great woman. Dr Gilroy has made a significant contribution to London's history and paved the way for many Black people to enter the education sector. Her legacy lives on through the generations of children that she taught and will now be celebrated by everyone who sees this artwork. It's important that our city's landmarks reflect London's rich and diverse history and represent Londoners from all walks of life. These panels are a brilliant way to honour her memory."
Darla Gilroy, Dr Gilroy's daughter, said: "This has been an amazing project; I am delighted to see Dr Beryl Gilroy's achievements honoured through this exciting artwork made accessible to all. It is inspirational and a reminder of the work that she did and the many children whose lives she influenced." 
Sam Drake, Headteacher at West Hampstead Primary School, said: "After three years of covid interruptions and renaming the school, it is a pleasure to finally be able to unveil this mural which celebrates the life of Beryl Gilroy. She is a key figure in our school's history and role model and inspiration for all of us!"
Artist Fipsi Seilern, said: "I am honoured to have been given the chance to create artworks in homage to the wonderful Beryl Gilroy. Her achievements within the education system - and as a successful author - are a testimony to her tenacity, strength of character and positive outlook towards everything she put her mind to. I greatly admire her. My hope is that through these artworks, even more people will get to know Beryl Gilroy." Photo by bl.uk