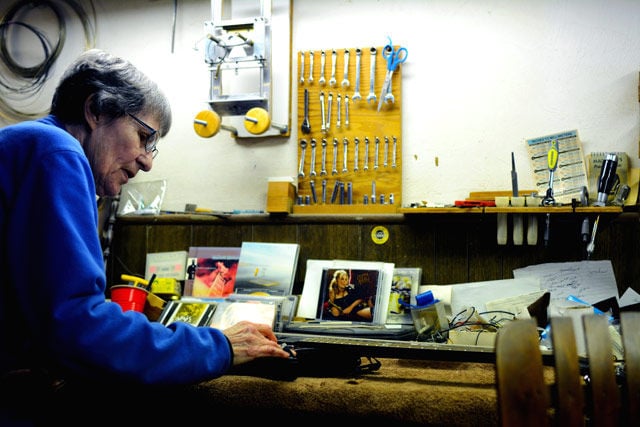 Located near the intersection of 48th Street and Baldwin Avenue is a stringed instrument repair shop that has been resurrecting damaged musical instruments and giving life to new ones for more than 40 years.
When customers enter they will likely see 74-year-old Linda London, owner and operator of London Luthier, quietly sitting behind the counter surrounded by guitars and hand tools. The front of the shop is sparse and dimly lit, but this is one of the few places to go in the Midwest that takes the time to serve the musician as well as the instrument.
London Luthier opened in 1969 and moved to its current location in 1974 when the space became available. London's husband, Dale, who passed away in 2004, worked as a commercial electrician before he started building instruments. Linda learned to repair instruments by working alongside him.
"This place is challenging because you never know what's going to come in the door," she said. "Whenever somebody wanted something special, Dale could figure out how to do it and design it. He always drew out blueprints and did everything to scale."
Dale received a ninth-grade education, earned first class in electronics in the U.S. Navy and briefly worked as a welder at Nebraska Boiler Co. before he got bored and got his license to be an electrician, she said. She was born in Ord, Nebraska, moved to Lincoln at about 13 years old and graduated from North East High School when she was 16 years old. The two were married the year after she graduated.
"I'm the one that got him started because I'm the one that tried to play classic guitar," she said. "Of course he didn't know anything, so he went down and got me an old archtop Harmony with steel strings and high action (the space between the strings and the fret board). I kept trying to play and my fingers would bleed. I thought it was me, and I put it away. Then picked it up again," London said. "Finally, he started shopping and he found me a nice little nylon string guitar. Back in the '50s and '60s, there wasn't a lot of things available music instrument-wise. So then he said, 'Well I can build you one.' He started researching and realized it wasn't as easy as he thought it was going to be."
London had been taking lessons at Thompson Music when her husband decided he was going to build a banjo.
"My guitar instructor said, 'Well if he can build a banjo he can fix things,'" she said. "Thompson started sending all their instruments over to the house. We'd do setups on them and repair them. Next thing you know, we were over here."
Her husband learned to build instruments by reading books and researching the principles of acoustics, vibrations of different types of wood and gluing pressures, she said.
"When he sat down to design something he had this innate sense to be able to understand how sound worked on an instrument – the vibrations through the bridge, going out through the braces on an acoustic guitar," she said. "That's just the way he was, he could just figure out things."
Ryan Larsen, owner of Roots Music Shop on the corner of Q Street and North Antelope Valley Parkway, has been getting instruments repaired at London Luthier since the mid-1990s, he said.
"If you take a guitar in there, she'll take a look at it and within a few moments she's going to tell you a few things she can fix and make better," he said. "My first memories of going in there, Dale was always sitting in the chair telling jokes and she was the one behind the counter doing all the work. I'm not selling him short – he did plenty."
Dale London was considered an electronics and luthier genius, Larsen said. Dale and Linda each had their respective skill sets, but Linda hasn't always received the credit she deserves, Larsen said.
"I got so good at it that he didn't even touch them," she said. "In the early days guys would come in here and they'd want Dale to work on their instrument. They didn't really want a woman working on them. Dale would say, 'Well, if you want it to be right, let Linda do it.'"
London's favorite projects are working on old instruments – "things that have some history to them," she said. One of the most recent projects was a harp guitar that was purchased brand new around 1903 and passed down through the family of the customer that brought it in.
"When you touch those things it's like going back in time and you can almost see them be there," she said. "To take something that's just going to be thrown away and fix it back up – have it played and passed on – that's what I really enjoy."
The harp guitar had ended up in Arizona. When it came into London Luthier, the face of the guitar had buckled up, the bridge was standing on end, wood was splintered around the side of the guitar and a chunk of wood was missing.
"It was totally unplayable," she said. "Now you can't even see the repair I did on the bridge."
The original owner lived in Iowa and wanted to get married, but the woman's father was sick so she couldn't, London said. The owner moved to the Pacific Northwest and worked in the lumber industry. He also played in bands and one of the ways the band went from town to town was by riding a pushcart on the railroad. Eventually the woman's father died, and they were able to get married.
"They had all these kids and he got to be a foreman or something in management," London said. "He had to fire a guy. The guy got pissed, came back and shot him. That left his wife with nothing, so she put some of the stuff in storage and came back to Iowa with a few belongings. The week after she came back the place they had stuff in storage burned up, but she had carried the guitar back with her," London said. "I knew right away not to do anything in the way of refinishing it or altering it – leave it as it is."
A person looking at the guitar today can't even see the place where the chunk of wood was missing after London matched the color.
"The more I did on it, the better I liked it," she said.
There are only three of these guitars still around, and the one she repaired is the only one that hasn't been altered, London said. She worked on the guitar for three or four months.
"Everybody wants to know how long I'm going to keep at it," she said. "As long as I can get up, get in the front door and do the work, I'll keep coming. I don't know what I'd do if I didn't have this place. It's my social life."
arts@
dailynebraskan.com