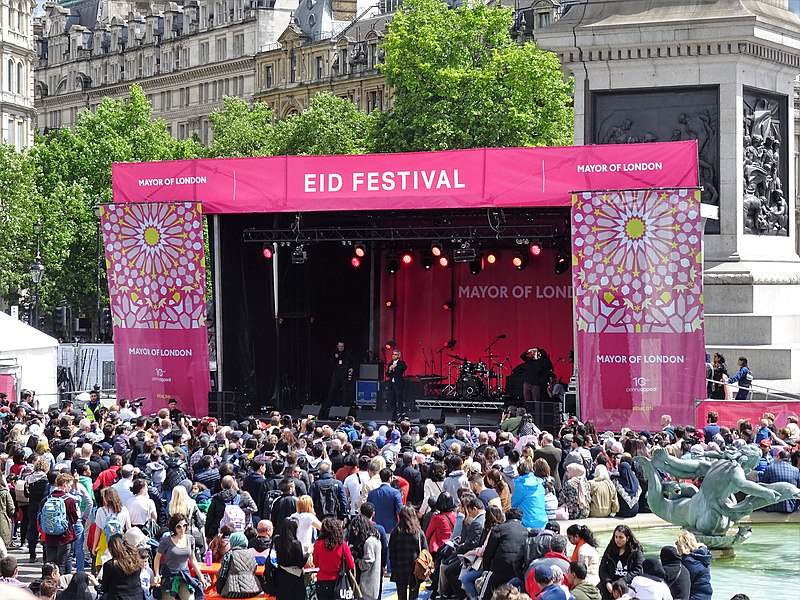 The Mayor of London, Sadiq Khan, has announced that Eid in the Square returns to the capital on Saturday 7 May. 
The celebration that follows the end of Ramadan returns for its 17th year to showcase the very best Islamic inspired art, culture and comedy with contemporary and traditional performances on the main stage alongside a feast of food stalls from across the world lining the Square.
The family-friendly event will run from noon until 6pm and will be hosted by award-winning actor and BBC Asian Network presenter Mistah Islah and broadcaster and author Mehreen Baig. 
Londoners and visitors to the Square can enjoy an afternoon of live performances on stage from Baha Yetkin Sufi Ensemble, Nafees Ifran & Qalandar Qawwali Band, Dur Dur Band, Star Children's Choir and spoken word poet Hussain Manawer. 
Award-winning music producer Naughty Boy will present his Naughty Boy Kitchen pop-up serving signature dishes fusing his British upbringing and Pakistani heritage. Comedy sketch show favourites, 'The Halalians' will be live on stage and Alif New Beginnings will be bringing colourful Eid carnival costumes to the Square.
There will be a range of family-friendly activities including calligraphy, storytelling, mehndi, face painting, and drama and poetry workshops, as well as a variety of sports activities including Muslim Girls Fencing and Sisterhood FC.
Ahead of the celebrations, and in partnership with Eid in the Square, for the first time ever the Lastminute.com London Eye will be illuminated to mark Eid ul Fitr. It will be lit up with a special crescent moon light display on Monday from 7.25pm.
Due to the impact of the COVID-19 restrictions, it will be the first time that Eid in the Square celebrations have taken place in Trafalgar Square since 2019.
The Mayor of London, Sadiq Khan, said: "I'm so excited to be bringing Eid in the Square back to London after two years away. Celebrating the end of Ramadan with Londoners and visitors from all backgrounds demonstrates again how diversity is London's greatest strength. 
"We've got a fantastic line-up of entertainment for all the family to enjoy, showcasing the hugely positive cultural impact that Muslim communities have on our city and beyond. In London, we don't just tolerate our diversity, we celebrate it."
Tufail Hussain, Director of Islamic Relief UK said: "Islamic Relief UK are delighted to be the proud partner of this year's Eid in the Square. We look forward to seeing all communities in London coming together to celebrate this special occasion, which marks the end of the holy month of Ramadan.
"Families will gather together to enjoy food stalls, entertainment and fun activities and will also be able to support Islamic Relief UK with its life saving work across the world.
"We would especially like to thank the Mayor of London, Sadiq Khan and his office for organising what will be a very special and memorable event for all communities to enjoy."
Asad Mahmood, Manager, Strategy & Operations at Wahed Invest, said: "We're really excited to celebrate Eid in the Square with everyone. It's great to celebrate this Eid after a month of fasting and being grateful for what we have."
Raj Baddhan, CEO of Lyca Media said: "Lyca Radio & Lyca Gold are thrilled to be a part of this year's Eid In Trafalgar Square event, which is expected to be a huge celebration after a two-year hiatus. We're delighted to be collaborating with the Mayor of London to celebrate Eid." Photo by DAVID HOLT from London, England, Wikimedia commons.