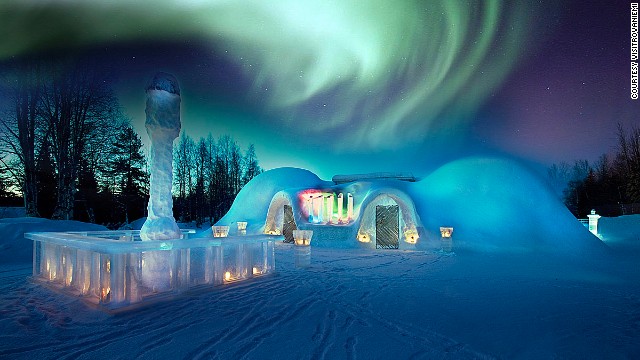 A free Northern Lights inspired spectacular in the heart of London has been announced today by the Mayor of London, Sadiq Khan. It is part of a series of exciting 
festive events and attractions taking place throughout the winter months to boost visitors to central London and attract even more visitors and tourists to the capital.
The 'Borealis' lights display will bring one of the seven Natural Wonders of the World to the capital's skies in City Corporation's Guildhall Yard this December, with free tickets available online from today.1 The spectacular installation, by renowned artist Dan Acher, will allow thousands of visitors to experience the magic of the Northern Lights right in the city centre between 11-22 of December and is one of a number of fantastic experiences on offer in London this winter.
Winter Lights is the latest season of the Mayor's Let's Do London campaign - the biggest domestic tourism campaign London has ever seen – which is championing the capital's businesses, cultural institutions and attractions. 
The campaign has already contributed an estimated £70m back into the economy and the new Winter Lights season will celebrate London's world-famous art, culture and heritage with a series of dazzling light displays. 

The light works will be created along the River Thames, with London's landmark bridges, buildings and trees illuminated as part of the Southbank Winter Lights outdoor exhibition.
Other eye-catching attractions will include an enchanting animal-themed winter light display at the Tower of London and a free Canary Wharf Winter Lights Spectacular, which will feature 20 new light commissions by some of the most innovative artists across the globe, an ice rink and outdoor food market.
Thousands of illuminated white roses will be placed in Grosvenor Square as part of an Ever After Garden display by fashion designer Anya Hindmarch. Illuminated River, a free public artwork, brings moving light and colour to nine of London's bridges and is be the longest public art project in the world, and a Circa commission by Hetain Patel will use the Piccadilly Lights to explore themes of immigration and identity.
The Winter Lights programme will also celebrate the return of the West End's pantomime season, family favourites like Hyde Park Winter Wonderland and seasonal attractions, including winter markets and ice rinks at iconic locations like the Natural History Museum and Somerset House. 
London's iconic red buses offer a brilliant way to see the capital's Christmas lights, with routes 12, 94, 98, 139 and 390 all travelling through Oxford Circus and offering great value for money to see all the best festive sights thanks to the Mayor's Hopper fare. 2
The Mayor of London, Sadiq Khan said: "London is the best place in the world to celebrate the festive season and my Winter Lights programme is bringing our world-renowned arts, culture and heritage together to ensure our city sparkles and enthrals this year.        
"The Borealis spectacular will bring the magic of the Northern Lights to our city, London's landmark bridges, buildings and trees will be illuminated along the Southbank and our world-famous Christmas lights, ice rinks and markets will ensure our city is gloriously decked out for Londoners and visitors to enjoy.
"All this and more is taking place in the heart of our great city as part of my 'Let's Do London' campaign. From our world-class shops and attractions, to our incredible restaurants and bars there is so much to see and enjoy this festive season and that's why I'm urging Londoners and visitors to experience the best our capital has to offer and support our hospitality industry as much as possible."
Wendy Hyde,  Chair of the City of London Corporation's Culture, Heritage and Libraries Committee, said: "It's exciting to be hosting this remarkable take on the Northern Lights here in the heart of the City - sure to become a big talking point for Londoners in the Square Mile and beyond. There is energy flowing back through the centre of our capital, and cultural spectaculars like Borealis are key to creating that feeling. London is coming together, with the arts playing a leading role in our recovery from the pandemic."
Tom O'Leary, Director of Public Engagement at Historic Royal Palaces, said, "We're really looking forward to welcoming families to the Tower of London to enjoy the festivities this December, which will be suitably dressed for Christmas with historic royal decorations to get visitors into the spirit! We remain hugely grateful to the Greater London Authority for their support as we continue to welcome our visitors back to the fortress after a challenging few years."  
Cedar Lewisohn, Southbank Centre Curator for Site Design said: "We are extremely pleased to welcome audiences back to Southbank Centre to view our Winter Light project. We hope the artworks by UK based and international artists will be both thought provoking and illuminating."
Hetain Patel, Artist said: "After a hard year for artists, it has been an incredible opportunity for me to have my work shining on such a London landmark as part of the CIRCA art program. It is so vital in this moment we are all living to reconsider who gets to occupy iconic spaces like the Piccadilly Lights screen. In creating this film representing my grandmother Baa, I wanted to celebrate her, looking powerful in her domestic activity at home in Bolton as a giant matriarch. I'm doing this not just to celebrate her but to actively expand what we consider as Britishness today." 
Anya Hindmarch Fashion Designer, said: "The Ever After Garden is filling Grosvenor Square for the month of December with 25,000 illuminated roses in support of The Royal Marsden Cancer Charity. Visitors can visit for free and can dedicate a rose to someone they have lost. It offers a reflective moment in amongst all of London's Christmas cheer, which seems more apt than ever this year. We are so grateful to the Mayor of London and Let's do London for the support to make this happen."
Bradley Hemmings, Artistic Director of FESTIVAL.ORG who are producing Borealis, said: "FESTIVAL.ORG is delighted to be working with the Mayor's Lets Do London campaign, Winter Lights season to present Dan Acher's Borealis. Earlier this summer, our audiences in Greenwich and Woolwich took this awe inspiring artwork to their hearts and so we're thrilled that the Mayor is enabling Londoners to experience it in the atmospheric setting of the Guildhall Yard." Photo by jasmine, Wikimedia commons.