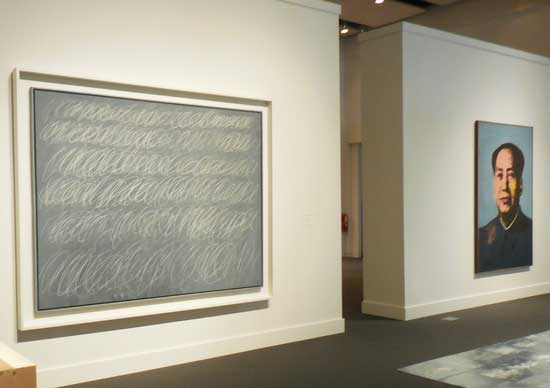 The autumn art season wraps up in New York with successful auction sales of just over $2 billion but with a dash more caution than the bonanza records chalked up in the spring.
The star of the season was an Amedeo Modigliani nude, "Nu Couche" -- which went for an eye-watering $170.4 million at Christie's.
The second most expensive piece of art sold at auction, the Modigliani nude was bought by Chinese taxi driver turned billionaire Liu Yiqian, one of the country's biggest art collectors.
The record, also set by Christie's earlier this year, is held by Pablo Picasso's "The Women of Algiers (Version 0)," which fetched a staggering $179.4 million in a record-breaking spring season.
The fall's second highlight was Roy Lichtenstein's iconic pop art "Nurse," which Christie's sold for $95.37 million in the same auction.
Sotheby's parted with $1.15 billion of impressionist, modern, post-war and contemporary art, narrowly beating Christie's $1.05 billion, but there were fewer star lots than in May and a smattering of empty seats.
The rival houses, both founded in 18th-century London, claimed success and dismissed talk that the art market was in jeopardy due to a flagging Chinese economy and a plunge in world markets in September.
"All week the press have been painting this sort of picture that somehow the market has hit some sort of resistance," said Sotheby's auctioneer Oliver Barker.
"I think actually tonight manifestly proves otherwise," he said after Sotheby's Wednesday sale put the company on track to achieve its highest annual impressionist, modern and contemporary art sales in 2015.
"It makes a good story, simple as that," Barker said.
"A lot of money has traded hands over the last 10 days and I think actually in many ways, that is proof enough that the market is still very strong and resilient."
- Bit of readjustment -
The November sales set new auction records -- for Modigliani, as well as for a string of 20th century artists including Cy Twombly, Lucio Fontana, Louise Bourgeois and Lichtenstein.
"The market is strong," Christie's auctioneer and number two, Jussi Pylkkanen, told CNBC television.
"But there's also a little bit of readjustment. People are looking at market objects that are not necessarily fresh and they're reconsidering price points for those."People are a little bit more rational, perhaps a little bit more cautious, which I think is a very good thing." Among the other big sellers were Picasso's "La Gommeuse" and a Vincent van Gogh, "Paysage sous un ciel mouvemente," which sold for $67.4 million and $54 million respectively at Sotheby's. But the week began and ended with a slight whimper. Sotheby's laid on great fanfare, donning black tie and offering drinks and canapes before the sale of art collected by its late chairman, Alfred Taubman, who served time in jail for price fixing in 2002. The two and a half hour auction saw strong bidding but it just scraped the bottom end of its pre-sale estimate, and top lots failed to sell -- an Edgar Degas and a Jasper Johns, both valued at $15-20 million. "There's a lot of liquidity out there but people really want the right things. And they're quite careful about how they spend their money," said Simon Shaw, co-head of impressionist and modern art for Sotheby's. Christie's final impressionist and modern art sale on Thursday evening scored no records and exacted some criticism for not including any lots with estimate prices in the $10 million or above category. But much of the most dynamic bidding of the season was at the lower end of the market, where some works valued $1-3 million or less went for way over their pre-sale estimates. "Clearly, there is a longer, stronger" clientele at the lower value range, Barker said. afp, photo by artsjournal.com