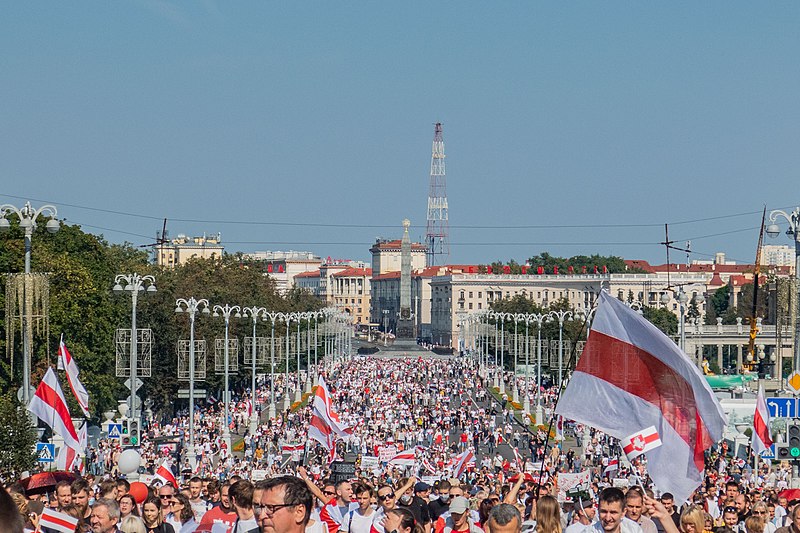 Deputy Ambassador Deirdre Brown joins others at the OSCE in calling for the immediate and unconditional release of all political prisoners in Belarus.
Mr Chair, the Lukashenko regime continues to enact harsh repression against its own people. In Belarus, individuals exercising their human rights are systematically detained, abused, and
subjected to intimidation and harassment. Civil society organisations face an unprecedented struggle for survival and at the last count there are as of today, 1,444 political prisoners in Belarus and 2,350 people have been declared "extremist". Last year Lukashenko's regime made at least 1,200 political convictions on criminal charges. 215 printed media outlets were shut, and since 2020 more than 1,000 NGOs have been liquidated.
2023 has already seen this continue. Even as this session takes place, numerous high-profile politically motivated trials are happening in Belarus. Nobel Peace Laureate Ales Bialiatski and two other members of human rights NGO Viasna are being prosecuted on trumped-up charges of smuggling and "financing group actions that violate public order." On the first day of this trial the defendants were handcuffed and locked in a cage.
The trial of Svetlana Tikhanovksaya and other well-known opposition figures for treason began in absentia last week, with an empty cage representing her and fellow defendants. Svetlana was forced to flee the country in 2020, has stated that "in Belarus there are no honest trials."
Independent journalists also cannot escape the long arm of the Lukashenko regime. Read by more than 60% of the population in 2019, Tut.by was the largest independent media group in Belarus. Former chief editor, Maryna Zolatava, and director-general, Lyudmila Chekina, are currently facing trial on trumped-up charges, including threatening the national security of Belarus. But, independent journalism is not a crime.
These are the names we know well, but many of the more than 1,400 currently in detention are ordinary Belarusians who are being brutally punished for protesting the fraudulent 2020 Presidential elections. Journalists, media actors, opposition figures, and human rights defenders sentenced for peacefully exercising their human rights and fundamental freedoms, those same rights underscored by our collective commitments - on freedom of expression and the freedom of peaceful assembly and association.
We once again call for the immediate and unconditional release of all political prisoners in Belarus. Since the new year, the Belarusian authorities have already turned their attention to expanding their toolbox of repression. Lukashenko has signed new laws, allowing the regime to confiscate property of individuals or organisations who engage in "unfriendly activities" towards Belarus.
The OSCE has been active in condemning the human rights situation in Belarus. In 2020, 17 States triggered the Moscow Mechanism, the report concluded that "massive and systematic" violations of human rights and fundamental freedoms had been committed by the Belarusian security forces.
Mr Chair, have the Belarusian authorities, who have been given ample opportunities, responded to the recommendations in the report? No. The human rights situation in Belarus has only deteriorated. In November 2021, we then invoked the Vienna Mechanism, yet again there was no substantive response.
We urge the Belarusian authorities to fully implement their international obligations and OSCE commitments, and to make use of the OSCE's tools and mechanisms to help resolve the continuing human rights crisis in Belarus.
Finally, we commend the tireless work of civil society organisations and human rights defenders in Belarus, despite the very real dangers they face in conducting their vital work.
Thank you Mr Chair.
Photo by Homoatrox, Wikimedia commons.