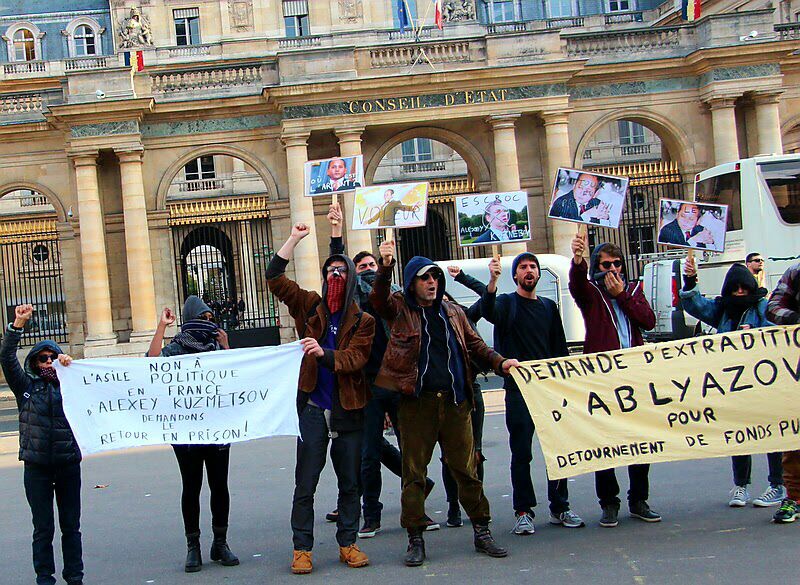 In Paris, near the building of the Council of State, a demonstration was held last week on 28 and 29 September against the policy of double standards towards international fugitives. Around 20-30 people had gathered to protest against the practice of granting asylum in France to foreign citizens accused of fraud and economic crimes on an international scale.
In particular, protesters were concerned about what they feel is a policy of double standards in France. Despite common obligations and established legal practice, some convicted criminals who are on international wanted lists and satisfy the conditions and procedures for their extradition, are nevertheless released due to politically motivated decisions and despite existing judgements by the courts and judicial authorities.
The participants at the demonstration chanted: "no to scammers", "extradite scammers", "extradite Kuznetsov", "extradite Ablyazov", "no negotiations with thieves", "France does not participate in international crime".
At the moment, in the territory of France, there are several controversial figures accused by a number of foreign countries of having committed economic crimes and fraud in substantial scale.
The most notorious case, in which the political institutions in France intervened, are investigations into the
ex-finance minister of Moscow, Alexei Kuznetsov, as well as the convicted banker from Kazakhstan, Mukhtar
Ablyazov.
A citizen of Russia, Alexey Kuznetsov has been wanted since 2012 by Interpol at the request of Moscow for fraud concerning very large amounts of funds and various assets that were obtained illegally. After a lengthy trial, during which numerous facts of economic crimes were established, Kuznetsov was recently released and lives in France under protection of the state.
Another financial criminal, the Kazakh Mukhtar Ablyazov, is accused by a number of states of fraud and embezzlement of about 6 Billion US Dollars of financial resources from the Kazakh BTA bank.