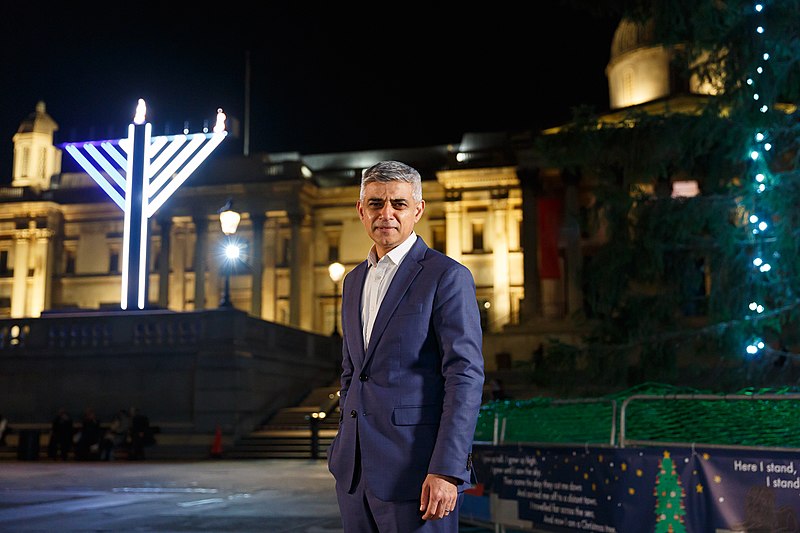 The Mayor of London, Sadiq Khan has today revealed that four million Londoners living within his world-leading expanded Ultra Low Emission Zone (ULEZ) are now breathing cleaner air
following the zone's expansion last autumn.
On 25 October 2021, the ULEZ in central London expanded to cover all areas inside the North and South Circular roads, 18 times the size of the original zone. Now a new report from City Hall has assessed the impact the expanded zone has had in its first six months, finding that the number of older, more polluting vehicles driving in central and inner London and the levels of harmful pollution Londoners are exposed to have both fallen substantially.
The report shows that 94 per cent of vehicles seen driving in the zone now meet the strict ULEZ standards on an average day, up from 87 per cent in the weeks before the zone expanded and up from 39 per cent in February 2017 when changes associated with the ULEZ began. There were also 67,000 fewer non-compliant vehicles in the zone on an average day compared to the period right before the ULEZ expanded, a fall of 54 per cent. Early estimates suggest the number of vehicles overall in the zone has also fallen by around 21,000. ULEZ has also helped prevent a return to previous pollution levels after the pandemic, even as traffic returned to close to 2019 levels.
These factors combined mean that the four million Londoners living within the expanded ULEZ are now breathing cleaner air than they would have without the scheme. NO2concentrations in inner London are estimated to be 20 per cent lower than they would have been without the ULEZ and its expansion. In central London, NO2 concentrations are estimated to be 44 per cent lower.  
The benefits are also being felt beyond the zone, with all monitoring sites on the boundary of the expanded zone having seen reductions in NO2 concentrations.
However, the report shows that there is still more work to do to ensure all Londoners can experience the benefits of cleaner air. Compliance rates and air quality improvements in outer London – which is not currently covered by the ULEZ - continue to lag well behind those in central and inner London. This is why the Mayor has asked TfL to consult on expanding the ULEZ London-wide in August 2023.
Londoners can give their views on the expansion by responding to Transport for London's consultation at tfl.gov.uk/clean-air until 29 July 2022. 
A study by Imperial College London found that in 2019 toxic air contributed to the premature deaths of more than 4,000 Londoners, with the greatest number of deaths attributable to air pollution in outer London boroughs, mainly due to the higher proportion of elderly people in these areas. More than 600,000 Londoners have lung conditions and are more vulnerable to the impacts of air pollution, with over half of these people living in outer London. 
The new report comes as Sadiq, in his twin roles as Mayor of London and Chair of C40 Cities, convenes a meeting of representatives from 16 global cities, health experts, youth activists and union leaders at City Hall. They will work together over the next three days to accelerate city-led action related to the triple threat of air pollution, the climate emergency and congestion. 
The Mayor of London, Sadiq Khan said: "I'm proud of the progress we have made in making our city's air cleaner for millions of Londoners.
"Today's report shows the incredible difference that the expanded ULEZ is making after just six months. We must now capitalise on this success which is why I'm consulting on expanding the ULEZ London-wide to extend the benefits of clean air to all Londoners.
"We have already come so far and I'm determined to build a better London for everyone, one that is safer, fairer, greener and more prosperous for all. But we cannot act alone. As Chair of C40 Cities, I am committed to working collaboratively across national borders and city boundaries to tackle air pollution, address the climate crisis, and help bring about the change we need to achieve the UN's Global Goals for sustainable development." 
Jemima Hartshorn, co-founder of Mums for Lungs, said: "We are so glad that London's air is less polluted as a result of the ULEZ expansion, and we hope that bringing it to all of London, will have similarly strong effects in cleaning up the air. 
"But we need more than the ULEZ to stop lung from being stunted, reduce the children asthma rates in the city and ensure that the elderly don't suffer from pollution-induced lung and cardiac issues and we hope the Mayor and Government can work together on achieving long-term change." 
Mark Watts, Executive Director, C40 Cities said,"Air pollution is a deadly problem in cities across the world. Road transport is the single largest source of toxic air pollution in London, leading to severe respiratory issues and devastating premature deaths. 
"Today's report show's the real difference bold ambitious plans can make. By expanding the Ultra Low Emission Zone, Mayor Khan has put the health of all Londoners first and ensuring no-one is left behind. 
"What London is doing will be keenly watched across the world, inspiring many other mayors to invest in cleaner, greener, and fairer cities."
Sarah Woolnough, Chief Executive of Asthma + Lung UK, said: "We estimate that over half of people with asthma and COPD have had their symptoms triggered by air pollution. The expansion of the ULEZ has made the air safer for more than 255,000 people living with a lung condition in Inner London.
"That's why we fully support plans to expand the ULEZ across the whole of Greater London. ULEZ removed the most polluting cars from the roads, cleaning up the air within the zone. Expanding the zone further will help to protect more people living with lung conditions and prevent future generations developing new lung conditions such as asthma."
Dr Gary Fuller, air pollution scientist from Imperial College London's Environmental Research Group, and UKRI Clean Air Champion said:   
"We often hear that air pollution is a problem that is just too hard to solve but it's one that has a serious impact on everyone's health, which we cannot ignore. These new results from the expanded ULEZ show what can be done. 
"Close working between scientists at Imperial College London and the Mayor's teams fed evidence into the ULEZ design and continue to review how well it is working. Now data from London's air pollution measurement network have shown the success of the ULEZ expansion. It has made a real difference to air that Londoner's breathe. 
"But there is more to do. Last year, the World Health Organization set new tougher limits for air pollution, and we need to create pathways to achieving these. 
"The sources of air pollution are also the sources of climate-heating emissions. This week's hot temperatures and summer smog clearly show the need to take actions on both air pollution and climate change together." Photo by Chabad Lubavitch, Wikimedia commons.