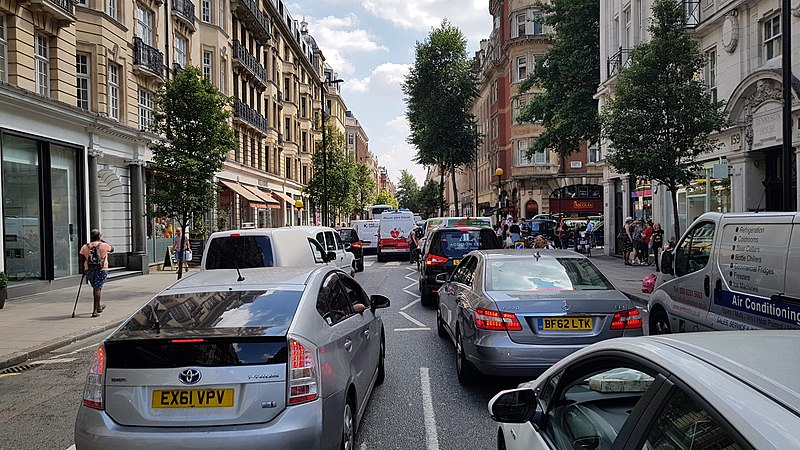 As part of the Mayor of London's bold action to tackle dirty air across the capital, Sadiq Khan has today announced an additional £5 million for the scrappage scheme that is accelerating the
move to cleaner vehicles across London.
The scrappage scheme aims to help Londoners on low incomes or with disabilities ditch their older, more polluting vehicles and switch to cleaner models, ahead of the Ultra Low Emission Zone expansion in October 2021 up to, but not including, the North and South Circular roads. Since the scheme was launched in 2019, it has helped replace or retrofit more than 10,000 vehicles. 
As well as low income Londoners, the scheme has already successfully helped micro businesses, sole traders and charities to scrap more than 5,000 older vans. While the enthusiastic uptake of the vans scheme means that this element is currently suspended, it also means that Londoners are benefitting from reduced emissions from thousands of vans, even before the ULEZ expansion happens.  
Motorists can apply for: 
£2,000 for scrapping a car
£1,000 for scrapping a motorcycle or moped
Charities can continue to access funding to scrap minibuses, given their vital role in our communities and the recovery from the coronavirus pandemic.
Polluting vehicles account for around 50 per cent of London's harmful NOx air emissions. The health impacts of air pollution have an economic cost to the capital and research from the Confederation of British Industry (CBI) has showed that cleaner air could also boost the economy by £1.6 billion.
While significant progress has been made, with a substantial reduction in the number of Londoners living in areas exceeding legal limits for NO2, tens of thousands of Londoners still breathe illegally polluted air and 99 per cent of Londoners live in areas exceeding the World Health Organization (WHO) recommended guidelines for PM2.5, which are much tighter than the legal standards.
The Mayor's additional investment in London's scrappage scheme has been made without Government, unlike the scrappage schemes supporting Birmingham and Bath's Clean Air Zones which have received significant Government support. This is despite the fact that Londoners are paying hundreds of millions of pounds in Vehicle Excise Duty every year, even though only a tiny fraction of it is spent in the capital.
The Mayor of London, Sadiq Khan said: "Air pollution is a national health crisis that is stunting the lung development of our children and leading to thousands of premature deaths.
"Despite the lack of Government support, our car and motorcycle scrappage scheme will continue to help low-income and disabled Londoners scrap their older, polluting vehicles and switch to walking, cycling and public transport or a cleaner vehicle. 
"In central London, the Ultra Low Emission Zone has already helped cut toxic roadside nitrogen dioxide pollution by nearly half and led to reductions that are five times greater than the national average. But pollution isn't just a central London problem, which is why expanding the ULEZ later this year will benefit Londoners across the whole of the city and is a crucial step in London's green recovery. There is no time to waste. We know pollution hits the poorest Londoners and those from Black, Asian and Minority Ethnic communities the hardest, which is why I'm doing everything I can to improve the health for all Londoners.
"We need the Government to follow London's lead and help clean our filthy air once and for all, by strengthening the Environment Bill to include WHO recommended air quality limits to be met by 2030 and supporting a targeted national vehicle scrappage fund that will help motorists across the UK to ditch their polluting cars."
Suha Al-Khayyat, Artistic Co-Director at Little Fish Theatre Company said: "Little Fish Theatre works with underserved young people across London. The company tours large scale theatre shows into venues big and small, relying on good transport for its theatre set and actors. Before the scrappage scheme, Little Fish was using a van that was far from environmentally friendly. The scheme enabled the company to put a large deposit on a new vehicle which finally met the safety standards needed, providing us and all our hard working staff with a comfortable and reliable mode of transport. Without the scheme, it would have taken a number of years to raise the funds needed for the upgrade. We are now the proud owners of a Euro 6 van that meets the ULEZ standards, enabling us to reach more young people."
Alex Williams, TfL's Director of City Planning, said: "We know that London's dirty air hits the most vulnerable the hardest. It leads to thousands of premature deaths, induces asthma and impacts the development of children's lungs. That's why the expansion of the ULEZ up to but not including the north and south circular is vital for the health of Londoners. The larger zone, which is 18 times the size of current one, will see harmful nitrogen dioxide cut by around 30 per cent across the whole city. We recognise that some more vulnerable Londoners may need a vehicle to get around, which is why we are delighted to announce this additional £5million to help them make the green transition." Photo by Mike Malone, Wikimedia commons.