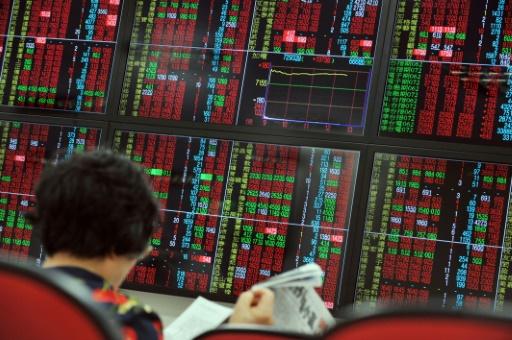 Asian and European stock markets paused Friday following a healthy run-up in the week, traders siad.
Investors also mulled an overnight sell-off on Wall Street where a plunge in retail giant Macy's fanned concerns about the key US retail sector.
Optimism has been high the past four days on solid US jobs data and moderate Emmanuel Macron's landslide French presidential win Sunday, pushing some markets to multi-year highs.
But traders took a step back ahead of the weekend with confidence rattled by a series of below-par Chinese data and Donald Trump's shock firing of the head of the FBI, which some fear could lead to a crisis that will knock the president's economy-boosting agenda offline.
On Thursday, New York's three main indices turned negative after Macy's announced a 39 percent fall in net profit, its latest in a series of weak readings that have underscored the deterioration of bricks-and-mortar stores due to the rise of e-commerce.
The figures hit other big-name stores and with the retail sector a crucial driver of the world's top economy, there are fears about the outlook for well-known shops.
In Europe on Friday, Frankfurt's benchmark DAX 30 index shed just under 0.1 percent and London's FTSE 100 dipped about 0.2 percent, while Paris turned flat.
In Asia, Tokyo's Nikkei index closed down 0.4 percent from a 17-month high, while Sydney shed 0.7 percent and Singapore gave up 0.3 percent. Seoul, which closed Thursday at a record high, eased 0.5 percent. Wellington, Taipei and Manila also slipped.
But Hong Kong rose 0.1 percent extending a rally to five days. Bloomberg News reported, without naming sources, that China had made preparations to support the Hang Seng Index if needed ahead of the expected visit of President Xi Xinping to the city for the July 1 handover celebrations.
Shanghai -- which has fallen about seven percent in the past month on worries about a state crackdown on leveraged investing -- ended up 0.7 percent with speculation mainland shares were also being given state backing.
The dollar declined against the yen and euro, having enjoyed a surge Thursday on comments from a top Federal Reserve official backing three more interest rate hikes this year.
The unit "is weighed down by the Trump/Comey sideshow which has seen the greenback move lower against" major currencies, Stephen Innes, a senior trader at forex firm OANDA, said in a commentary.
And on oil markets both main contracts pressed on with their recovery from last week's sharp losses, with investors cheering a bigger-than-expected drop in US inventories and signs an OPEC output cut was kicking in.
- Key figures around 0930 GMT -
London - FTSE 100: UP 0.2 percent at 7,402.42 points
Frankfurt - DAX 30: UP 0.1 percent at 12,722.57
Paris - CAC 40: FLAT at 5,382.26
EURO STOXX 50: FLAT at 3,623.44
Tokyo - Nikkei 225: DOWN 0.7 percent at 19,883.90 (close)
Hong Kong - Hang Seng: UP 0.1 percent at 25,156.34 (close)
Shanghai - Composite: UP 0.7 percent at 3,083.51 (close)
New York - Dow: DOWN 0.1 percent at 20,919.42 (close)
Pound/dollar: DOWN at $1.2856 from $1.2889 at 2100 GMT
Euro/dollar: UP at $1.0866 from $1.0863
Dollar/yen: DOWN at 113.60 yen from 113.88 yen
Oil - Brent North Sea: DOWN six cents at $50.71 per barrel
Oil - West Texas Intermediate: DOWN nine cents at $47.74 afp