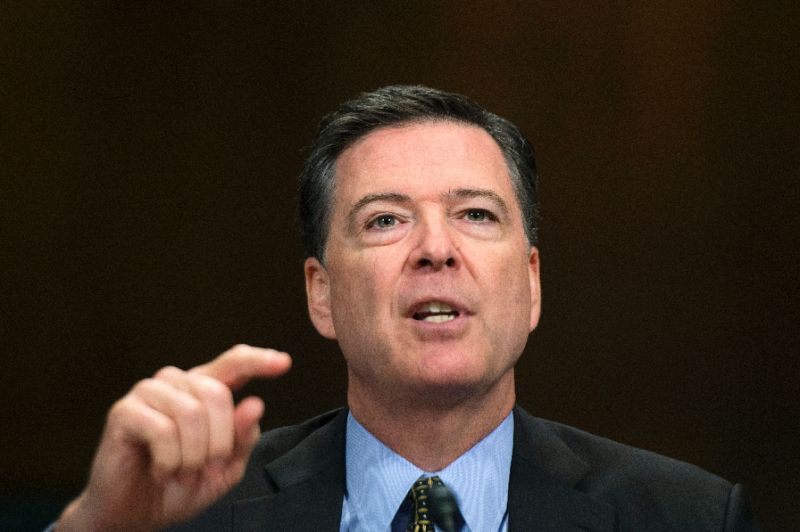 Wall Street wobbled Wednesday as wary investors mulled the political fallout from US President Donald Trump's firing of FBI director James Comey.
European stocks meanwhile posted slight gains, with some analysts detecting an investment flow from across the Atlantic.
"The latest surfacing of the unpredictable side of Trump adds further weight to renewed investor confidence in European stocks," said Accendo Markets analyst Henry Croft.
At the closing bell, stock prices were a touch higher in Paris and Frankfurt, while surging oil prices helped lift London by 0.6 percent.
On the other side of the Atlantic Wall Street was lower, also hit by sliding Disney shares, but the dollar staged a timid recovery, having tumbled to a six-month euro low after Trump ousted Comey late on Tuesday.
"Political uncertainty is resurfacing," said analysts at Charles Schwab after Trump ousted the man who headed a wide-ranging investigation into whether his aides colluded with Russia to sway last year's US election.
- Trump's Watergate? -
The shock move drew comparisons to the Watergate scandal that brought down Richard Nixon but analysts were mostly sanguine about its impact on stock markets.
"Broadly speaking I do not think this really changes much -- not unless it's the start of a Watergate-like scandal," said ETX Capital analyst Neil Wilson.
"Solid corporate earnings... ought to underpin continued equity strength for time being. I don't think this (sacking) will wake investors from their slumber yet."
London Capital Group analyst Ipek Ozkardeskaya said investors were taking a "pragmatic" approach to the Comey news -- which could breathe new life into Trump's pro-business policies, like tax cuts.
- 'No hard feelings' -
"The abrupt dismissal has been a shock for many, for whom the news has been perceived as tragic for the US democracy," Ozkardeskaya told AFP.
"But the markets have no hard feelings and they are way more pragmatic," she added.
Elsewhere, South Korea's won currency advanced as Moon Jae-In's election win helped investors look past fresh warnings of a nuclear test from the North. Moon also declared his willingness to visit Pyongyang.
Moon swept to power on Monday after his predecessor Park Geun-Hye was impeached over a corruption scandal.
The US dollar, which has surged this week on expectations the Federal Reserve will lift US interest rates next month, struggled to bounce back Wednesday due to North Korea jitters -- and news of Comey's firing.
Oil prices meanwhile got a boost from US government figures showing that American oil inventories fell by much more than forecast last week.
The Department of Energy said stocks declined by 5.2 million barrels, against analysts predictions of 2 million.
Both main international oil futures contracts rose by around three percent in response.
- Key figures around 1545 GMT -
New York - Dow: DOWN 0.1 percent at 20,959.73 points
London - FTSE 100: UP 0.6 percent at 7,385.24 (close)
Frankfurt - DAX 30: UP 0.1 percent at 12,757.46 (close)
Paris - CAC 40: UP 0.1 percent at 5,400.46 (close)
EURO STOXX 50: DOWN 0.1 percent at 3,645.74
Tokyo - Nikkei 225: UP 0.3 percent at 19,900.09 (close)
Hong Kong - Hang Seng: UP 0.5 percent at 25,015.42 (close)
Shanghai - Composite: DOWN 0.9 percent at 3,052.79 (close)
Euro/dollar: DOWN at $1.0867 from $1.0871
Pound/dollar: DOWN at $1.2941 from $1.2948
Dollar/yen: UP at 114.09 yen from 113.94 yen
Oil - Brent North Sea: UP $1.42 at $50.15 per barrel
Oil - West Texas Intermediate: UP $1.42 at $47.30
burs-jh/cw