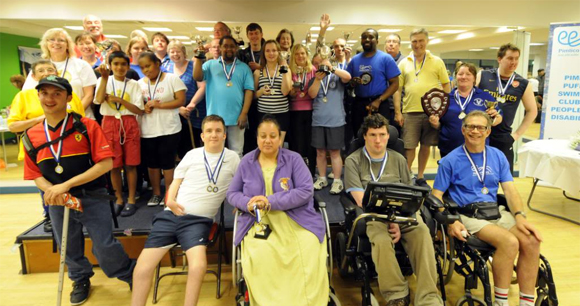 The Westminster International Rotary Club (WIRC) has been a long-time supporter of the Pimlico Puffins, the swimming club for the disabled in the heart of Westminster. At the Annual Gala of the Pimlico Puffins at the Queen Mother's Sport Centre in Victoria on 6 November 2016, John Bartlett, President of WIRC presented a cheque over GBP 1,000 to Pimlico Puffins' Chair, Natasha Fleming.
Pimlico Puffins is a swimming club for those who have learning difficulties or physical disability and who would like to learn to swim or exercise in the water. All ages, size, shapes and characters attend the club to enjoy a swim.
John Bartlett said: "The Westminster International Rotary Club is a proud supporter of the swimming club and it is wonderful to see the joy of the swimmers at today's gala event. We would like to thank Natasha and her team of volunteers for their fantastic effort."
The event was attended by friends, families and supporters of the club. The accomplishments of the swimmers were recognised during the award ceremony, where the Deputy Lord Mayor of Westminster, Angela Harvey, handed out the trophies to the proud winners.
Natasha Fleming, Committee Chair of the Pimlico Puffins said: "We are delighted to have the Westminster International Rotary Club as a supporter of our efforts, and we are pleased that so many Rotarians are here today to make this gala a great success."
The Pimlico Puffins Swimming Club was founded in September 1981 by Barry Meekins, a member of Westminster East Rotary Club (now Westminster International Rotary Club) and the club has supported this project ever since.