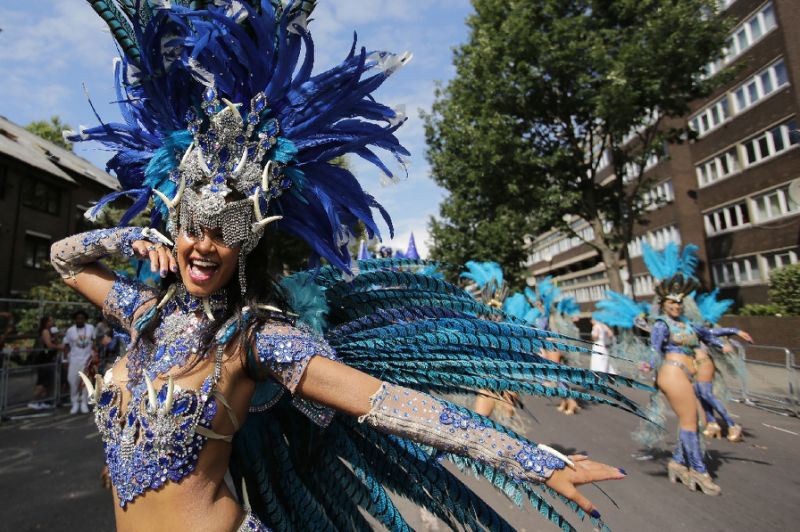 Hundreds of thousands of revellers took to the streets to celebrate London's Notting Hill Carnival on Monday, as police made more than 400 arrests during the festival's 50th anniversary.
Feathered dancers, steel bands and earth-shaking sound systems featured in the vibrant celebration of British Caribbean culture, with many festival-goers sporting glittery face paint and waving Jamaican flags.
"It's excellent! We are loving the free spirit of everyone and we have all been dancing," said Annuar Aziz, a 41-year-old businessman from Malaysia who stumbled on the event by accident with his wife and four children.
"We heard the music from where we are staying in Bayswater and just followed the sound."
As every year, some outbreaks of violence and many drug arrests marred Europe's biggest street party.
London's Metropolitan Police said there had been four knife attacks and 401 arrests over the two days of the carnival on Sunday and Monday, on a par with last year's event when there were 407 arrests.
The majority of arrests this year were related to drugs offences or weapons, police said. A total of 74 people were taken to hospital.
The carnival traces its roots back to Caribbean music festivals in the 1950s after the first surge in arrivals from former British colonies after World War II.
The carnival proper started in 1966 when local resident Rhaune Laslett organised a "jump up" for local children in Notting Hill, which at the time was considered a slum but is now one of the most expensive areas in London.
She told Time Out magazine that her aim had been to "take to the streets using song and dance to ventilate all the pent-up frustrations born out of the slum conditions".
She called the first carnival, featuring a steel band, "a celebration of poverty".
In the 1970s the carnival often had a political tinge and reflected racial tensions. It quickly grew and this year's edition featured 60 bands and 38 sound systems.
The carnival is now said to be the world's second biggest after the one in Rio. afp