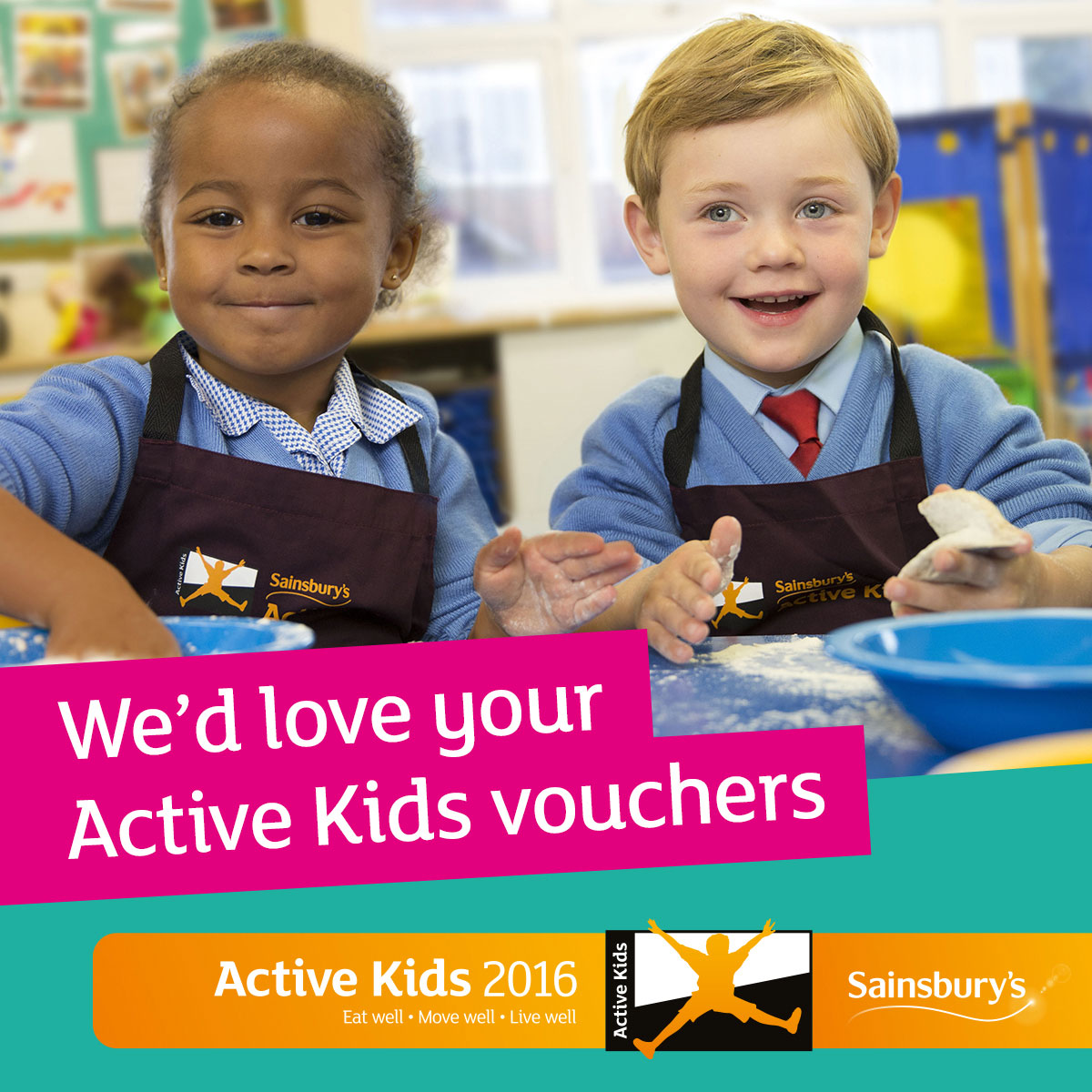 From 27 January - 3 May customers were able to collect Active Kids vouchers at Sainsbury's. These vouchers can then be used by registered schools, groups and clubs across the country to get sports and cooking equipment and experiences.
Sainsbury's Nine Elms Point isn't opening until August 2016 but Andy Robins, Store Manager wanted to get involved with the local community through the Active Kids scheme anyway by donating some equipment to Wyvil Primary school.
Customers receive one voucher for every £10 they spend in supermarkets and one voucher for every £5 they spend in convenience stores. Over the years the scheme has grown and expanded to help inspire healthy eating for children and includes items of cooking equipment to get them involved. There is also a range of free Cooking and Nutrition Toolkits – endorsed by the British Nutrition Foundation, they are available to teachers to help children learn about a balanced diet.
This year the scheme has a new strand to it, the Taste Buddies Challenge has been introduced to help parents try new foods with their children. Children who enjoy a wider variety of foods are more likely to enjoy a healthy balanced diet and be 'better eaters'. The challenge will encourage children across the UK to broaden their diets by trying a wider variety of foods by going on a flavour-inspired tasting adventure.
Using research to find out key food groups that children typically struggle with, Sainsbury's has identified five gateway foods, using the five key taste areas, which will help parents introduce their children to these tricky food types. They found that over 50% of children are more likely to try new foods when they help cook it themselves. Helpful toolkits including exclusive recipes for each of the gateway foods for parents to cook and try at home with their kids, have been created and are available on the Active Kids website. Active Kids Ambassador, Ellie Simmonds said, "I've been a Sainsbury's Active Kids ambassador for six years and I've been able to see first-hand how the scheme has helped children all over the UK... Eating a balanced diet is just as important as exercising. I love experimenting with food and it's great to see that Active Kids is encouraging this as part of the scheme."
The Paralympic Challenge, is a new initiative to get 2.5 million young people to learn more about Paralympic sports and try them out ahead of the Rio 2016 Paralympic Games. By taking part, schools can receive free equipment, online resources and the opportunity to win money can't buy prizes, including a trip to Rio. Schools can register at www.ActiveKidsParalympicChallenge.co.uk