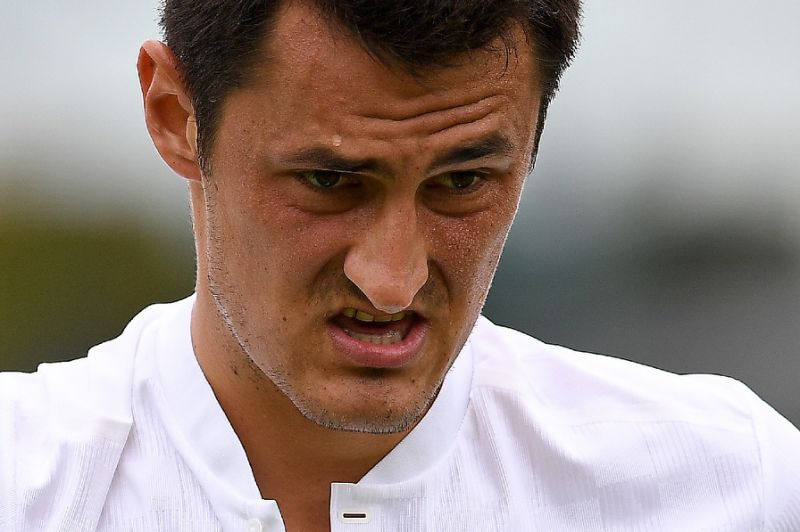 Bernard Tomic admitted Tuesday he had lost all motivation for tennis and couldn't care less if he won or lost as every single Australian crashed out of Wimbledon men's first round.
The talented Tomic was once mooted as a rising star of the sport but says he has hit a mental block, facing another decade drifting around the tour earning money but with little chance of breaking the big four's stranglehold on the major prizes.
"Holding a trophy or doing well, it doesn't satisfy me anymore. It's not there," the 24-year-old said after being dumped out by Germany's Mischa Zverev, as all seven Australian men flopped at the first hurdle.
"I wasn't mentally and physically there with my mental state to perform. I felt a little bit bored.
"I couldn't care less if I make a fourth-round US Open or I lose first round. To me, everything is the same. I'm going to play another 10 years, and I know after my career I won't have to work again.
"You have to respect the sport. But I think I don't respect it enough.
"It's my choice. I know I have to work hard. For sure I don't do the right work."
- No commitment -
Tomic's world ranking has slumped from a career high of 17 last year down to 59.
"I just can't seem to find the commitment to work hard, to enjoy, and to lift trophies," he admitted.
"I'm just not super pleased, not happy with myself.
"I'm still 24, and it's tough to find motivation."
Tomic accepted he could shake up his support team in a bid to get his career going again but said: "I don't think I really want it".
Tomic's 6-4, 6-3, 6-4 defeat to 27th seed Zverev was all over in an hour and 24 minutes.
"He definitely acted like something was wrong," said Zverev.
It added to a played seven, lost seven wipeout of Australia's men at Wimbledon.
On Tuesday, Thanasi Kokkinakis was beaten in four sets by 2009 US Open winner Juan Martin del Potro, while Jordan Thompson lost in straight sets to Spanish 25th seed Albert Ramos-Vinolas.
On Monday's opening day, Aussie number one Nick Kyrgios retired hurt with a left hip injury, while John Millman lost to Rafael Nadal and qualifier Andrew Whittington went out to Thiago Monteiro.
The only other time in the Open Era (since 1968) when no Australian men made it through to the Wimbledon second round was in 2012.
Kokkinakis had no explanation as to the Australian slump.
"A few of us have played some tough players," the 21-year-old said.
"Maybe we didn't all collectively play that great, but everyone's got their own reasons to why they didn't perform.
"We just didn't play well."
Kokkinakis said Tomic was a "top five talent" but was under pressure because he had been so good, so young.
"Hopefully he can get it together because he's a really good player, especially when he's switched on," he said.
- Rodionova saves the show -
In the women's draw, qualifier Arina Rodionova saved Australia's blushes -- and seven match points -- as she became the only Aussie through to the second round.
The world number 166, dumped out Russian 16th seed Anastasia Pavlyuchenkova 6-3, 6-7 (6/8), 9-7 in a rollercoaster encounter, taking it on her own fifth match point.
The last time only one Australian made the singles second round was Wimbledon 2012; the previous time that happened at a Grand Slam was the 1999 US Open.
Rodionova's two compatriots in the women's draw were knocked out.
Daria Gavrilova, the 20th seed, lost 6-4, 2-6, 8-10 to Croatian qualifier Petra Martic, while on Monday, Ashleigh Barty lost to Ukrainian fourth seed Elena Svitolina. 2011 US Open winner Sam Stosur is out injured.
Historically one of the dominant forces at Wimbledon, Australia's last men's champion was Lleyton Hewitt in 2002, while their last women's title winner was Evonne Goolagong Cawley in 1980. afp