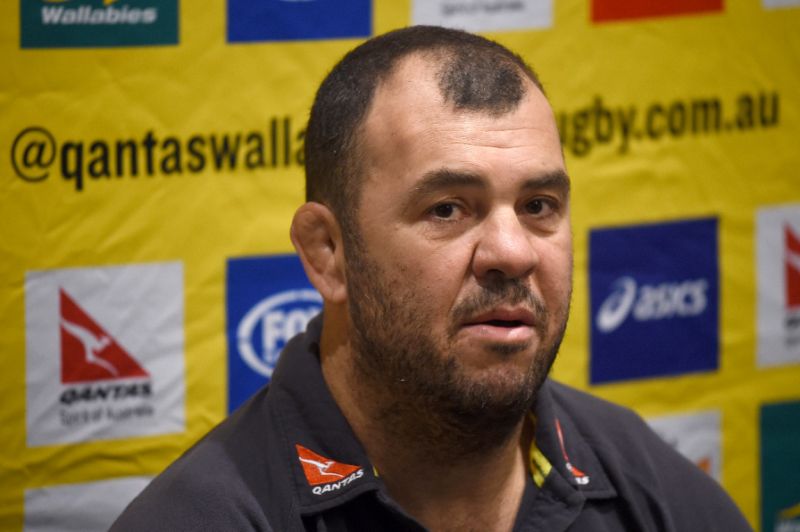 Australia coach Michael Cheika has urged his side to aim high during their tour of Europe as they look to finish a tough 2016 with a flourish.
Cheika's men have the chance to emulate the celebrated 1984 Wallabies that featured the likes of David Campese, Michael Lynagh and Mark Ella by completing a Grand Slam -- victories over England, Scotland, Ireland and Wales on one tour.
Australia will also play France in Paris on November 19 in a run of five internationals on successive weekends, starting with Saturday's clash against Wales in Cardiff.
Australia gave New Zealand a few awkward moments before losing last year's World Cup final at Twickenham, but 2016 has seen the Wallabies suffer some chastening defeats by the All Blacks, including a 42-6 hammering in Sydney in August.
That was a low in a run of six straight defeats that included a 3-0 series defeat at home to England, a side coached by Eddie Jones, Cheika's former team-mate at Sydney club Randwick.
New Zealand then beat Australia 37-10 in Auckland to set a new world record for a major rugby nation of 18 successive Test wins, with Cheika furious at being depicted as a clown in a New Zealand newspaper.
Cheika, however, was in more upbeat mood at Australia's arrival press conference in London on Monday, saying of the Grand Slam: "I think that it's very important for players to have dreams of achieving the bigger picture items. I really do, I believe that's important.
"If you don't have those dreams inside of you, then what are you doing it for?
"That's in the background, but that will only come to fruition when we're excellent every day and our players are learning.
"We're really trying to do the right thing, not just for the short term, but also for the medium term."
Cheika flew out a day later than his squad after undergoing surgery following a training ground collision with powerful back Israel Folau ahead of the Auckland loss to the All Blacks.
The coach tried to keep Folau's name under wraps before scrum-half Nick Frisby spilt the beans at an awards ceremony in Sydney on Thursday -- an event Cheika attended with his arm in a sling.
"Izzy's still on the tour so he's all right. He didn't get dropped," joked Cheika on Monday.
"The important thing was that he didn't get injured. The coach can't be injuring the players.
"I have a new empathy for players recovering from reconstructive surgery because it's quite painful. Maybe it is because I am a little bit older." afp