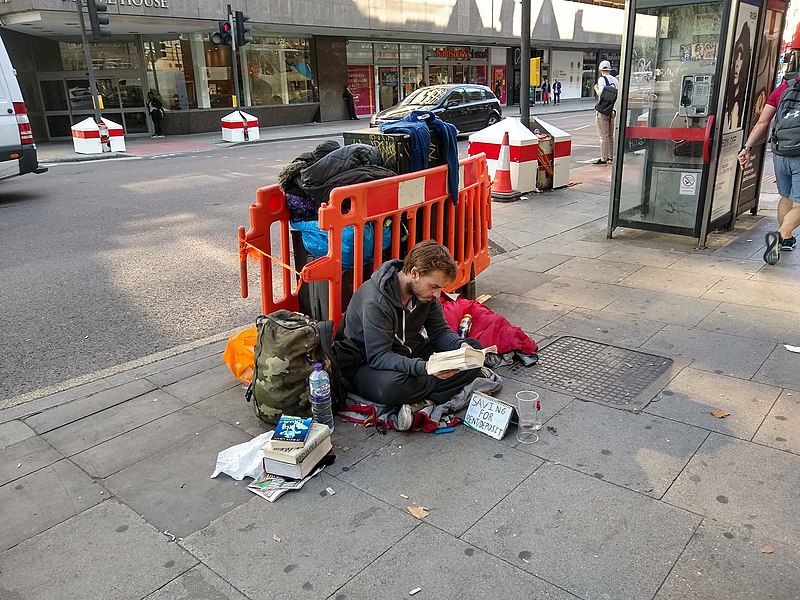 The Mayor of London, Sadiq Khan has today announced funding for up to 800 new homes for rough sleepers with complex needs and young people who are homeless or at risk of
homelessness. 
Sadiq announced the funding during a visit to a Crisis at Christmas service in Newham, where he met Crisis and St Mungo's staff, people who have recently been sleeping rough and representatives from IKEA and Asda who have joined the Mayor in his fight against homelessness.  
This is the second year City Hall has worked in partnership with Crisis and St Mungo's to coordinate a successful extension of Crisis at Christmas. Typically, Crisis at Christmas comes to an end shortly after the new year. The extension means guests have had somewhere safe and warm to stay until mid-January during some of the coldest weeks of the year, while receiving support from Crisis and St Mungo's to end their homelessness for good. 
Last year 76 per cent of the people staying in the extension service did not immediately return to the street and City Hall has been working with London boroughs to ensure this year is equally successful. The City Hall Rough Sleeping team has secured a commitment from all London boroughs to maximise accommodation options for people following their stay at Crisis at Christmas.  
The Mayor has been allocated around £75m of Government funding to deliver up to 800 homes for Londoners who have previously been sleeping rough. The funding was made available through the Single Homelessness Accommodation Programme (SHAP) and will deliver homes and support for young homeless people and rough sleepers with complex mental health or substance dependency issues - two groups of Londoners whose needs are currently not being fully met. 
Housing associations, local authorities, charities and others who have an ambition to develop SHAP homes will be able to bid for the funding later this financial year. Individual funding allocations will be approved by Government and City Hall. 
Londoners who have previously been sleeping rough, such as those supported by Crisis at Christmas this winter, will benefit directly from this programme. 
This new accommodation will be supplied alongside the successful Rough Sleeping Accommodation and Move On programmes, which have already delivered more than 1,000 homes for rough sleepers in the capital. 
The Mayor has brought together business partners to provide rough sleepers who are moving out of the service and into their own homes with the practical supplies they need. During the visit, he met with IKEA, Asda, and the Good Things Foundation, all of whom have donated supplies to ensure people get the best possible start as they move out of Crisis at Christmas and into long-term accommodation.
IKEA kindly donated kitchen supplies including pots and pans, cutlery, mugs and glasses, along with home furnishings such as duvets, towels and blankets. Asda donated toiletries and a range of food items, such as soup, pasta and noodles. The Good Things Foundation, Virgin Media O2, Vodafone donated sim cards and mobile phones. 
Sadiq is also urging Londoners to donate whatever they can to his annual winter fundraising campaign and to help connect people they see sleeping rough with local support services using the Streetlink website or app.
The Mayor of London, Sadiq Khan, said: "Since becoming Mayor, I've made it a personal priority to tackle rough sleeping and we've helped a record 13,500 people off the streets through our support services as we work to build a fairer London for all. But the hard work doesn't stop here and I'm pleased that City Hall has secured funding to deliver up to 800 homes for Londoners sleeping rough. 
"I'm also delighted that IKEA, Asda and The Good Foundation have joined me in my fight against homelessness in the capital by donating essential supplies like bedding, crockery and food to give those people moving into long term accommodation the best possible chance at a fresh start. On behalf of all Londoners, I also want to thank Crisis and St Mungo's for their tireless efforts supporting some of the most vulnerable in our city. 
"We can't do this alone, and to end rough sleeping in our capital, particularly amid the cost of living crisis, the Government must intervene to prevent the circumstances that lead to people sleeping rough before thousands more are forced to face a winter on the streets."
Matt Downie, Crisis Chief Executive, said: "We know the life changing impact our services over Christmas, and all year round, can have on people experiencing homelessness, so it's been fantastic to work alongside the GLA and the wider homelessness sector once again in extending our Christmas hotels through to the end of January. 
"But our services are just the start of someone's journey and to end their homelessness long-term we need accommodation that is safe and affordable. That's why this funding for more homes for people to rebuild their lives in is hugely welcome.  With rapidly rising rents and the cost of living crisis pushing more and more people into poverty and destitution there has never been a more pressing time to ensure that people are protected from life on the streets." 
Director of Rough Sleeping and Migrants at St Mungo's, Petra Salva OBE said: "We are pleased to be working with Crisis once again to offer extra support for people who have been brought in from the streets over the Christmas period.
"The recent cold snap exemplifies why the extension of this project is needed, freezing temperatures can kill and this will ensure people have somewhere safe and warm to stay. It's equally important that people can access the right support to help them move off the street for good, something we at St Mungo's offer all year round.
We will continue working 365 days a year to bring people off the street, and work with our partners in local authorities and the GLA to make every night someone's last on the streets."
IKEA London Area Manager, Michael Hawkins, said: "At IKEA, we want to create a better everyday life for the many people. This ambition goes beyond just home furnishing: We want to have a positive impact on the world and take responsibility and contribute positively to the neighbourhoods we're part of. That's why we supported the Crisis at Christmas programme through donating kitchen supplies and home furnishings to give people sleeping rough the best possible start as they move into long-term accommodation."
Jo Warner, Asda's Senior Director for Community said "We were delighted to support the Crisis at Christmas campaign, helping people experiencing homelessness make the best possible start in the comfort and safety of a new home. We provided a number of cupboard staples such as pasta, cereals, tea, coffee and toiletries - basic essentials that we hope will ease the transition into more permanent accommodation."
Helen Milner OBE, Group Chief Executive, Good Things Foundation, said: "We're delighted to support the Mayor with this tailored homelessness initiative, joining this diverse collection of businesses supporting the poorest people in our society. 
"Londoners experiencing homelessness  - already facing multiple inequalities - deserve data and device access as an essential utility for everyday life. The ability to connect with family and friends, alongside access to basic services and employment opportunities should not be a luxury.
"We're supporting those most in need by giving smartphones, SIM cards and data through the London Device Bank and National Databank, donated by our partners Virgin Media O2 and Vodafone. Together, along with our other partners and stakeholders, we're scaling these new social infrastructures nationally to help fix the digital divide for good." 
Dana Haidan, Chief Sustainability Officer at Virgin Media O2, said: "As founders of the UK's National Databank, we know how important it is for people to have access to devices and data so they can access vital online services, and stay in touch with loved ones.
"That's why we've donated smartphones and free O2 mobile data from the National Databank to support these Londoners moving into long-term accommodation so they can stay connected and get online as they begin their new lives."
Nicki Lyons, Corporate Affairs & Sustainability Director, Vodafone UK, said: "I'm pleased we have been able to support the Mayor of London's campaign to help those impacted or at risk of homelessness. As a business we have pledged to help four million people cross the digital divide by 2025 and will champion this cause until the issue no longer exists."  Photo by Philafrenzy, Wikimedia commons.