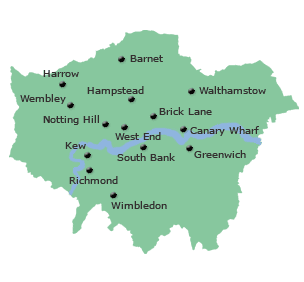 Comment
Tuesday, 21 December 2010 22:37
Photo by Discount City Hotels
Does London pop up in your travel plans occasionally but you end up putting off a visit to one of the most exciting and historical cities in the world due to cost issues? The biggest consideration might be the cost of your accommodation, which is widely known to be pricey just like everything else in the city.

However, a little research on the cheapest hotels in London would always do you some good in snagging a comfortable yet affordable budget hotel in London, which can be found in almost all parts of London, including Central London as well as the outskirts. Hence, with the countless accommodation options for budget travelers readily available, especially on the Internet, you do not have to spend more than you should on your accommodation in London as the rest of your expenditure is better spent on food, entertainment or business in this vibrant city.

So, where and how do you start researching on these cheap London hotels, you may ask? You can start right here, as I will provide some useful tips on the types of budget accommodation that is available in London, where they can be found, and which website we recommend for booking your hotels in London.


Written by PA
Sunday, 19 December 2010 16:59
Business Secretary Vince Cable has pledged to take "robust action" on the "scandalous" and "completely unjustified" payouts by banks in Britain.
The Liberal Democrat MP vowed to press ahead with plans to curb City worker's lavish pay and bonuses, despite fears that many financial firms could relocate abroad as a result.
Speaking to the Sunday Times, he said: "The banks shouldn't underestimate our determination to act. They are deluding themselves, really seriously deluding themselves, if they believe the Government is not going to take this seriously."
A defiant Mr Cable insisted he would not be blackmailed by bank bosses threatening to move their bases to more favourable tax regimes, passing some threats off as "not credible".
He also indicated he would accept some firms leaving if it meant a fairer and more stable banking system.
"We're not going to be bullied. I meet all kinds of companies who say, 'give us something or we'll go somewhere else', but you can't just give in the whole time," he said.
"We don't want to lose firms from the UK. But you're dealing with internationally mobile companies and some come and some go."
Chancellor George Osborne and Mr Cable will meet chief executives of the major banks this week for talks in which excessive bonuses and lending to small businesses will be high on the agenda.
Mr Cable said the issue of tackling the culture of secrecy around banking pay would also be discussed.
"We've got to have strong disclosure rules: start shining light on what's actually going on at the top of the leading banking institutions," he added.
Copyright (c) Press Association Ltd. 2010, All Rights Reserved.
Written by PA
Thursday, 16 December 2010 17:29
Parliament's expenses watchdog has insisted it would not step back from its duty to protect taxpayers' money, after David Cameron backed MPs' complaints about the tough new regime it has introduced.
While expenses rules should be "workable and fair to MPs", the much-criticised Independent Parliamentary Standards Authority (Ipsa) said its "overriding responsibility" was not to MPs but to the taxpayers who pay for the system.
Since it took over paying expenses in April, Ipsa has been accused of imposing administrative burdens on MPs and stopping them doing their jobs properly.
The Prime Minister stoked the controversy by branding its rules "anti-family" and warning that it must improve by April or he would force changes.
Mr Cameron's spokesman declined to rule out the option of scrapping the new body, but told reporters: "I don't think we are there yet, I think we need to look at what can be done."
The Government was not setting out a position on how the system should be reformed, which was primarily a matter for Parliament, said the spokesman.
Complaints about the excessive bureaucracy of the new rules on expenses have been voiced by MPs from all parties, including Tory backbenchers who raised the issue with Mr Cameron at a meeting of the 1922 Committee. The PM told them he "recognised that (Ipsa) has caused a lot of pain and difficulty", and criticised the new arrangements. "It is anti-family and it is not acceptable," he said.
According to aides, Mr Cameron said a "better system" needs to be in place by April 1, otherwise it "would be changed".
In a statement, Ipsa said: "When we made the new rules, we gave the public a say in setting them - for the first time ever. And it is worth remembering that all the main parties and political leaders welcomed the rules and the changes we introduced.
"We have a duty to administer a system which is workable and fair to MPs. But we also have an overriding responsibility to the public. We take very seriously the task of trying to restore public confidence in how MPs are supported by the taxpayer. We will not step back from our duties to the public."
Copyright (c) Press Association Ltd. 2010, All Rights Reserved
Written by Administrator
Saturday, 29 January 2011 17:43
This year will be the "make-or-break year" for stalled trade talks which could boost the global economy by more than £100 billion, Prime Minister David Cameron has said.
Mr Cameron issued a challenge to all world leaders to get behind a deal in the Doha Round talks on trade liberalisation, warning: "No one should hold anything back for later," and added that failure to complete the round this year would make a "radical rethink" necessary.
The Prime Minister rejected arguments for protectionist trade policies to defend domestic jobs in the wake of the recession, saying: "Fighting protectionism is a vital part of security, growth and prosperity for us all."
Trade is not a "zero-sum game" in which imports of low-cost goods from China damage the UK by reducing its own opportunity to export, said Mr Cameron. Instead, the UK benefits from increased choice, competition and low prices in the shops.
It is "ridiculous" that the World Trade Organisation negotiations, which began in the Qatari city of Doha in 2001, have still produced no agreement, said the Prime Minister.
Speaking at the World Economic Forum in Davos, Switzerland, he welcomed Friday's publication of the Trade Experts Group's interim report, which found that to be a success, the negotiations must be concluded by the end of 2011.
Completion of the round, which aims to remove barriers to trade and open rich-world markets up to poorer countries, would provide a massive boost to the global recovery from recession, said Mr Cameron.
"Trade is the biggest wealth creator we've ever known," he said. "And it's the biggest stimulus we can give our economies right now. A completed trade round could add 170 billion US dollars (£106 billion) to the world economy."
In a message to other world leaders, Mr Cameron said: "We've been at this Doha Round for far too long. It's frankly ridiculous that it has taken 10 years to do this deal. We simply cannot spend another 10 years going round in circles.
"If we don't get the deal done this year it is hard to see how the Doha process can have any further credibility. If we enter 2012 still stuck on this, real leadership will mean a radical rethink of how we get this done."
Copyright (c) Press Association Ltd. 2010, All Rights Reserved.
Written by PA
Tuesday, 07 December 2010 13:19
Drilling company Transocean had an incident on one of its North Sea rigs similar to the problem which caused the biggest oil spill in US history earlier this year, it has emerged.
Transocean was operating BP's Deepwater Horizon rig when it suffered a blow-out, killing 11 workers and releasing millions of barrels of oil into the Gulf of Mexico.
An internal company report obtained by the BBC shows that four months before the US disaster the Sedco 711 rig in the North Sea, which is leased by Shell and operated by Transocean, experienced similar problems.
In this case, however, the blow-out preventer - which is believed to have failed on the Deepwater Horizon - worked effectively, preventing oil and gas from spurting uncontrolled up the rig's pipe.
The incident on December 23 2009 was investigated by the Health and Safety Executive and Transocean drew up an internal report.
Oil expert Dr Greville Williams of the Institution of Chemical Engineers, who has seen the report, told BBC Radio 4's Today programme: "It is the story of a blow-out occurring during a completion exercise. They had drilled the well, they had got the end of the pipe sorted out.
"What's happened is that the flow valve at the bottom looks like it has been unseated during operations. When they started to displace the mud which is holding the reservoir back, the pressure started to move that mud and sea-water back up the column. That's the blow-out starting to happen."
Dr Williams said the report showed that key indicators that something was going wrong were misinterpreted or discounted, while undue weight was given to a positive pressure test at the base of the well.
"It seems to me from this that they were accepting that they didn't do enough pressure testing of the flow control valve and probably didn't allow for more than one barrier to prevent the reservoir from communicating," he said. "Normally, you would like to have at least two, but they were relying at this point on one barrier."
In a statement, Transocean told the BBC: "Any (safety-) related events that occur on a rig anywhere in the world, including the one on December 23 2009, are immediately reported to management, fully investigated and the valuable information gleaned from that investigation is used to improve existing safety systems across the fleet."
Copyright (c) Press Association Ltd. 2010, All Rights Reserved
Written by PA
Monday, 29 November 2010 15:21
The RSPCA has challenged a ruling which overturned a will leaving it a £2 million estate.
University lecturer Christine Gill, from Northallerton, North Yorkshire, won a High Court battle last year to overturn the will which left her parents' 287-acre farm to the charity.
In a ruling given in Leeds, a judge found that Dr Gill's "domineering" father had coerced her mother into making the will.
But the findings of Judge James Allen QC have been appealed against by the RSPCA during proceedings before the Master of the Rolls, Lord Neuberger, sitting with Lord Justice Lloyd and Lord Justice Jackson in London.
Elspeth Talbot Rice QC, for the RSPCA, told the court that one of the issues for decision was whether the judge was "wrong to find that Mr Gill unduly influenced Mrs Gill into executing her will". Another question was whether the judge was "wrong to find that Mrs Gill knew and approved of her will".
Judge Allen said it would be "unconscionable" if Dr Gill did not inherit Potto Carr Farm, near Northallerton, where she voluntarily helped out during her spare time over a period of more than 30 years.
Mr Gill died in 1999, aged 82. It was only when her mother died in 2006, also aged 82, that Dr Gill saw the will, in which her parents had left the farm to each other and then to the RSPCA when both died.
The judge found that Dr Gill's mother had wanted her daughter to inherit the farm but Mr Gill - who he described as a "bully" - had exerted pressure over his wife to favour the RSPCA.
The appeal is being closely watched by other charities who say they are "very concerned at its possible implications for the charity sector".
The RSPCA said in a statement: "The Gills had already provided substantially for their daughter during their lifetime, which included a large contribution towards the purchase of the farmhouse in which she now lives. The RSPCA carefully considered the merits of its action before taking the decision to defend Dr Gill's claims and subsequently to appeal in order to honour Mrs Gill's wishes."
Copyright (c) Press Association Ltd. 2010, All Rights Reserved.
Written by Administrator
Wednesday, 08 December 2010 14:45
Two brothers could have made more than £1 million by misleading thousands of customers into visiting a Lapland-style theme park, a court has heard.
Visitors to Lapland New Forest were offered a winter wonderland with snow-covered log cabins, a nativity scene, husky dogs, polar bears and other animals, as well as a bustling Christmas market.
Instead of the promised magical festive treat, visitors experienced fairy lights hung from trees and a broken ice rink.
Within days of the attraction opening in November 2008, hundreds of disgruntled visitors to the park on the Hampshire-Dorset border complained to trading standards they had been ripped off, Bristol Crown Court heard.
Less than a week later the attraction closed, with the theme park's owners blaming the media and sabotage from "New Forest villains" for the decision.
With visitors charged £30 a ticket and with up to 10,000 advance bookings online, the owners were set to make £1.2 million, prosecutor Malcolm Gibney told the court.
The two men behind Lapland New Forest, brothers Victor and Henry Mears, faced a jury accused of eight charges of selling misleading advertising.
The brothers face five charges of engaging in a commercial practice which is a misleading action and three charges of engaging in a commercial practice which is a misleading omission.
Victor Mears, 67, of Selsfield Drive, and Henry Mears, 60, of Coombe Road, both of Brighton, deny all the charges.
The court heard that Victor Mears was the company's sole director but was being assisted by his younger brother, who was managing Lapland, and was responsible for the promotion of the event.
Copyright (c) Press Association Ltd. 2010, All Rights Reserved
Written by Administrator
Wednesday, 12 January 2011 19:30
Ministers' demands for banks to show restraint in this year's bonus round look set to be defied by taxpayer-backed Lloyds with a £2 million award for its chief executive.
Eric Daniels, who is to leave the bank in March, is reported to be in line for the windfall after waiving any bonus for the past two years.
Cabinet minister Philip Hammond said the award, which follows claims that the Government has backed down in its battle with the banks, was "not welcome news".
Mr Daniels is entitled to a £2.3 million maximum bonus, set at 225% of salary, but any payout of that order will fuel anger over bank handouts.
Downing Street described the £2 million figure reported by the BBC as "speculation" and said the Treasury had not been informed about bonus proposals by Lloyds.
Written by Paul Hussey
Wednesday, 20 October 2010 11:25
Written by By Dave Ackermann
Saturday, 02 October 2010 12:06
I recently did an article on the phenomenal rate at which the London property market is growing. It seems this latest trend of growth just continues to gain more and more momentum as the months pass by and London properties for sale are now on average more expensive than properties in Monte Carlo, making prime property the most expensive of its kind in the world!
The study carried out by a London estate agent has revealed that a London property that costs around the £5 million mark is currently being sold at a rate of about £4000 per square foot of property. This is significantly more than Monaco which is second on the list and selling property at an average of £2190 per square foot of property. To give you an idea of how expensive this is, picture a normal sized walk-in closet in central London. At a price tag of £4000 per square foot of property, you could by a 3 bedroom house in the North of England for the same price as a walk in closet in central London.
A house in Belgravia was recently sold for a phenomenal London property sale of £30 million. If that sounds like a lot, it's still nothing in comparison to a London property which is owned by steel tycoon, Lakshmi Mittal. The 12 bedroom property situated in Kensington Palace Gardens is rumoured to be worth more than £100 million.
The current rate at which the property market is growing is the fastest in 30 years. Estate Agent Clapham North has been part of the research which has revealed that people who live in prime areas such as Chelsea, Kensington, Knightsbridge and Hampstead are currently earning more than £4000 per day on their London properties.
The current growth in the London property market is expected to stabilize in the middle parts of the year and then regaining pace again towards the end of the year. This is all good and well for the London market, however there are still serious concerns about the rest of the country's property as there is not much growth showing in other parts of England. The average price for a property for sale in London is about £350,000 whereas the average price of property in the North East is less than half of that at £129,000. Let's hope the London property industry is able to carry the weight of the entire country!
<< Start < Prev 1 2 3

4

5 Next > End >>


Page 4 of 5