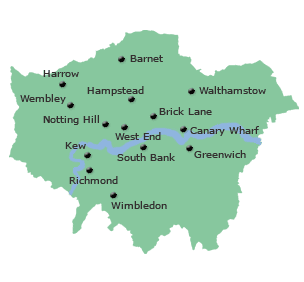 Culture
Written by Administrator
Thursday, 16 October 2014 22:05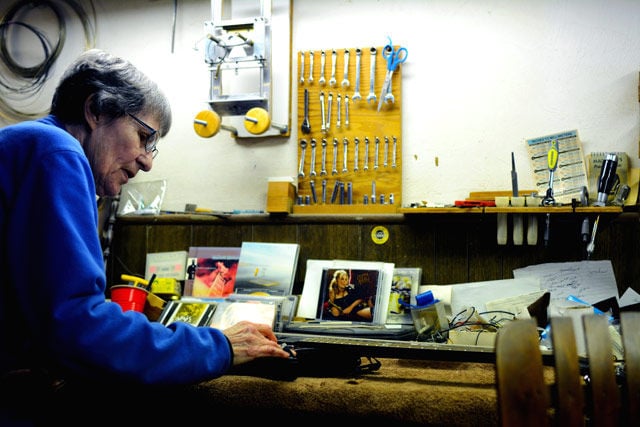 Located near the intersection of 48th Street and Baldwin Avenue is a stringed instrument repair shop that has been resurrecting damaged musical instruments and giving life to new ones for more than 40 years.
When customers enter they will likely see 74-year-old Linda London, owner and operator of London Luthier, quietly sitting behind the counter surrounded by guitars and hand tools. The front of the shop is sparse and dimly lit, but this is one of the few places to go in the Midwest that takes the time to serve the musician as well as the instrument.
London Luthier opened in 1969 and moved to its current location in 1974 when the space became available. London's husband, Dale, who passed away in 2004, worked as a commercial electrician before he started building instruments. Linda learned to repair instruments by working alongside him.
"This place is challenging because you never know what's going to come in the door," she said. "Whenever somebody wanted something special, Dale could figure out how to do it and design it. He always drew out blueprints and did everything to scale."
Dale received a ninth-grade education, earned first class in electronics in the U.S. Navy and briefly worked as a welder at Nebraska Boiler Co. before he got bored and got his license to be an electrician, she said. She was born in Ord, Nebraska, moved to Lincoln at about 13 years old and graduated from North East High School when she was 16 years old. The two were married the year after she graduated.
"I'm the one that got him started because I'm the one that tried to play classic guitar," she said. "Of course he didn't know anything, so he went down and got me an old archtop Harmony with steel strings and high action (the space between the strings and the fret board). I kept trying to play and my fingers would bleed. I thought it was me, and I put it away. Then picked it up again," London said. "Finally, he started shopping and he found me a nice little nylon string guitar. Back in the '50s and '60s, there wasn't a lot of things available music instrument-wise. So then he said, 'Well I can build you one.' He started researching and realized it wasn't as easy as he thought it was going to be."
London had been taking lessons at Thompson Music when her husband decided he was going to build a banjo.
"My guitar instructor said, 'Well if he can build a banjo he can fix things,'" she said. "Thompson started sending all their instruments over to the house. We'd do setups on them and repair them. Next thing you know, we were over here."
Her husband learned to build instruments by reading books and researching the principles of acoustics, vibrations of different types of wood and gluing pressures, she said.
"When he sat down to design something he had this innate sense to be able to understand how sound worked on an instrument – the vibrations through the bridge, going out through the braces on an acoustic guitar," she said. "That's just the way he was, he could just figure out things."
Ryan Larsen, owner of Roots Music Shop on the corner of Q Street and North Antelope Valley Parkway, has been getting instruments repaired at London Luthier since the mid-1990s, he said.
"If you take a guitar in there, she'll take a look at it and within a few moments she's going to tell you a few things she can fix and make better," he said. "My first memories of going in there, Dale was always sitting in the chair telling jokes and she was the one behind the counter doing all the work. I'm not selling him short – he did plenty."
Dale London was considered an electronics and luthier genius, Larsen said. Dale and Linda each had their respective skill sets, but Linda hasn't always received the credit she deserves, Larsen said.
"I got so good at it that he didn't even touch them," she said. "In the early days guys would come in here and they'd want Dale to work on their instrument. They didn't really want a woman working on them. Dale would say, 'Well, if you want it to be right, let Linda do it.'"
London's favorite projects are working on old instruments – "things that have some history to them," she said. One of the most recent projects was a harp guitar that was purchased brand new around 1903 and passed down through the family of the customer that brought it in.
"When you touch those things it's like going back in time and you can almost see them be there," she said. "To take something that's just going to be thrown away and fix it back up – have it played and passed on – that's what I really enjoy."
The harp guitar had ended up in Arizona. When it came into London Luthier, the face of the guitar had buckled up, the bridge was standing on end, wood was splintered around the side of the guitar and a chunk of wood was missing.
Written by Administrator
Wednesday, 08 October 2014 20:45
For six days, umbrellas, yellow ribbons, cartoon takedowns of politicians and song lyrics have been festooned across a city whose streets have been cleared of traffic to make way for a new wave of political protest.
Flyovers are plastered with hundreds of multicoloured notes voicing encouragement; posters of the city's leader characterised as a zombie or vampire hang from bridges; lampposts, footbridges and signs are tied with yellow ribbon -- one of the most widespread symbols of the protest movement.
Sympathisers at home and abroad have changed their social media profile pictures to an image of the ribbon, also used by other movements as a sign representing solidarity and freedom.
Written by Administrator
Wednesday, 01 October 2014 16:07
On Friday 19th September 2014, Andy Robins, Vicky Martin and Mohammed Abdul PR Ambassador for Sainsbury's Nine Elms Temp, took two trolleys worth of refreshments to the South Lambeth Library where they met the children from the libraries after school clubs.
They were greeted by the children with a warm thank you and proceeded to show the books that they were currently reading. Telling Sainsbury's Colleagues a bit about themselves, they then showed the colleagues their reading area and what happens at after school clubs.
Written by Administrator
Monday, 29 September 2014 16:31

The kiss was smoochy, the cake divine and the dancing nearly till dawn, but George Clooney and Amal Alamuddin were expected to make the most of their first day as a married couple with a Sunday gondola ride through Venice.

Hordes of excited tourists and media staked out their hotel, hoping to catch the first public appearance of the Hollywood heartthrob and his bride.

Clooney and Alamuddin, a Lebanese-born British lawyer, said "I do" late Saturday at a private ceremony in Venice's stunning Aman hotel palazzo, before celebrating with a star-spangled guest list in one of the most high-profile celebrity weddings in years.

There were wolf-whistles and cheers as the actor scooped Mrs. Clooney into his arms for a nuptial kiss, and his hands were shaking so much that he did a botch job on cutting the wedding cake, a source close to the hotel said.

Attendees including Matt Damon, Bill Murray, Cindy Crawford and her husband Rande Gerber -- rumoured to be Clooney's best man -- reportedly boogied well into the early hours to hit tracks by Blondie, Jackson 5 and Daft Punk.

Those not sleeping off a hangover were tipped to be meeting for a lavish late lunch Sunday in the garden of the luxurious Cipriani resort, or recovering with Bloody Mary cocktails on sun loungers by the hotel's Olympic size, waterfront pool.

But rumours among paparazzi staking out the hotel in speed boats were that the Clooneys would ditch their guests for a few hours to glide through the City of Canals, with a possible stop at the historic Bridge of Sighs, where legend has it lovers secure themselves eternal bliss with a kiss.



On Saturday at sunset, a euphoric-looking Clooney, 53, swept up Venice's Grand Canal to his wedding, accompanied by some 20 boatloads of paparazzi and the screams of adoring fans.

Singing gondoliers, who had spent the day showing off the romantic candle-lit resort to snap-happy tourists, were swept aside in their wake as the world's most famous waterway erupted with excitement.

Written by Administrator
Thursday, 25 September 2014 13:35
Guy Laroche designer Marcel Marongiu on Wednesday opted for modern, feminine looks at the Paris ready-to-wear shows with a "no-nonsense" collection featuring streamlined graphic shapes, plunging necklines and experimental materials.
On day two of Paris fashion week, Marongiu teamed light silk overalls with bikini tops and tuxedos with shorts for a "light, effortless" silhouette.
Experimental materials included luminous acrylic glass on strappy bain de soleil dresses and light scratched leather that gave a rough sheen to bags, shoes and details on coats.
Marongiu, artistic director at Guy Laroche since 2007, is one of a raft of designers such as Hedi Slimane at Yves Saint Laurent and Alexander Wang at Balenciaga currently working to reinvent fabled fashion names for the modern market.
Prior to his appointment the house had seen a revolving door of designers attempt to breathe new life into it including Alber Elbaz, now at Lanvin, and Herve Leroux, founder of the Herve Leger label.
The French-Swedish designer, who in the past has looked to David Bowie for inspiration, said the idea for his latest collection came from someone even closer to his heart than Bowie.
"The starting point of this is actually a picture of my mother," he told AFP ahead of the show.
"My mother had a very interesting sense of style. She mixed freely, she was (a) very independent, intellectual woman.
"She could one day have cropped jeans with my father's pea coat and the next day an embroidered little dress with a really tight waist. She played with everything. She was far from a fashion victim," he said.
Marongiu's summer 2015 collection, which came in a palette of butter yellow, eggshell, claret red, and navy, also featured dresses with laser-cut designs and tri-colour leather panels.
Written by Administrator
Tuesday, 23 September 2014 18:11
Flamboyant designer Jean Paul Gaultier's last ready-to-wear show will provide an emotional highlight of nine days of fashion collections due to get underway in Paris on Tuesday.
The 62-year-old showman of the catwalks is to bow out of ready-to-wear after nearly 40 years to concentrate on his couture collections.
The designer has said the decision was taken after an "in-depth assessment" of his eponymous fashion house's future with Spanish fragrance and fashion group Puig, which has a majority stake.
Gaultier's last show, which will be held on Saturday, is one of over 90 scheduled for the next week-and-a-half.
After New York, London and Milan, other highlights will be first collections by Georgia's David Koma for Mugler and France's Julie de Libran for Sonia Rykiel.
Written by Administrator
Thursday, 18 September 2014 14:32
Gucci took an audience sprinkled with fashion royalty on a mind-expanding trip back to the early 1970s on Wednesday as the global style powerhouse unveiled its 2015 spring/summer womenswear collection.
Skirts were cut above the knee, or shorter: always an encouraging sign if you believe the old maxim about global stock markets tending to rise in tandem with hemlines.
Prints had a slight psychedelic edge to them and there was a bit of a nautical/pirate theme running through a set that included plenty of embroidery and gilt-edged, oversized buttons on short-cut jackets featuring a range of exotic materials including python and Mongolian lamb.
There was also a range of three-quarter length, flared trousers and tight-waisted trench coats in an eclectic mix the company itself dubbed "kaleidoscopic glamour".
Gucci's creative director Frida Giannini has long been a fan of the hippy era and she gave full vent to that particular enthusiasm, to the apparent approval of a front-row featuring Kate Moss, US Vogue editor Anna Wintour and glamorous Monaco royal Charlotte Casiraghi.
Casiraghi, who is a top-level showjumper, has long been an ambassador for the company's equestrian line of clothing and she has now become the face of its cosmetics collection, which was making its catwalk debut here.
Elsewhere, there was much interest in the collection presented by Angelos Bratis, the latest young designer to be taken under the fatherly wing of Giorgio Armani.
The 36-year-old Greek's mastery of dresswear is seen by some to be sufficiently impressive for him to be considered a potential successor to the 80-year-old Armani, should the dean of Italian fashion decide to hand over the creative leadership of his global style empire.
Anxious to make the most of the additional interest generated by Armani's sponsorship, Bratis restricted his show to a small selection of sensual evening dresses in featherweight textiles including crepe de Chine and silk twill.
Many of them featured bold geometric patterns and vivid splashes of colour, offsetting the generally understated palate of the materials.
Written by Administrator
Tuesday, 09 September 2014 12:58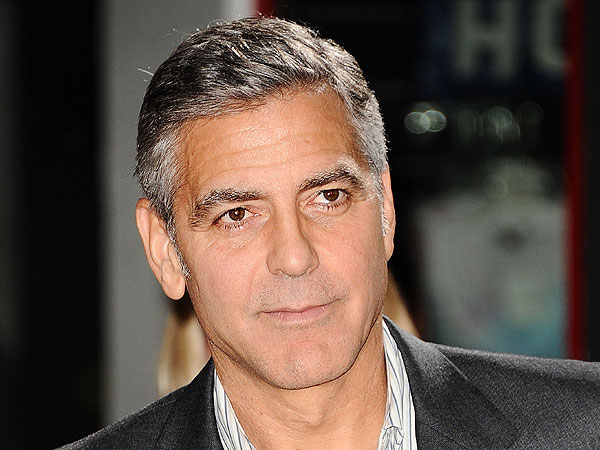 Heartthrob actor George Clooney is to marry his British lawyer fiancee Amal Alamuddin in Venice in a "couple of weeks", according to news reports confirmed in part by his spokesman.
The US actor's spokesman confirmed the wedding venue but not the date after Clooney let slip his plans to marry the human rights attorney in the picture-postcard Italian city.
"I met my lovely bride-to-be here in Italy, whom I will be marrying in a couple of weeks, in Venice of all places," People magazine quoted him as saying at an awards ceremony Sunday in Florence.
Reports suggested they could tie the knot on September 26, but the A-list actor's spokesman Stan Rosenfield played this down, telling AFP: "He did not give a specific date.
"I can only confirm that he is getting married in Venice," he said.
During Sunday's event, the couple appeared very much in love, according to celebrity bible People.
Clooney put his arm around her shoulder and carefully brushed her hair back whenever her "flowing locks" fell out of place as she laughed.
Oscar-winning Clooney, one of Hollywood's most sought-after bachelors, announced in April that he was engaged to his then 36-year-old girlfriend.
News that Alamuddin had stolen 53-year-old Clooney's heart caused a global media frenzy and furious speculation about when they would wed.
They had come out as a couple last October in London, and since have been seen together in New York and on trips to Tanzania and the Seychelles.
Clooney was married to US actress Talia Balsam for four years between 1989 and 1993 but has shown little interest in settling down since, instead going through a string of younger model and actress girlfriends over the years.
Written by Administrator
Friday, 22 August 2014 16:30
The liberation of the bar of the Ritz Hotel in Paris by the writer Ernest Hemingway 70 years ago, as the French capital was freed from its Nazi occupiers, is the stuff of legend.
Hemingway, a war correspondent for the American "Collier's" magazine who went on to win the Nobel prize for literature in 1954, was embedded with US 4th Division troops that landed on the Normandy beaches on June 6, 1944.
Over the next two months he stuck with the foot soldiers as they marched towards Paris in support of the French 2nd Armoured Division, which entered the capital on August 25.
Hemingway had a special attachment to the luxurious Ritz hotel, and its bar, where he had spent a great deal of time before the war.
When I dream of afterlife in heaven, the action always takes place in the Paris Ritz," Hemingway was to say.
"He did not talk about anything else," one Resistance fighter said, but "to be the first American in Paris and liberate the Ritz."
Hemingway managed, using his name and with the help of the American army commanded by US General George S. Patton, to wrangle a meeting with French commander General Philippe Leclerc.
His request: to be given enough men to go and liberate the Ritz's bar.
To the writer's surprise he got a frosty reception and was dismissed.
But Hemingway persevered and on August 25, dressed in his correspondent's uniform, he arrived in a commandeered jeep with a machine gun and a group of Resistance fighters at the hotel, on Paris' lovely Place Vendome.
He burst into the hotel and announced that he had come to personally liberate it and its bar, which had been requisitioned in June 1940 by the Nazis and occupied by German dignitaries, including on occasion Hermann Goering and Joseph Goebbels.
The manager of the hotel, Claude Auzello, approached him and Hemingway asked: "Where are the Germans? I have come to liberate the Ritz."
"Monsieur," he replied, "They left a long time ago. And I can not let you enter with a weapon."
Hemingway put the gun in the jeep and came back to the bar where he is said to have run up a tab for 51 dry Martinis.
According to his brother, Leicester Hemingway, the writer searched the cellar with his men, taking two prisoners and finding an excellent stock of brandy.
Written by Administrator
Tuesday, 05 August 2014 13:41
Oscar-winning movie star Sandra Bullock was the best paid actress in Hollywood over the past year, Forbes magazine reported, putting her estimated earnings at some $51 million.
Bullock, 50, won an Academy Award in 2010 for her turn in the football drama "The Blind Side."
Her big payday over the past 12 months is largely thanks to her work in the hit film "Gravity," for which she received a best actress Oscar nomination.
The film, a festival of special effects, is about an astronaut's struggle to survive in orbit after the space shuttle is destroyed.
<< Start < Prev 1 2 3 4 5 6 7 8 9

10

Next > End >>


Page 10 of 15