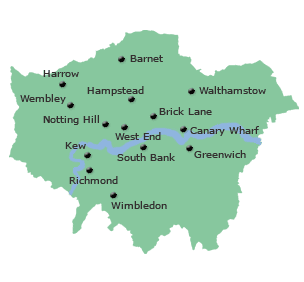 Culture
Written by Administrator
Tuesday, 08 March 2011 14:33
Photo by Ciara Montesanto
Are you more of a William Hung than a Kelly Clarkson? Or are you a decent singer—and wish you were a little better? Whatever your vocal skill, these tips for improving your singing voice are sure to get you singing and sounding much better.
Tip 1: Think about breath. Without proper breathing, you aren't using your voice to its full potential. To find out if you're breathing correctly for singing, place your hand on your stomach and inhale. Your hand should move out—your stomach should be expanding, not your ribcage and chest. That's because you need to support your breath with your diaphragm—the muscle underneath the lungs that inflates them. The diaphragm is activated by abdominal muscles, and it's much stronger than the muscles between your ribs—the muscles you're using if your chest, not your stomach, expands with your breath.
Written by Administrator
Tuesday, 08 March 2011 14:19
Photo by the handbook
As I recline on the gold-threaded silk cushions, nibbling on satay sticks, the sound of the mandolin ringing through my ears, silk-dressed geisha's at my beck & call, it strikes me how small the world has become. I order a bottle of Tiger and reflect on my recent travels. I sit not in some high-class opium den in the mid-Orient, though. This is Soho, London at the aptly named Opium.
It could equally be Hakkisan, Bam-Bou, Chinawite or any number of Chinese, Vietnamese, Malay style members' bars, which seem to dominate our streets this year. Perhaps it's the British weather combined with airline price wars, global accessibility through the web coupled with Britain's ever growing cultural mix—or perhaps it is just pure boredom with 'Cool Britannia'. Whatever the reasons, the fact is there is a growing desire to go and discover new lands away from the sewage swamped shores of the Med where local culture is washed away in a sea of Sun newspapers, English caf's and pints of cheap Lager.
Written by Administrator
Sunday, 13 February 2011 21:06
The King's Speech has picked up a number of early prizes at this year's Bafta film awards.
Helena Bonham Carter won the Supporting Actress award for her role as the Queen Mother, while co-star Geoffrey Rush picked up the Supporting Actor prize for his portrayal of speech therapist Lionel Logue.
Harry Potter star Emma Watson presented the Outstanding British Film award to the movie. Director Tom Hooper paid tribute to its writer David Seidler and added: "This is absolutely thrilling to win this award in this room with so many colleagues who we have worked with over the years."
The King's Speech, which picked up the first award of the night for Original Music, was also given the Original Screenplay gong.
Written by Administrator
Tuesday, 25 January 2011 11:37
photo by ideacrease
Achievements PR company under the auspices of the Greater London Authority will hold a number of events in 2012 focused on advertising the 2012 UEFA European Football Championship hosted by Ukraine and Poland. All events will be held as part of the 2012 Cultural Olympiad programme of the Summer Olympic Games on January 1, 2012, to August 1, 2012, initiated by the GLA.
The programme of events has been already included into the Cultural Events Brochure for the Summer Olympic Games. The brochure covers all events to be held in London in 2012 on the threshold of the Olympics. Ten to fifteen advertising events are planned to be organized at best sites of London. Their aim is to draw interest of the international community to Ukraine and Poland, and to encourage a wide-scale arrival of fans to Euro 2012 matches. Outdoor advertising space, parks, central streets, London's top galleries and concert halls will be assigned for this purpose.
Written by Administrator
Tuesday, 21 December 2010 22:27
Photo by Cabaret Rouge
London's Top Burlesque, Cabaret and Comedy Clubs

Making a list of the best burlesque and cabaret clubs in London is in part a fools errand. The requirements of say a middle aged American tourist from the Mid West is going to be very different from that of say a young metropolitan burlesque aficionado or a hen /office party for that matter. And that's before getting into supper club vs theatre style club vs bar style club, gay vs straight or the whole traditional vs neo burlesque debate. Below are what I call my five "best of breeds". I make no attempt to crown one "best of show" – continue my canine simile – because to do so would be errant nonsense.

Madame Jojos

A must for everyone not just because it is the Daddy of the burlesque cabaret scene but because through its superlative programming it caters for almost everyone from my American tourist (go for the weekend shows) to my burlesque aficionado hipsters (go for the showcases and some of the midweek shows) not to mention having some rather good club nights (but that's for another article). If anything the only groups not well catered for I would say are UK hen and office parties who might find the weekend shows too dumbed down (well you try and find humour that can encompass 20 different nationalities – including Japanese - that isn't!) and the midweek show / showcases a mite inaccessible. Wonderful architecture and a convenient location caps off a great overall package . Other grumbles might be the high prices and the so so food and drinks but that's not really the point is it. My main criticism is that it leans far too heavily towards traditional burlesque /cabaret forms and is looking increasingly dated for it relative to its more avante garde rivals – shades of The Royal Academy of Art there perhaps in the mid 90s which go so left behind by the likes of Goldsmiths College with the whole Brit Art thing. Still should one expect a venerable Grande Dame to be anything else – I mean would you want your Great grandmother to be break dancing and "getting it on" with the kids Particularly well suited for tourists

Volupte

Again situated conveniently in the West End albeit in a somewhat uninspiring (but well decked out) basement Volupte is my preferred London supper club. Escellent burlesque programming with a good range of both traditional and neo burlesque performers and for that matter a great website too with not a flash of err flash. What I especially like about the programming is that its both sophisticated and accessible at the same time something which from my own experience is quite hard to achieve. Everything is just right from the ever so crisp white linen table clothes to the faux Edwardian table lamps. Good food and drinks service too with a large stage (albeit somewhat obscured behind pillars for some tables so do make sure to check when booking!). Grumbles unfortunately as a supper club the atmosphere can be bit restrained to say the least and with a Holborn address very office party dominated (the yards of white linen only surpassed by the acres of white shirts and ties of the office workers who descend pack like) so the audience is somewhat less sophisticated than the shows (the management by the way are to be complimented for ignoring the "I want more tits and arse" brigade). I am not a great fan of the standing tickets either and as with all West End venues yes the prices are high. An excellent late licence caps off a great night out. Oh and please do avid expensive imitations like Pigalle's which I have heard nothing but bad reports about (Vince Powers should really stick to rock and roll!)

Vauxhall Tavern

The legendary gay cabaret haunt which has launched just about every gay /transvestite crossover TV comedian and host in the UK and beyond for the last 20 years which tells you something of the quality of the acts here. All this in a venue unparalleled anywhere in the UK for its grossness from the sweat stained black walls to loos indescribable in their filthiness - all which of course provides the perfect backdrop for the b*tch queen from hell style of acts that predominate here (hecklers beware!). Unfortunately this venue is strictly gay so not accessible for the majority of us. People often write of how Lost Vagueness, avante garde performers like Leigh Bowery and clubs like Torture Garden helped spark off the neo burlesque movement . However I suspect the Vauxhall Tavern had a far greater indirect influence than any of these. So for any gay or bi sexual people from overseas visiting London don't leave till experienced at least one night at The Vauxhall Tavern. But a word of warning do avoid the legion of cheap and expensive imitations from Clapham to Camden – none of them are the patch on the real thing. Finally the Vauxhall Tavern is obviously much more a cabaret than burlesque venue – you won't be seeing too many girls in feathers not unless they are drag queens that is. Grumbles its gay only and really could do with a tiny bit of a clean and maybe a tiny bit of air conditioning too without of course wanting to in any way change the character of the place. Oh No! Particularly well suited for metropolitan gay and gay friendly customers

Bethnal Green Working Mans Club.

I am not entirely sure why I am including this venue because its not actually a burlesque or cabaret venue at all - it is as the title suggests a working mans club in a really rather unpleasant part of London. It's also rather unpleasant inside although possibly of interest to sociologists as you do feel you are walking back in time to the 1950s - from the ancient cashier at the front door to the aging beehive haired harridans who pass for bar staff (serving some of the most uninspiring drinks I have seen. Lets just say the mixology revolution forget to get off at Bethnal Green tube) not forgetting vinyl and carpets so decrepit that you wonder it does not stick to your shoes (oh and does on busy nights). The programming is however inspired and its home to some of the best roving neo burlesque club nights (Wham Bam Club for one) and performers (Chocolate Delicieux for one). However do check listings in advance and do ring in advance too or when you arrive you might be very disappointed when you find there is no show and only warm beer in plastic glasses and checkers for entertainment. Particularly well suited for metropolitan sophisticated burlesque aficionados and clubbers

Peacock Bar http://www.the-peacock-bar.co.uk

Now I have to confess to some bias here as I book the club and helped create it. However in my defence Peacock Bar has been rated Top London Burlesque Club, Top London Cabaret Club as well as Top Birthday Party venue by ViewLondon [plus won just about every other award under the sun in the last six months including Top London Small Venue from Function Fixers. Our programming is very much neo burlesque – really musical comedy sketches /social commentary in the finest Kinks style. We also specialise in being interactive and bringing audience members on stage with a lot of improve as well as being a bar club rather than a supper club. All of which we believe creates a much livelier, exciting and dynamic atmosphere than you get at either supper clubs (although we do of course provide food) or traditional burlesque shows (well just how many girls in feathers can you see in a lifetime). We also try and program seasonally so for Christmas we are presenting " Christmas Lunch and Christmas Dinner with a difference with free burlesque and cabaret – put your boss on stage and humiliate him! Particularly well suited for birthday party, Christmas party, hen party and stag party bookings.

That completes my review of the Top Five Burlesque and Cabaret Clubs. Please feel free to contact me with any criticisms or praise and also with any venues I may have missed.
Lawrence Merrett
Written by PA
Monday, 06 December 2010 21:35
Susan Philipsz has won the Turner Prize for her work Lowlands, a recording of her singing three separate versions of a traditional Scottish folk song.
It is the first time a sound installation has even been shortlisted for the the prestigious modern art prize.
Fashion designer Miuccia Prada presented the Glasgow-born artist with the £25,000 prize at ceremony at Tate Britain in central London.
Philipsz was firm favourite to win the prize with bookmakers making her 4/11 to win.
She recorded three versions of the song Lowlands Away, which tells the tale of a man drowned at sea who returns to tell his lover of his death, for her installation which plays in an empty room in the gallery.
Curator Katherine Stout said it was a "very physical" work.
She said: "It plays upon the otherwise emptiness of the gallery."
Philipsz saw off competition from more traditional artists including Dexter Dalwood whose collection of politically-inspired paintings includes an imagining of the death of Dr David Kelly.
Angela de la Cruz and The Otolith Group were the other artists in the running for the award. They will receive £5,000 each for being shortlisted.
The Turner Prize, which was set up in 1984, is awarded to a British artist under the age of 50 and is "intended to promote public discussion of new developments in contemporary British art".
Copyright (c) Press Association Ltd. 2010, All Rights Reserved.
Written by Terence Sackett
Saturday, 02 October 2010 00:00
The streets of London were thick with beggars and confidence tricksters in Victorian times. In the 1880s 300,000 Londoners were classified as poor. Many beggars made desperate efforts to lift themselves and their families out of their unrelenting poverty by taking on a trade, however small and insignificant. They were reluctant to apply for Outdoor Relief under the Poor Law. The match sellers, shoe blacks and flower girls, very often displaced from the countryside where life was yet more unendurable, were given short shrift by many of the great and wealthy. An 1888 tourist guidebook suggested the following evasive action be taken by travellers: 'To get rid of your beggar, when wearisome, take no notice of him at all. He will only follow you till you meet a more likely person, but no farther'.
Street traders faced suspicion from the public and persecution by the police on a daily basis. Their lives were a constant struggle to win food and shelter; many lived in cheap, crowded lodging houses in poor areas of the West End and the City, where they were preyed upon mercilessly by voracious landlords. There was, of course, no social relief, and families had to rely on their wits to keep body and soul together.
The Victorian social critic Henry Mayhew reported that the chimney sweeps were a tight-knit community, and that master sweepers often let rooms to families in the same trade. The climbing boys, often from the workhouse, earned 2d or 3d a day, but were sometimes given an extra 6d by grateful householders. They climbed easily up through wide flues using their elbows, but often found themselves stuck and near-suffocated in narrow nine-inch chimneys. For young children it must have been the most terrifying experience. George Smart's invention of the familiar set of hollow rods topped with a broad bristle brush encouraged an end to the cruelty, and an Act of Parliament finally made child sweeps illegal in 1875.
There were once 2,500 cabinet-making shops in London, many employing children. When powered sawmills and mechanical production methods brought ready-made furniture onto the market, many thousands of craftsmen lost their jobs, and had to scratch a living by going door to door mending furniture or re-caning chairs.
The gingerbread man with his laden tray was a welcome sight to children. His dark-coloured cake of flour, treacle and ground ginger was a favourite snack with Victorians at fairs and street events. The roughly-shaped pieces were measured into paper cones and topped with a blanched almond. The gingerbread was probably made by his wife or daughters.
Sporting their red uniforms, the bootblack boys were a familiar sight on the streets of London. The bootblack business grew into a highly organised philanthropic affair: the Ragged Schools, Saffron Hill, set up the first society, and nine others followed. Their aim was to educate orphan boys and to give them a good start in the world; by the 1880s the shoeblack societies had 400 boys on their books. Members of the Shoeblack Brigade were licensed to trade by the Metropolitan Police and carried on their business unhindered.
Small children loved to cluster round the hokey-pokey stall licking at the cheap ice cream. The hokey-pokey men were usually Italian immigrants (during the winter they often worked as hurdy-gurdy men). Every morning in summer they froze the ice cream they had mixed the night before, and went their rounds crying: 'Gelati, ecco un poco!' ('Ice cream, here's a little!') - hence the slang words for ice cream. The hokey-pokey man sold his ice cream in small glasses, 'licks', which he wiped clean when his customers had finished with them. Edible ice cream cones began to be used in the 1890s. A popular nonsense rhyme in Victorian times ran:
'Hokey-pokey, pokey hump!
Hokey-pokey, a penny a lump.
Hokey-pokey, find a cake;
Hokey-pokey, boil and bake.
Here's the stuff to make your jump;
Hokey-pokey, penny a lump.
Hokey-pokey, sweet and cold,
For a penny, new or old.'
In almost every Victorian city street you could find a child selling matches. Bryant & May's matches, such as their fusee 'Alpine Vesuvian' matches, popularly known as Brimstones, were popular products. This was hardly a desirable job, but a match seller was considerably better off than those poor Londoners who were involved in the manufacturing of matches: the yellow phosphorus used in the process caused a debilitating disease of the mouth known as 'phossy jaw'. Bryant & May employed 700 girls in their match factories. In 1888 these girls went on strike for better pay and conditions, but such a protest and threat to public order was rare amongst workers in Victorian Britain.
Written by Administrator
Wednesday, 29 September 2010 22:38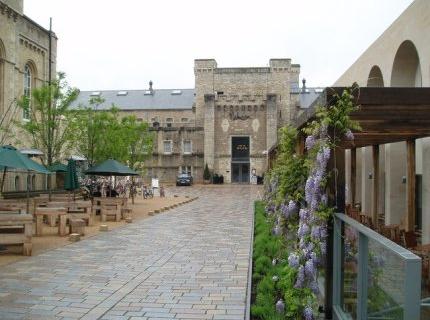 COMEDIAN and actor Bill Bailey will perform for a six-night run at Oxford's New Theatre in the summer. Mr Bailey, who has starred in Black Books, Skins and Never Mind the Buzzcocks, will perform his new live show at the George Street theatre from Monday, August 10, to Saturday, August 15.

The show promises to include both new material and parts of his previous show and DVD Tinselworm.

Jamie Baskeyfield, general manager of the theatre, said: "I'm delighted to welcome Bill Bailey back to the New Theatre, and a six-night run is fantastic.

"Tickets are already going fast, and I'm sure we'll sell out very soon."

The event coincides with the 150th anniversary of the publication of Charles Darwin's seminal work On the Origin of the Species, and Mr Bailey is expected to provide his own comedic take on the world.

Last year, Mr Bailey appeared at a fundraising show for East Oxford hospice Helen & Douglas House, a star-studded comedy night at the New Theatre called Childish Things — which raised more than £45,000.

Tickets for his shows cost £25 and are available at the box office and online at newtheatreoxford.org.uk Oxford will be the second stop on Mr Bailey's tour, following a mini-residency at the Lowry Centre, in Manchester, in June, and he will also spend a week at Bristol's Hippodrome at the end of August.


---
Oxford times
Written by Administrator
Wednesday, 29 September 2010 22:37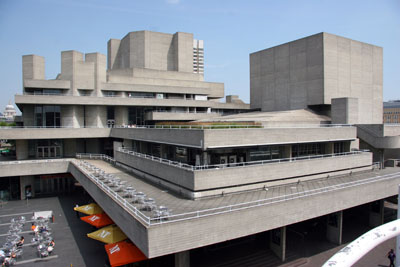 Britain should invest in culture to help economic recovery, says an alliance of arts leaders including the National Theatre artistic director, Sir Nicholas Hytner, and Neil MacGregor, director of the British Museum.
<< Start < Prev 11 12 13 14

15

Next

>

End

>>


Page 15 of 15